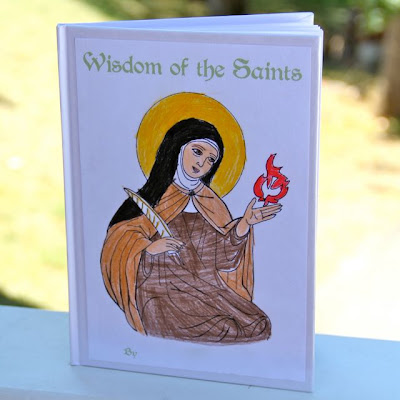 This year my Little Flowers Girls' Club will be moving on to Wreath IV and studying the Seven Gifts of the Holy Spirit! Our first meeting, which will be held next week, will be based on the gift of Wisdom and St. Teresa of Avila. Since one of the symbols for St. Teresa of Avila is a "Book," I came up with a "Wisdom of the Saints" Journal for the girls to make as our craft, in which they can record their favorite quotes from the saints!
This craft would also tie in nicely for the 6th meeting of Wreath II based on the virtue of Wisdom and St. Teresa Benedicta (Edith Stein), substituting the image of St. Teresa of Avila with a coloring page of St. Teresa Benedicta. It would also be a great craft for any children, not just Little Flowers, to make for the actual feast of St. Teresa of Avila, which is coming up next month on October 15th!
Craft: "Wisdom of the Saints" Journal
Supplies:
Blank Book (I purchased these from Rainbow Resource)
Coloring Page of St. Teresa of Avila from Waltzing Matilda
Colored Pencils, Crayons or Markers
Glue Stick
Self-Adhesive Laminating Sheets
Directions:
Re-Size Coloring Page to fit on the front of your blank book or notebook. Add "Wisdom of the Saints" to the top of the page and "By (little flower name)" to the bottom. (I will have these pre-printed for our meeting, with each of the girls names already printed on the bottom. I was able to make these quickly in Word.)
Have each girl color the image and glue to the front cover of their book. (My oldest daughter colored the sample page.)
Trim laminating sheet to 1/4-1/2″ past each side of the book, cutting the two outside corners at an angle, so that you can wrap it around the edges to secure. (I was able to cut the 9×12 sheets in half, using one sheet for two books.)
Instruct the girls to fill the book with their favorite saint quotes, the "Wisdom of the Saints!"
P.S. Does anyone happen to have the pdf saved from the St. Teresa of Avila paper doll I have linked to in the past? We've made it a few times, but I can't seem to find the file on my computer (I think it might not have been transferred over from my old computer), nor have I been able to find it again online, and would like to print some out for our meeting. If so, could you please email me a copy?