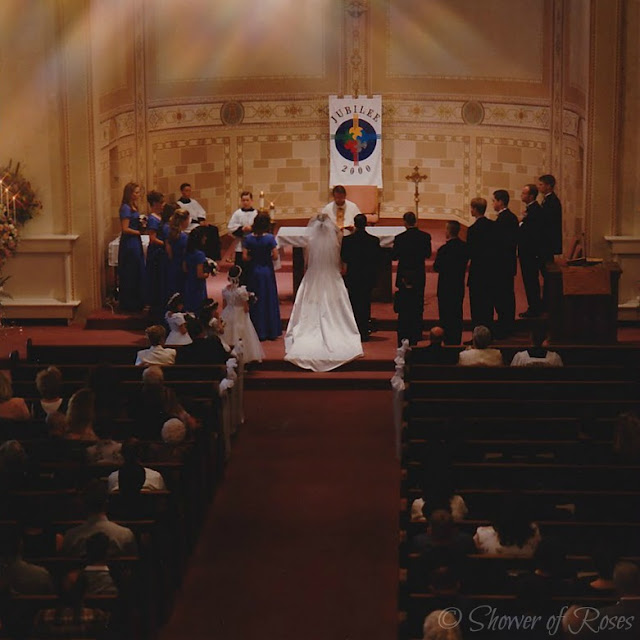 October 2, 1999 ~ Feast of the Holy Guardian Angels
O my God and my Lord, it was on this day that I knelt in Thy holy house at the nuptial altar, that I received the sacrament of matrimony and entered with Thy blessing the matrimonial state. Can I let this day pass without giving thanks to Thee and without some special exercise of piety? No, O Lord! I thank Thee, therefore, from my heart, for having introduced me by a holy sacrament into the state of matrimony, for having sanctified my matrimonial union, for having opened me to the treasures of Thy graces, that I might be enabled to live up to the duties of my vocation, to persevere in inviolable fidelity, in love, and in dutiful submission to my husband, and in the chastity conformable to my state in life, and to educate the children whom Thou hast confided to me in Thy fear and discipline, and thus, work out my eternal salvation. I give Thee thanks for all the graces which I have received in virtue of this sacrament. I thank Thee for the protection, the assistance, and for whatever good Thou hast bestowed upon me and upon my family. Be Thou for all these eternally praised and blessed.
But have I faithfully cooperated with Thy grace in fulfilling the duties of my vocation? Have I led the life of a truly Christian wife? Alas! Too much have I to reproach myself with. [Here reflect a little while.] O my God, I am sorry from my heart for having offended Thee. Pardon me for the sake of Thy infinite mercy and for that of Jesus, Thy beloved Son! My resolution is firmly taken. I will endeavor to fulfill henceforward all the duties of a Christian wife and mother faithfully and conscientiously. How could I otherwise hope to enjoy Thy grace and to work out my salvation? But what will all my good resolutions avail me, if Thou dost not give Thy help to fulfill them? Renew then, O Lord, on this day the blessing of this holy sacrament; may its graces flow upon me in abundance every day. Animated and strengthened by them I will try in the future to lead a life in harmony with my vocation.
I recommend to Thee also my husband. Grant that we who are by virtue of this sacrament so intimately united may live always in heartfelt love and in true fear of God, in order that our matrimonial state may, as it should be, a symbol of that infinite union existing between Christ and His holy Church and lead us to life eternal.
I commend unto Thee also, O Lord, the children whom Thou hast confided to our care. Bless them, protect them, enrich them with Thy graces, that they may grow up pleasing to Thee. Assist me to educate them wholly for Thee. Holy Virgin and Mother of God, holy Joseph and all ye who have led a holy life in the state of matrimony, all ye holy parents, pray for me. Amen.
Prayer on the Anniversary of her Marriage