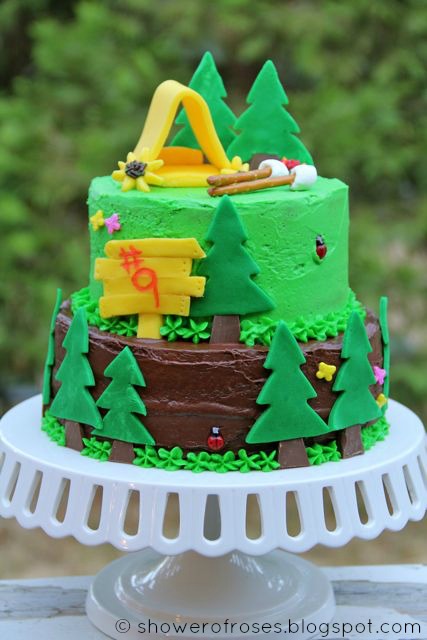 We are celebrating another birthday in our home today! Twinkle Toes is 9 years old!!
For this birthday she requested a "Camping" and/or "Waterslide" theme. We are going to have both! As soon as we get home from another Dentist appointment this morning, we are headed to the lake/waterslides with a picnic lunch. After that we'll come back home, pitch a tent in the backyard, roast hotdogs and marshmallows, and open gifts. It's going to be a fun day!
I wasn't at all prepared to make a cake last night… My goal was to try and come up with a cake using only ingredients/supplies that I already had in my cupboard. However, at 9:50pm last night (just after the cakes finally came out of the oven to cool) I realized I was completely out of powdered sugar and couldn't make frosting. Thankfully our little local market stays open until 10pm and I made it just in time!
I was so happy with how the cake turned out. Isn't it cute?!?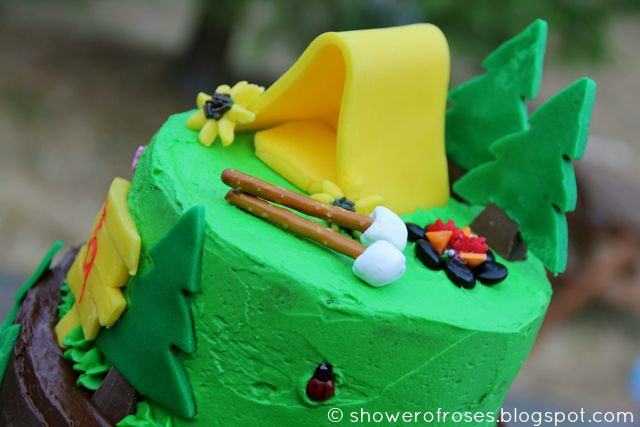 Cake Supplies:
2 – 8″ Round Cakes
2 – 6″ Round Cakes
2 cups milk chocolate frosting
1 cup green frosting
For the Tent, Bed, Pillow, and Sign:
*Originally I thought about using a couple toaster pastries for the tent, but since I had the yellow fondant leftover from the sign, I decided to use that instead. I thought it looked cuter for a little girl's cake. I did use the pop tarts to help shape the fondant though, draping it over them in a tent shape to harden.
(I also used the leftover yellow fondant, a dab of frosting, and some brown jimmies to make a couple sunflowers to place at the base of the tent)
For the Trees:
milk chocolate for tree stumps (I used Hershey bells, sliced)
tree shaped cookie cutter
Ladybugs, Butterflys, Camp Fire, Marshmallows and Roasting Sticks:
red hots & black icing for ladybugs
butterfly sprinkles
black M&M's (or candy pebbles) for fire pit
silver sprinkles
red and orange sprinkles for fire
2 pretzel sticks
2 mini marshmallows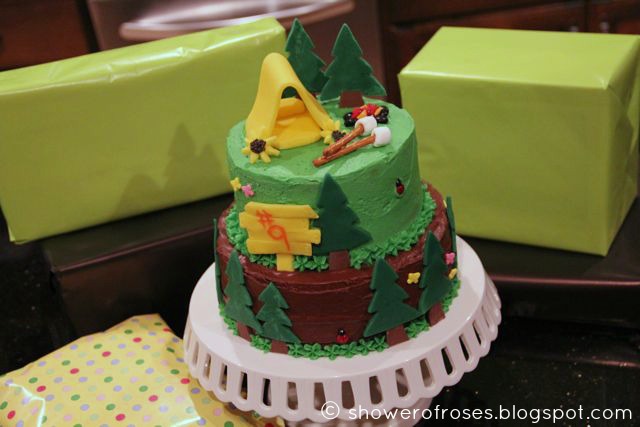 Happy Birthday Twinkle Toes!