I haven't had much time for blogging the past couple days, as we have been focusing on getting back to school after Thanksgiving, and getting ready for a book themed Baby Shower that I co-hosted with a friend this evening!!
The older girls and I just got home and I did take lots of pictures to share, but since they are all still in my camera, here are a few pictures of the cake and cupcakes I took earlier today!
Originally I planned on making a homemade cake and cupcakes, but at 7:30 last night, while mixing up the Pumpkin Cupcakes, I realized we were completely out of eggs – even after buying 5 dozen last week! So I ended up deciding to make things a little easier on myself and headed to Costco for eggs and a pre-made Chocolate Cake!
This morning I made a cute little banner with a couple bamboo skewers, yellow ribbon, a small hole punch, and these printable book covers!
I actually glued two books back to back before cutting them out, to make the banner two sided, and used my small hole punch to add holes for the ribbon. And, being in a hurry, I didn't do the best job centering all the books. :/
I also ended up making some candy books to add to the cake, using my open book chocolate mold. (I mixed light blue with a little dark blue candy to match the party colors!) Have I ever mentioned how much I love candy molds?! 😉 They are so easy and always add such a cute and personalized touch, even to pre-made cakes!
Using the same printables from Aesthetic Nest I also made cupcake wrappers and toppers. I just couldn't seem to cut a straight line with my pinking sheers, or any of my other pretty scissors for that matter, so I used my paper cutter and just cut boring straight lines. (And I've added a square scalloped punch to my wish list!)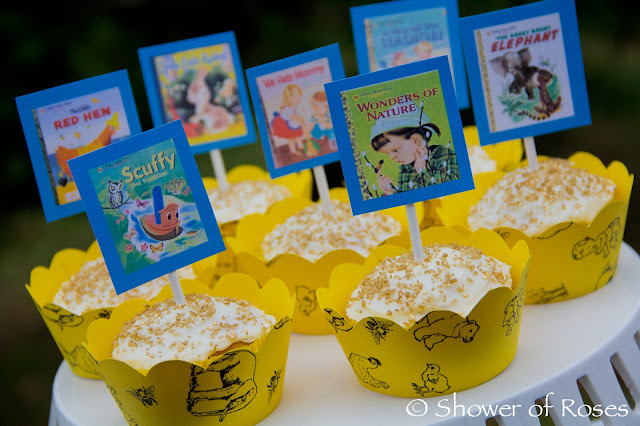 Anyways, I was happy with how it all turned out and couldn't wait to share at least a few pictures with you all! I'm off to try and get some sleep, if it's even possible after all the chocolate and coffee I consumed this evening… Good night and God bless!