Last night we had a Baby Shower for my dear friend Trina who is due on December 1st with her 8th child! (Her SIXTH boy in a row, after two girls!) We had the shower at my friend Kristin's home (the same friend who also hosted Our Little Man's Baby Shower!) and as always she decorated her home as cute as can be! It was so much fun and I have a ton of pictures to share with you all!
Here is a peek at the invitation I mailed out, minus a few of the details. Inspired by this invitation, but not having the time for a lot of assembling and wanting more than just a printable to write the details on, I ended up making my own using this background picture and adding the text that I wanted to include. I printed them on card stock, adding all the details on the back of the card.
Note to self: Next time be sure to add "turn over for details" or something along those lines! Most people didn't turn over the card until someone mentioned it to them. Also, it's not the best idea to address the envelopes at 2am… You might end up sending someone two invitations, while neglecting to send that same person's daughter and granddaughter their invitation. Whoops! Thankfully they figured it out, and everyone made it to the shower!
As you can see on the invitation, one of the things we asked our guests to do was "bring a book instead of a card!" Surprisingly, despite the huge collection of books that Trina already has for her (homeschooled) children, she only received one duplicate! I was going to give her a copy of The Blueberry Pie Elf or One Morning in Maine (my two favorite childhood picture books, which my Dad would always read to us!) but I ended up deciding on a a copy of My Golden Children's Bible – it matched our "Golden" theme after all.
Also, since Trina wasn't in need of any large baby items we decided to collect money to give her for a little house cleaning help! Her youngest son, who is two, has been in a lower body cast (he broke his femur in October) and it's been a difficult last trimester, to say the least! (Her little guy should hopefully be getting his cast off this week, and her due date is Saturday!)
Kristi made the cutest little picture book garland and had picture books everywhere! She has quite the collection!!! It all looked so adorable!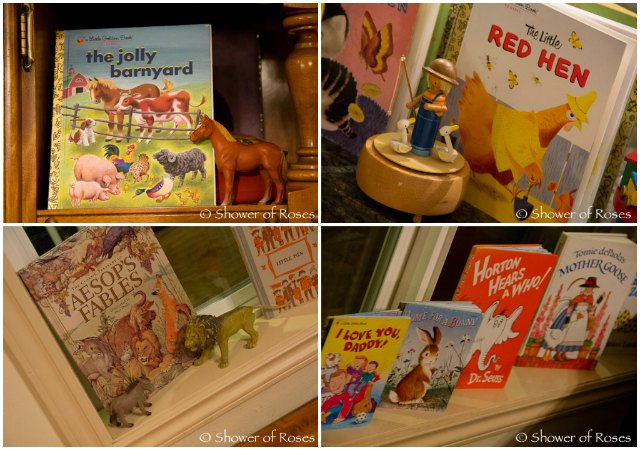 I made the cake and the cupcakes for the shower. I posted all the details here:
I loved how Kristi tied in picture books for all the appetizers and drinks!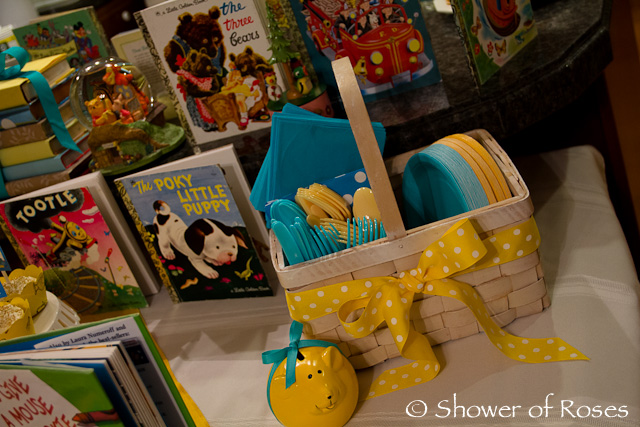 I printed out a Children's Book Scramble that I ran across online! Oh my goodness, what a FUN game! We ended up having two women tie with 13 correct answers. How many of the real titles can you figure out?
1. Emerald Yolky Food With Accompanying Pig Product
2. Evening Salutations to the Celestial Orb
3. Soft Cotton Bunny Toy
4. Trifecta of Minute Swine
5. Pretty Girl Slumbering
6. Unsightly Aquatic Bird
7. Which Female Cares for Me?
8. Brunette Furry Mammal, Brunette Furry Mammal, I Ask About Your Observations
9. Locale of the Concrete Walkway's Termination
10. Be Off Canine, Be Off
11. Famished Butterfly Predecessor
12. Fedora Wearing Feline
13. Locale of the Untamed Creatures
14. A Breeze Blowing Through the Salix Trees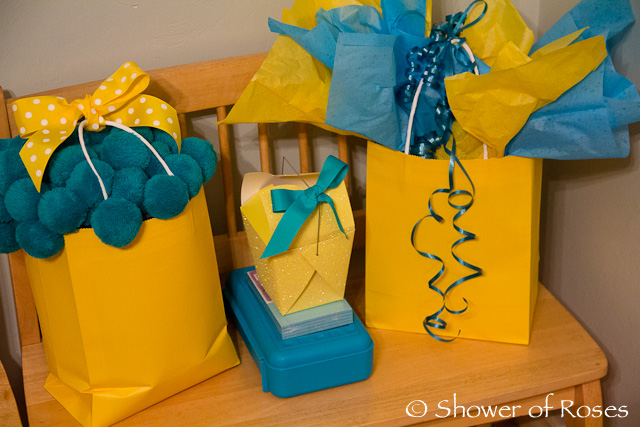 We also had everyone write their favorite picture book on a slip of paper and Trina had to try and guess whose was whose as she opened her gifts – with a prize for the first correct guess! It was so interesting, and I have a few new books that I want to check out! And everyone that brought diapers or wipes was entered into a raffle for a prize. (Kristi provided all the prizes, and wrapped them up so CUTE and coordinated with the theme!)
Kristi made cute little bookmarks for everyone, in addition to decorating bottles of hand sanitizer for everyone to take home as party favors!