On Wednesday we celebrated our little man's 1st birthday! Originally I had planned to invite all our extended family to this party, but since we had just had a big "Sound of Music themed" birthday party a few days before for his big sister, and since my mom and brother left for a golf tournament in Georgia on Wednesday, we decided to keep this first birthday party to just our immediate family. It ended up being for the best since I came down with a bad cold. Thankfully I had wrapped his gifts and picked up a few decorations ahead of time, and on Tuesday afternoon I had made a couple of little birthday banners. I made the kids Snowman Pancakes for Breakfast and somehow managed to decorate the cake, but that was going to be it, until my older boys stepped in to take over the rest of the snacks for our little party! They did a great job and everything look so cute… and, of course, I still took plenty of pictures!
I love how a few themed foods really add to the party atmosphere!
When I ran across the cute Snowman Cake made by Bird On A Cake, I knew I wanted to try it for this birthday party.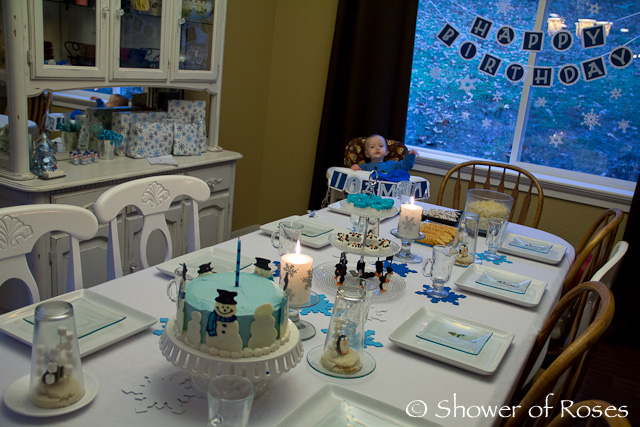 Mine didn't turn out as cute as I had envisioned, partially because I was in a hurry and didn't spend much time making the snowmen, and added all the details first before filling them in with white candy, instead of adding them after. (I used various sizes of this snowman, piping the melted candy onto parchment paper – 1st the hat, scarf, and details, followed by the white bodies. Once they had hardened I peeled them off and put the flat/back side facing out around the cake.)
Still, I thought it did turn out cute and added to our Winter ONEderland Theme!
Bud loved his cake, though he couldn't figure out how to blow out that candle…
He had plenty of help!
He loved his cake… So much he even licked the plate! Silly boy!
I wrapped up lots of little gifts for the birthday boy to open…
The first was the darling stackable snowman from his Godparents, who also sent him the adorable penguin hat! After that it was all we could do to take away the new "hammer" and get him to open another gift! Yep, the snowman was a HIT! 😉