Anyhow, as I've mentioned before, this year we have been making Lap Books to go along with each of our six Unit Studies for American History. Our third Unit was based on The American Revolution. While the girls were working on their Josefina Lap Books (that post is still in my drafts folder too), the boys were busy making their own Lap Books with printable mini books from The American Revolution (Time Travelers History Study Series) CD-Rom.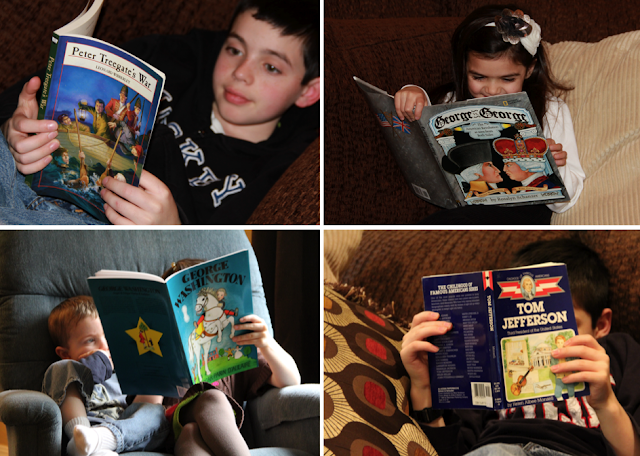 My children have been especially enjoying The Childhood of Famous Americans Series. Unfortunately our library doesn't carry any of them, but I've put in some requests and have been slowly building our personal collection with the help of Amazon's 4-for-3 specials.
The boys actually colored the covers to these lap books 4 years ago, when I first purchased the CD-rom for the lap book! At the time I realized it was a little too advanced for them and saved it for later. They were very excited to pull out their old illustrations and finally complete this lap book!!
The boys finished this unit quite awhile ago and are currently putting the finishing touches on their Unit 4 Lap Book, before our summer break, which begins next week! With a new baby this year, we just weren't able to complete all six units as I had planned. At least I have my History plans for the fall semester all ready to go! 😉