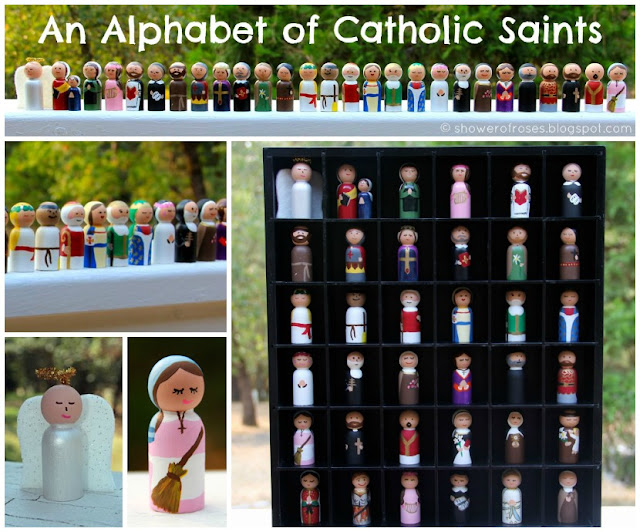 Just over four years ago (in 2008) I started painting An Alphabet of Saints to go along with our first journey Along the Alphabet Path, inspired by the illustrations in An Alphabet of Catholic Saints… I started out with a handful of saints and then continued adding to our collection as the girls completed each letter of the Alphabet. I only made it half way through painting the very last doll, St. Zita, during Z week- before setting her aside as we began our major kitchen remodel and home addition in June of 2010.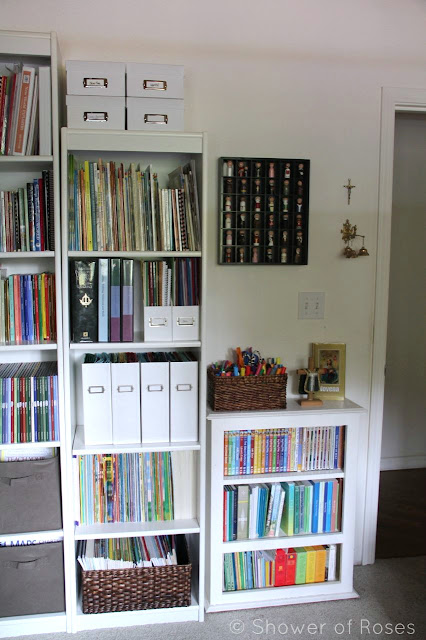 Poor St. Zita has been sitting on that shelf ever since, constantly reminding me that I still haven't posted about Z Week patiently waiting for her lovely hair, face, veil, cross necklace and broom to be completed.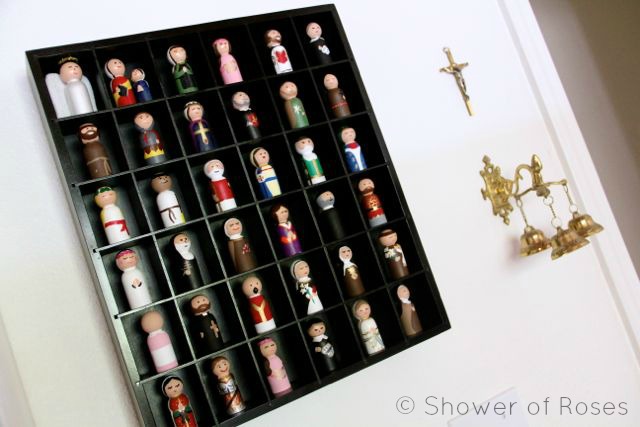 I carefully cropped her out of that picture I posted the other day, but had a feeling it would trigger a few questions!
The cubbies… yes, those lovely tiny cubbies…
In addition to the Highlights from "Z" Week, I also haven't posted about my awesome saint display…
Is it bad that I am displaying our sweet little collection of saints in a… ummmm…. Shot Glass Display?!?
I searched and searched for the perfect thing, before settling on an inexpensive "Black Shot Glass Curio which holds up to 36 Jiggers Saints!"
Despite it's intended purpose, it really does work perfectly for our painted saint dolls! I found ours on ebay, and was able to find a few more that are currently available. (Though I think they are a little more expensive… I remember paying $20.00 including shipping for ours, but that was a couple years ago.)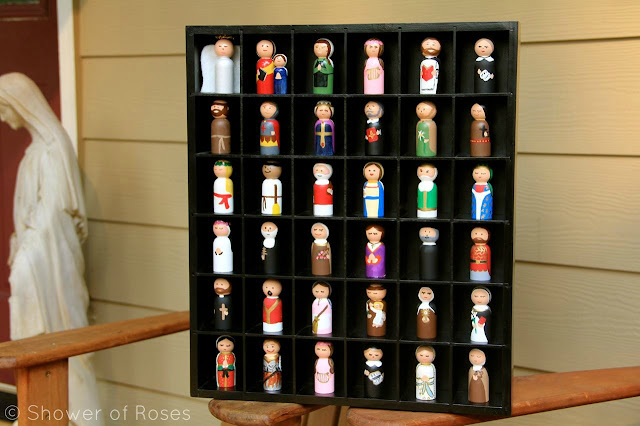 So yesterday afternoon I finally dusted off St. Zita, pulled out my painting supplies, and finished painting her in less than 10 minutes while on the phone with my mom.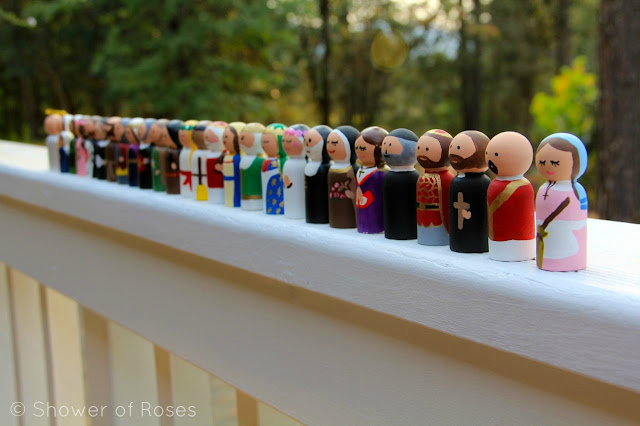 It makes me so happy to see our Alphabet of Catholic Saints finally completed!
*However, looking at the picture above, I should have given St. Zita a hand to hold that broom… Hmmmmm… I wonder how long that will take me! 😉
And just incase anyone would like to get started on their own 4 year project set of saints, here's the link to my favorite source for the wooden peg dolls. Happy Painting!