I mentioned the Online Curriculum Sale Blog Hop that I am hosting right now to my mom the other day, and offered to list some of her books too. This will be my mom's last year of home educating her children, after about 24 years or so (since I was in 5th grade), since my youngest two brothers will both be graduating next spring!
Anyways, we took pictures of some of the books that she no longer needs – and which I won't need (at least for awhile) or already own duplicates! 😉 They have all been used, but she looked through them and they are all in good condition, with wear to the covers (some more than others, as you can see in the pictures), but still useable.
If you are interested in purchasing any of the books listed, please leave a comment listing the books you would like, along with your email address, and I will send you your total, with shipping, along with payment info. (If you'd rather not leave your email address, you can also email me directly at jessica(dot)showerofroses(at)gmail(dot)com)

These books will be shipped directly from my mom, and can't be combined with any of the books that I have left. (By the way, I just reduced the prices on some of my remaining books!) Shipping will be $3.50 for 1-2 items and $5.00 for 3 or more, to cover the cost of packaging and media rate in the continental U.S. If you would like the books mailed elsewhere, I will get back to you with the actual shipping costs. My mom will be able to mail all orders next week.
Of America Vol. 1, Asking $4.00
Of America Vol. 2, Asking $4.00
Government in America, Asking $5.00
Winning Government Grants and Contracts for your Small Business, Asking $1.00
A History of US: The New Nation, paperback, Asking $5.00
A History of US: Liberty for All?, paperback, Asking $5.00
Voyages in English 8 Teacher's Edition
Voyages in English 8 Extra Practice Workbook
Voyages in English 8 Student Textbook
Voyages in English 8 Extra Practice Workbook Teacher's Edition
Voyages in English 8 Test Booklet Teacher's Edition
Voyages in English 7 Teacher's Edition
Voyages in English 7 Student Textbook
Voyages in English 7 Extra Practice Workbook
Voyages in English 7 Extra Practice Workbook Teacher's Edition
Voyages in English 7 Test Booklet Teacher's Edition

Voyages in English 5 Teacher's Edition
Voyages in English 5 Student Textbook
Voyages in English 5 Extra Practice Workbook & Teacher's Edition, 8
Voyages in English 5 Test Booklet & Teacher's Edition
Voyages in English 6 Extra Workbook & Teacher's Edition, Asking $8.00 (Sold)
Voyages in English 6 Test Booklet (2), Asking $2.00 (Sold)
Voyages in English 4 Extra Workbook & Teacher's Edition, Asking $8.00 (Sold)
Voyages in English 4 Test Booklet & Teacher's Edition, Asking $2.00 (Sold)
Voyages in English 3 Extra Workbook & Teacher's Edition, Asking $8.00
Voyages in English 3 Test Booklet (2) & Teacher's Edition, Asking $2.00
Exercises in English 3 & Teacher's Edition, Asking $10.00 for both (Sold)
Exercises in English 4 & Teacher's Edition, Asking $10.00 for both (Sold)
Exercises in English 5 & Teacher's Edition, Asking $10.00 for both (Sold)
Exercises in English 6 & Teacher's Edition, Asking $10.00 for both (Sold)
Exercises in English 7 & Teacher's Edition, Asking $10.00 for both (Sold)
Exercises in English 8 Teacher's Edition, Asking $5.00 (Sold)
Voyages in English 5 – 2 Old Hardcovers, binding falling apart, with OLVS Teacher's Manual and Key for Voyages in English – Asking $5.00 for all three
Inside Picture of above book…
Voyages in English 7 Teacher's Manual, Asking $2.00
Voyages in English 7 Hardcover, Asking $8.00
Exercises in English 7, Asking $4.00
Voyages in English 8 Teacher's Manual, Asking $2.00
New Voyages in English Teacher's Edition 4, Asking $2.00
New Exercises in English Teacher's Edition 4, Asking $1.00
MCP Phonics D Teacher's Edition, Asking $5.00
MCP Word Study E Teacher's Edition, Asking $5.00
MCP Word Study F Teacher's Edition, Asking $5.00
Physics Home Study Kit plus Physics Solution Manual Asking $60.00 for all (Sold)
Saxon Physics Student Textbook, Asking $40.00
Saxon Advanced Mathematics Second Edition, 2 available 1 available, Asking $20.00 each
Saxon Advanced Mathematics Solutions Manual, Asking $20.00 (Sold)
Saxon Algebra 2 Second Edition, 2 available, Asking $10.00
Saxon Algebra 2 Second Edition Solutions Manual, Asking $5.00 (Sold)
Algebra 1/2 (3rd Edition) Textbook, Solutions Manual, Homeschool Packet, and Test Forms, Asking $55.00 (Sold)
Math 65 Textbook with Homeschool Packet, Asking $10.00
Math 76 Textbook, Asking $8.00
Math 87 with Solution Manual, Asking $20.00
Algebra 1/2 (Second Edition), Asking $5.00
Algebra 1 (Second Edition), Asking $5.00
Algebra 1 (First Edition), Asking $5.00
Geometry, Asking $30.00
Earth Science with Test Booklet, Asking $5.00
Basic Science, Asking $5.00
Biology: God's Living Creation, Asking $5.00
World Geography, Asking $5.00
Chemistry: An Introduction to General, Organic, and Biological Chemistry by Karen C Timberlake, Sixth Edition, Asking $5.00
Science and Living in God's World Grade 8, Asking $8.00
Science and Living in God's World Grade 7, Asking $8.00
Science and Living in God's World Grade 6, Asking $8.00
Science and Living in God's World Grade 5, Asking $10.00
Biology Prentice Hall, 3 available, Asking $15.00 each (Sale Pending)
Aesop: The Complete Fables, 2 available, Asking $4.00 each
Marco Polo: The Travels, Asking $4.00 (Sold)
Dante: The Divine Comedy • I – Hell, Asking $4.00 (Sold)
Dante: The Divine Comedy • II – Purgatory, Asking $4.00 (Sold)
Plutarch: Makers of Rome, Asking $4.00 (Sold)
Coriolanus, 2 available, Asking $4.00 each (1 available)
The Social Contract, Asking $4.00 (Sold)
Shakespeare: Julius Caesar, Asking $4.00 (Sold)
Milton: Paradise Lost & Paradise Regained, Asking $4.00
The Aeneid, 2 available, Asking $4.00 (1 available)
The Early History of Rome, Asking $4.00 (Sold)
How to Read a Book, Asking $5.00 (Sold)
Cliff Notes: The Tempest, Asking $1.50
Cliff Notes: A Midsummer Night's Dream, Asking $1.50
Cliff Notes: King Lear, Asking $1.50
No Fear Shakespeare: Hamlet, Asking $3.00 (Sold)
No Fear Shakespeare: King Lear, Asking $3.00 (Sold)
Dogmatic Canons and Decrees, 2 available 1 available, Asking $5.00 each
Best Jobs of the 21st Century, Asking $2.00
Secrets of the Millionaire Mind, Asking $1.00
Economics Work and Prosperity, 2 available, Asking $4.00 each
College Typing, Asking $2.00
Athenaze: An Introduction to Ancient Greek Book 1, Asking $10.00
The Catholic Answer Bible, Asking $1.00
This is Our Parish, Asking $6.00
Letters to a Young Catholic, Asking $4.00 (Sold)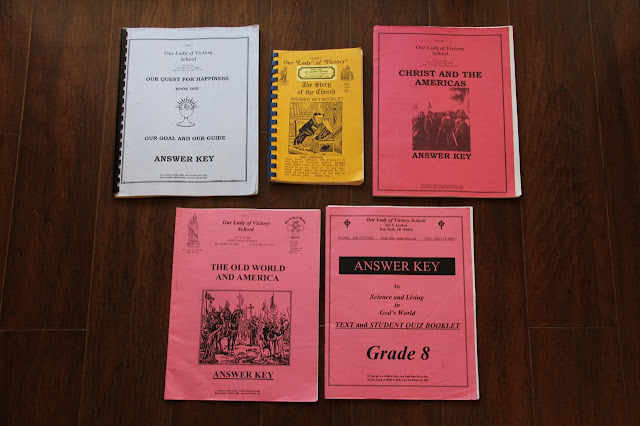 Our Quest for Happiness: Our Goal and Our Guide Answer Key, Asking $3.00
The Story of the Church Answer Key, Asking $3.00
Christ and the Americas Answer Key, Asking $3.00
The Old World and America Answer Key, Asking $3.00
Science and Living in God's World Text and Student Quiz Booklet, Asking $2.00