One of the "Recipes" we came up with for the letter B Along the Alphabet Path was our "B" shaped Bread served with Butter and Blackberry Jam to enjoy while reading Bread and Jam for Frances!
For this Baking project, I totally cheated and just purchased a package of frozen Rhodes White Bread loaves. I also purchased some Blackberry jam, but you could go with Blueberry, Boysenberry, Black Raspberry, Black Cherry, Triple Berry, or….
Note: You could also make a much smaller version with three frozen dinner rolls, but we were aiming for a BIG B!
Defrost three loaves of bread (five come in one package) on a baking sheet, coated with non-stick cooking spray (we didn't do this, but I never have problems with anything sticking to my stones). Cover with plastic wrap, also coated with cooking spray to keep it from sticking to the dough while rising. Let dough rise for 4 to 7 hours, until soft enough to work with.
Carefully remove the plastic wrap. Roll out the dough to create three long round pieces for the letter B.
If you can't seem to roll them out long enough, just swing them around a little bit! 😉
Arrange the three loaves of bread dough into the shape of a capital B.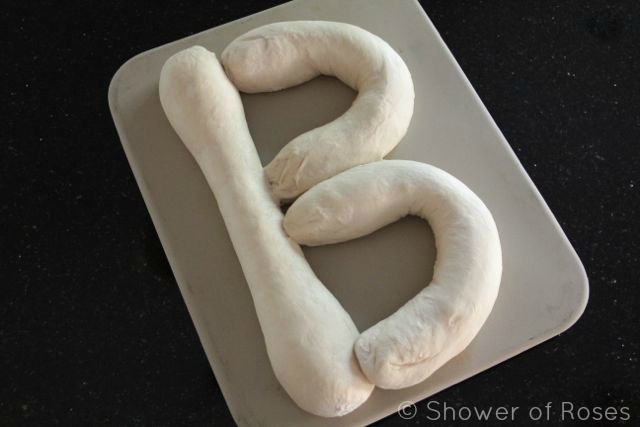 Preheat oven to 350˚F. Bake bread for about 25-30 minutes, until golden brown.
Be sure to check on the Bread and watch it get "Big!!"
Let cool and brush the top with melted Butter, if desired.
Slice and serve with jam. Snuggles, of course, refuses to eat any sort of jam (it's just "Peanut Butter and Peanut Butter" sandwiches for this picky little eater!) but he loved his white Bread with Butter!