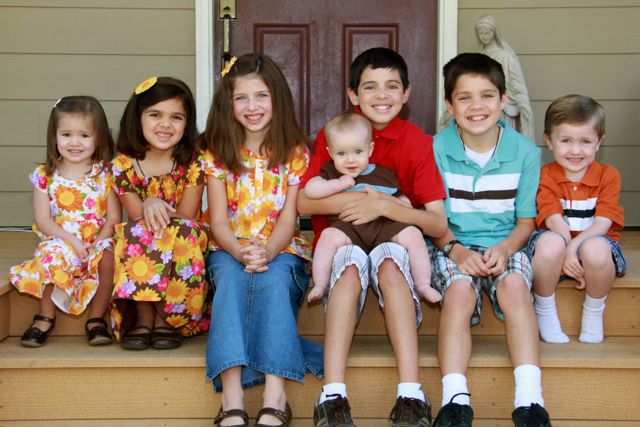 Today was the first day of our new school year! Despite my efforts to keep our extra activities to a minimum this week, it just wasn't meant to be… Today we ended up with one last Dentist Appointment for Captain, tomorrow morning Captain and Twinkle Toes will be getting their braces put on, Friday the boy's will be serving a special Mass in honor of Our Lady, and Saturday (on Our Lady's Birthday!) we are finally having our Mother/Daughter Tea Party – which I will be hosting at our home! I was a little overwhelmed last night thinking about it all, but I'm trying to focus on one thing at a time,and praying that it all falls into place… Sure enough, our first day went as well as could be expected (for a first day), and we are all very excited about the new year!
Captain :: 6th Grade ~ Rascal :: 5th Grade
Twinkle Toes :: 3rd Grade ~ Chiquita :: 2nd Grade
Snuggles :: Kindergarten ~ Rose :: Pre-School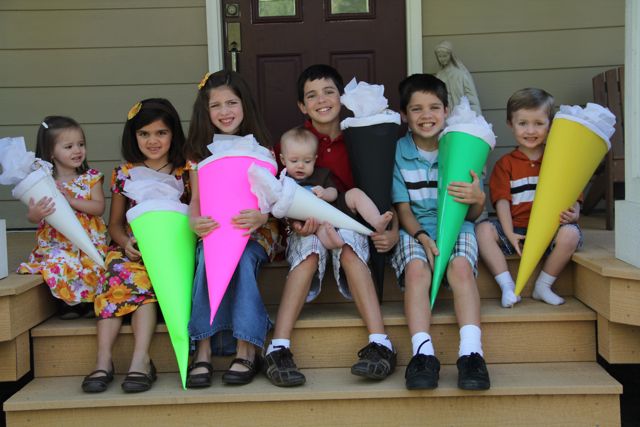 As usual, the kids all woke up to find
Schultütes
filled with snacks and school supplies, along with another "
Patron of Students Treat
" tied to the top. The sizes aren't very consistent, and Twinkle Toes' looks more like a slice of pizza rather than a cone, but I was focused on the quantity, and not so much the quality this year. And, thankfully, I was able to assemble and fill them all in less than an hour and a half. Sometimes I wonder what I was thinking when I started all these "traditions" in our family… I sure wasn't thinking that someday we'd have seven kids! 😉 Still, I think that it is worth the extra effort for all the smiles and excitement from the kids… Such a fun way to start each new school year!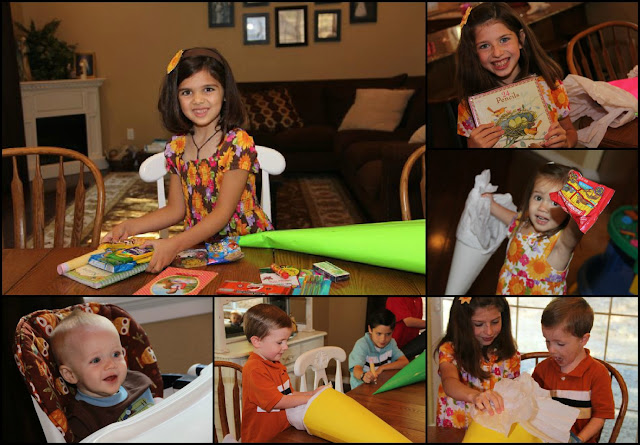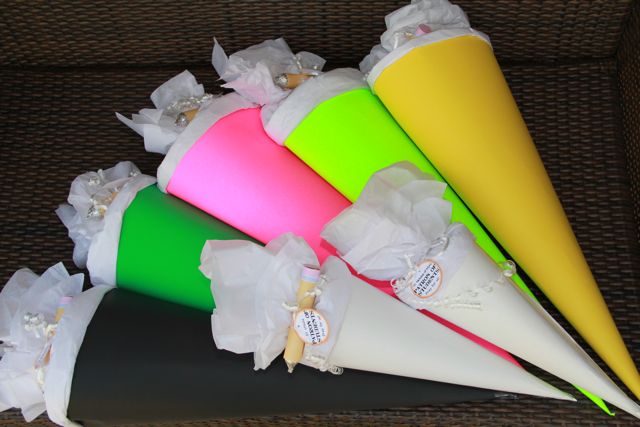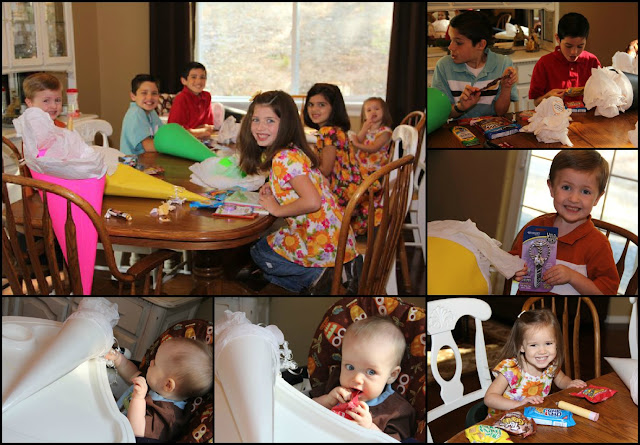 Dear Mother Mary, in your motherhood of Christ you have become Mother to us all. Praise God for this great gift to us! Today I place all my children again under your mantle of loving care. Please protect and watch over them with your motherly compassion. Bless their spirits, that they may come to know, love and serve the Lord. Guard their minds to be ever pure and focused on the true, the good, and the beautiful.
O Mary, in the Scripture it is written: "A joyful heart is health for the body" (Proverbs 17:22). Please guard my children's hearts that they will be obedient to the Lord and so will be content, joyful, and true. Bless their bodies with health and strength. Preserve in their souls the image of God they received in Baptism. May they grow to their full potential. Always, Mother Mary, protect them, preserve them, and watch over them in your maternal care.
Finally, dear Mother, please help me also to be a good wife to my husband and a good mother to our children. Please supply where we may be lacking, and protect our children from all evil. Amen.
Queen of the Most Holy Family, Pray for us!
Good St. Joseph, Pray for us!
Jesus, Mary, and Joseph, I love you; save souls.