Since it had been just over 3 weeks since I delivered our little one, we opted for a simple Cake Reception in the hall at our parish. I decided to order cakes from Costco, adding my own little touches as well.
For the Baptismal Cake I ordered Costco's White cake with vanilla cheesecake mousse and iced with white buttercream. For the decorations I choose their "Roses" design with White Roses and Dark Green Leaves. I had them leave the center blank.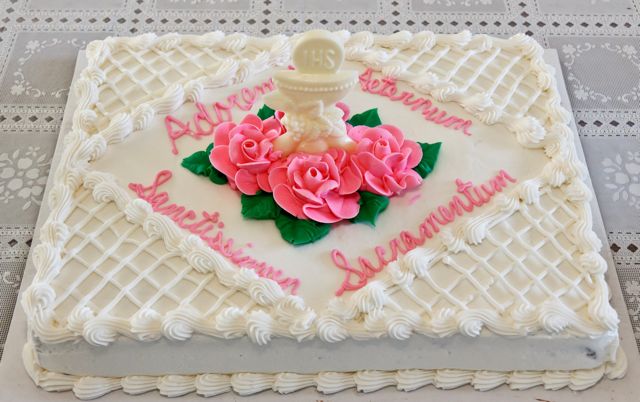 For the girls' First Communion Cake I ordered Costco's Chocolate Cake with chocolate mousse and iced with white buttercream. Since I wanted to make a white Bread of Life Cake Topper, using my Communion Candy Mold
, I needed a contrasting color frosting to place it on. (I didn't think it would look that great placed on white frosting. Originally I had planned to make my own cake for my daughter, frosting it soft-pink and placing the chalice on top, but since my options at Costco were limited to white or chocolate, I decided to have them decorate the cake with their "Bouquet" design (which is the same one I had chosen for our last First Communion) with Pink Roses and place the topper into the center of the roses standing up. Didn't it turn out pretty?! I also had them write "Adoremus in Aeternum Santissimum Sacramentum" which translates to "Let us for ever adore the Most Holy Sacrament."
I thought this would be a fun opportunity to have a couple link-ups over at Catholic Cuisine for Baptism Cakes and First Holy Communion Cakes. If you have made one in the past, be sure to head on over to share the link!