I hope you all had a wonderful St. Nicholas Day! Here are a few pictures from our celebration this year:
.: Gifts from St. Nicholas :.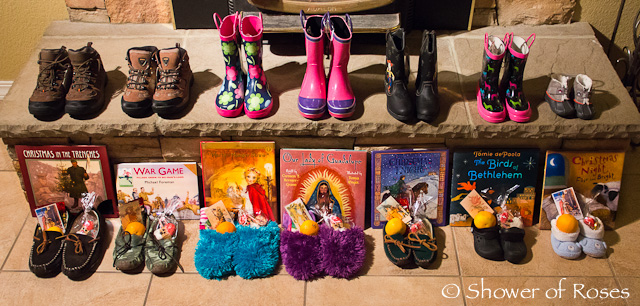 This year St. Nicholas was extra generous, leaving each of the children a new pair of (much needed) boots in addition to a few little treats treats in each of the children's slippers (A Holy Card from St. Nicholas with a note on the back, an orange, and a bag of treats including a
St. Nicholas Cookie
, a
small candy cane
Bishop's Staff, and some
St. Nicholas Chocolate Coins
) and a
new Christmas Picture Book
!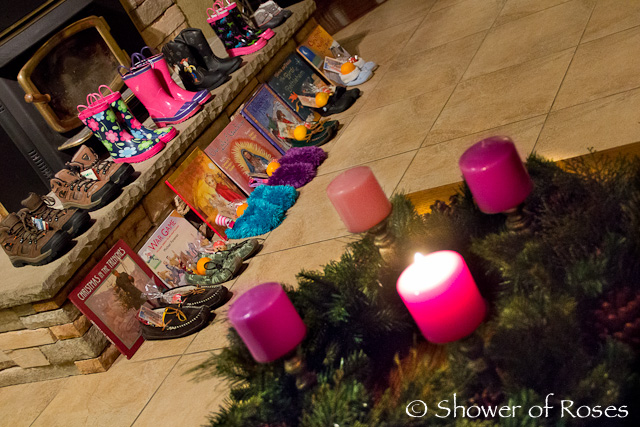 *Our candles really are purple and pink, even though they all look pink most of the time!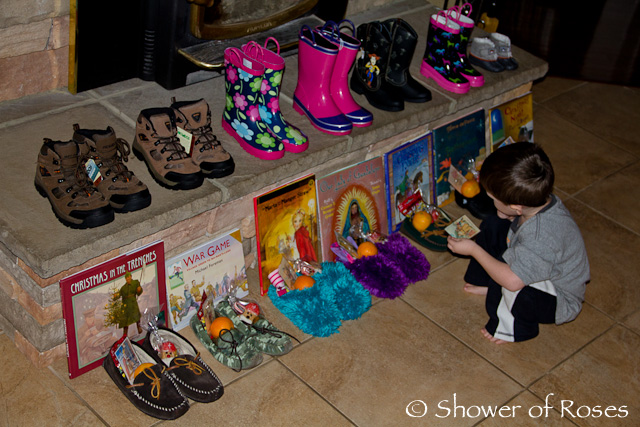 I sure wasn't thinking when I scheduled orthodontist appointments for 8am on the feast of St. Nicholas, especially with how late I usually end up staying up on the 5th! Thankfully the alarm was set, and I was the first out of bed… By the time I was done showering, Snuggles had made his way out to the living room to discover the treats!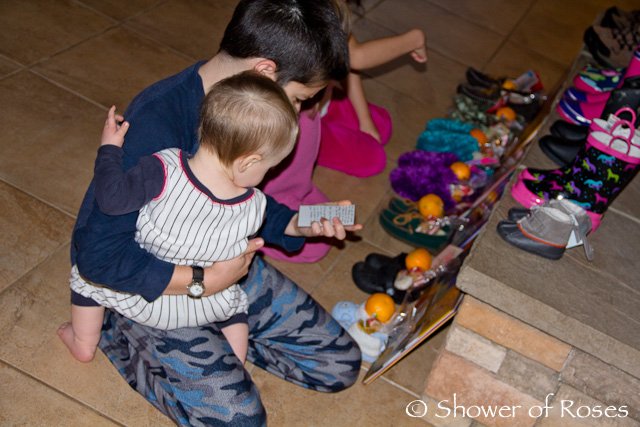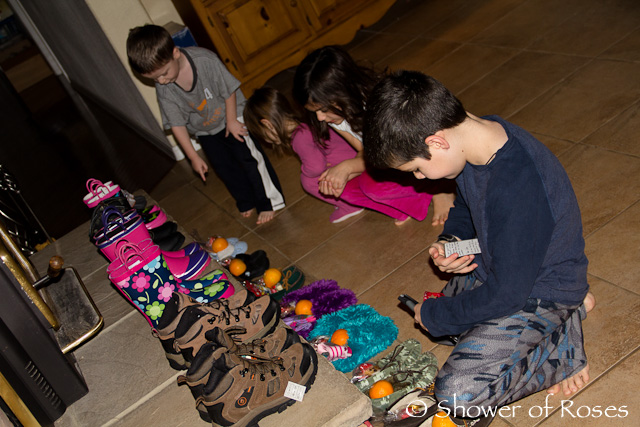 Captain and Twinkle Toes got dressed quickly and I snapped a picture of all the kids, before we dashed out the door. Poor Twinkle Toes now has (in addition to red and green rubber bands for Christmas, matching her older brother) a double wire on top, elastic rubber bands from the top front to bottom back, chains on the bottom, and has been pretty much miserable ever since… Although I was able to get a smile out of her when I took a picture of her with her cookie! 🙂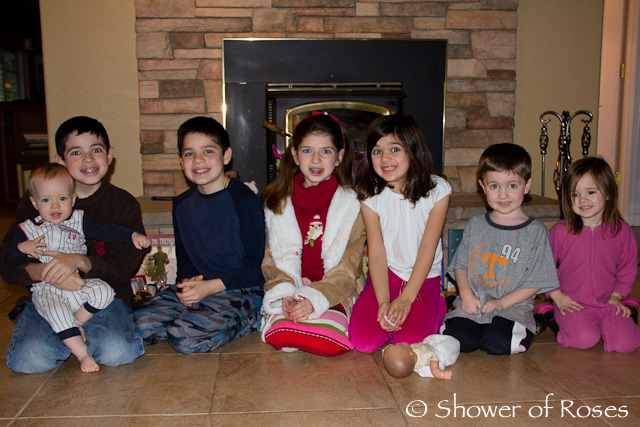 By the end of the day everyone had read (or listened to) their new books, at least once!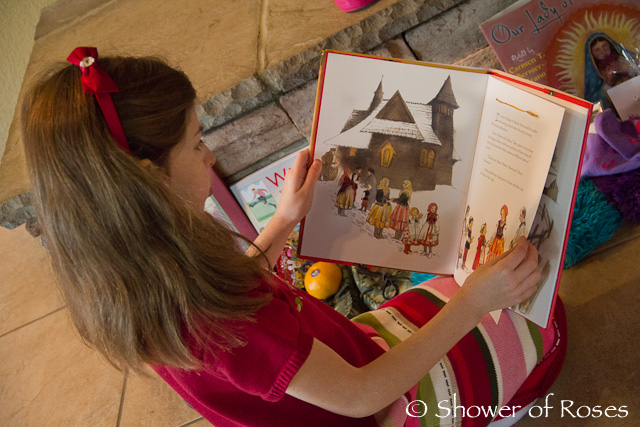 .: Saint Nicholas Cookies :.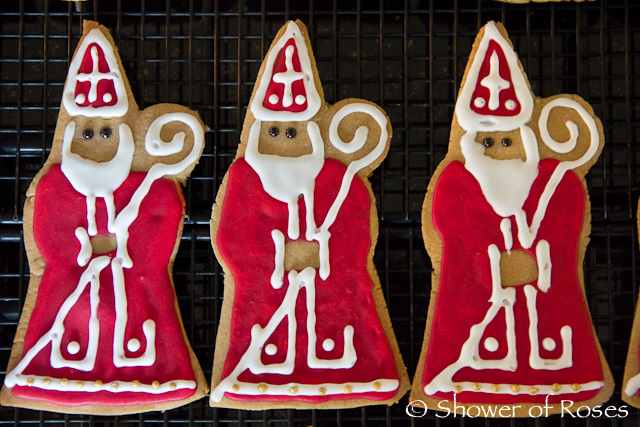 I've mentioned before that last year we enrolled our children in a local homeschool charter school, and that we have an ES/Tutor that comes about 3 times a month to spend an hour with each child enrolled (3 weeks on, 1 week off plus holidays/vacations). We have been very blessed to have one of my friends, and mother of one of my Little Flowers, as our ES this year! She comes on Thursdays for 5 hours… I LOVE it! It is such a blessing to have even the little bit of help, plus the fact that my older children have to be accountable to someone other than myself! Anyhow, Thursday is the day that she comes, so while she was working with each of the children, I was able to spend some time with the rest of the kids decorating cookies and preparing some treats for our St. Nicholas Day Brunch (which ended up being breakfast for dinner this year!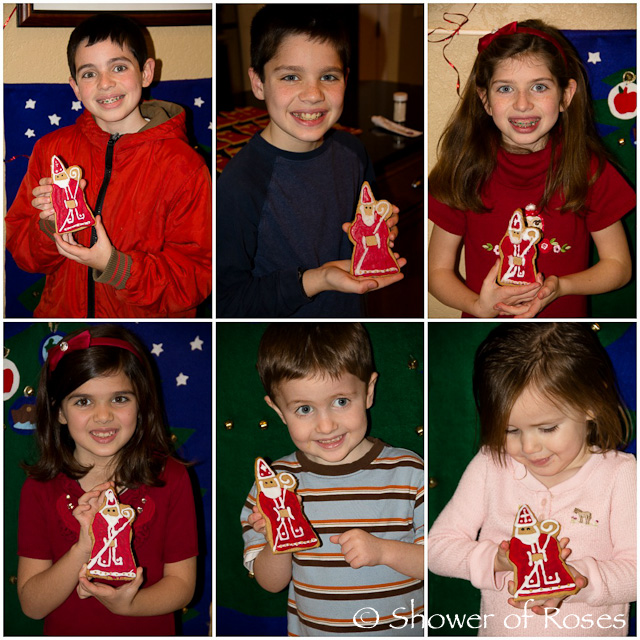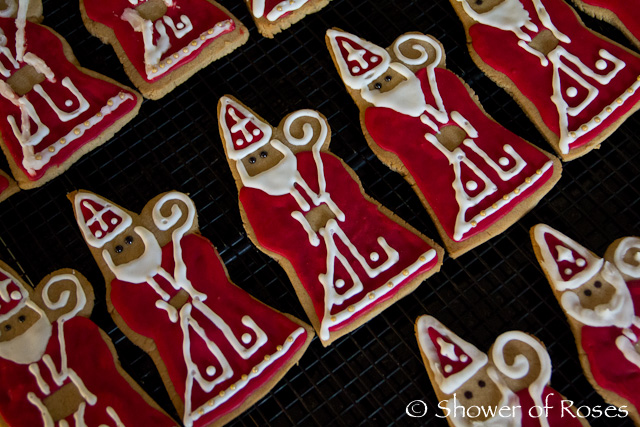 The other fun cookies that I made this year for the children (or rather from St. Nicholas) were these Saint Nicholas Cookies made with Nutter Butters! You can find the recipe over at Catholic Cuisine.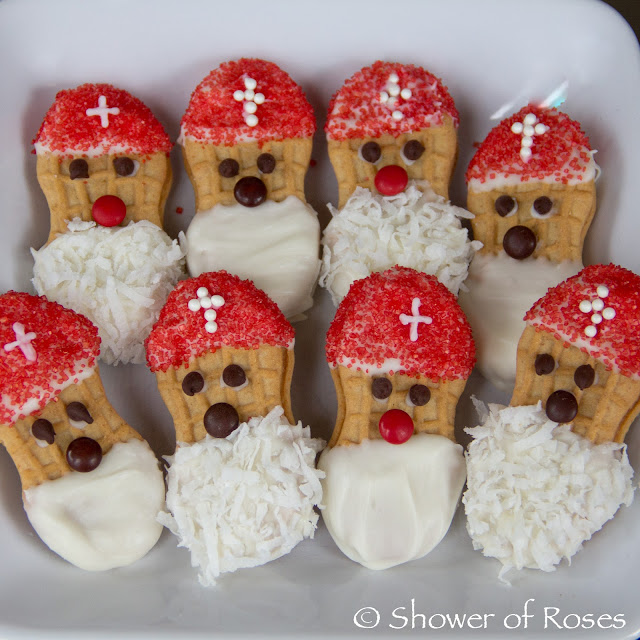 I ended up using the exact recipe for the Cherry Cheese Coffee Cake, only I used three cans of crescent rolls instead of two.
I made the bottom of each candy cane with 1 1/4 pkgs. of crescent rolls, using the remaining 1/4 package to cut strips to lay over the top. I topped each candy cane with half of the cream cheese mixture and half of the pie filling.
God, we pray that through the intercessions of St. Nicholas
you will guide and protect our children.
Keep them safe from all harm and help them grow
to become loving disciples of Jesus in your sight.
Give them strength to always mature into deeper faith
in you, and to keep alive joy in your creation.
Through Jesus Christ Our Lord. Amen.