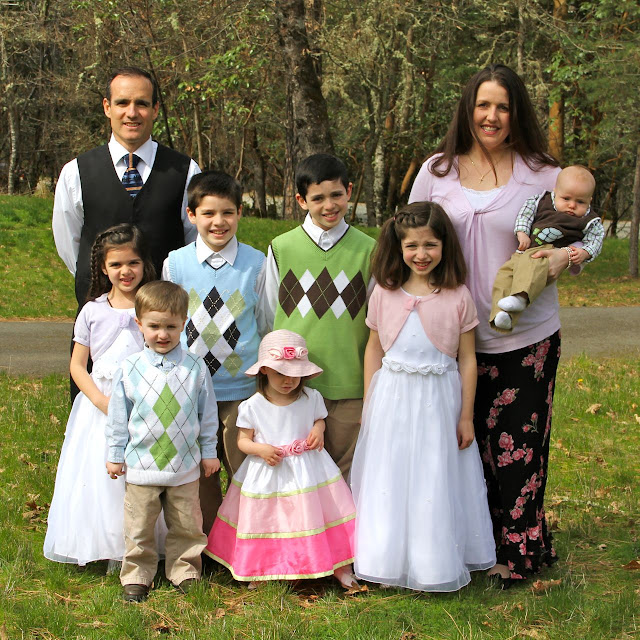 Happy Easter from our family to yours!
The past few days have been a whirlwind of craziness and fun. On Good Friday, following our simple Lenten dinner, I found out that when Snuggles fell on his way out of the van, last Tuesday night, he really hurt his arm. I called the doctors office and they asked me to bring him in at 6:10 pm. After examining his arm they sent us (me and my seven children) to the hospital for x-rays. Apparently he landed on a spot that is surrounded by growth plates and a fracture would require a splint and physical therapy with an orthopedic… There wasn't anyone available to read the x-rays and so we had to wait until Saturday for the results.
By the time we were finished at the hospital it was already 8:00 pm, and since Hubby's flight was suppose to arrive at 10:35, we decided to just stay in town and run a few last minute errands for Easter. (Friday afternoon, when thinking everything had finally calmed down, I invited a bunch of friends over for Easter dinner.) Hubby's flight ended up being late, of course, and we all arrived home just before midnight. (It's so nice to have him home again!!!)
Saturday morning we finally had some good news… Snuggles arm isn't broken, fractured, or dislocated – it will just take about a month to heal. We then headed to my brother's home for my niece's 2nd Birthday party. We all had a great time and I'm sure I'll post pictures eventually. At the party I ended up inviting some of my siblings (Brian and his family, and my other brothers that are currently in town) over for Easter as well. By the time we got home Saturday night at 6:00 pm, I was just a little bit nervous that I wasn't going to have enough time to decorate for Easter, fill all the Easter baskets, bake three cakes, make it to Easter Sunday Mass at 9:00 am, and then pull off an Easter dinner for 20 people! It all came together, with Hubby's help, and we had such a fun filled Easter with family and friends.
I have tons of pictures to share, but it is going to have to wait. I'm just a little wiped out from the last 3 weeks and hoping for a peaceful and healthy Easter season, starting with a nice long nap this afternoon since Hubby has today off and our fridge is filled with leftovers. I'll be back soon eventually!