This year we are making Lap Books to go along with each of our six Unit Studies for American History. Our second Unit was based on Colonial Life. While the girls were working on their Felicity Lap Books, the boys were busy making their own Lap Books with printable mini books from the Colonial Life (Time Travelers History Study Series) CD.
Core Text
Coloring Books and Activities:
1607 Jamestown Established
1549-1610 St. Francis Solano
c. 1595-1617 Pocahontas
1580-1681 – John Smith
1620 Mayflower – Pilgrims land at Plymouth
1621 The First Thanksgiving
died 1622 Squanto
1607-1646 St. Isaac Jogues
1645-1711 Fr. Eusebio Kino
1656-1680 Blessed Kateri
1706-1790 Benjamin Franklin
1713-1783 Bl. Junipero Serra
1773-1838 Nathaniel Bowditch
I asked the boys to choose 5-10 from the list above to add to their History Through the Ages Record of Time timeline book during this unit. The listings in bold are the ones that they choose to include this year. Here are a few pictures:
Make a Hornbook to include in Lap Book
Build a Diorama of a House
Create a Jamestown Replica
Assemble a Colonial Life Lap Book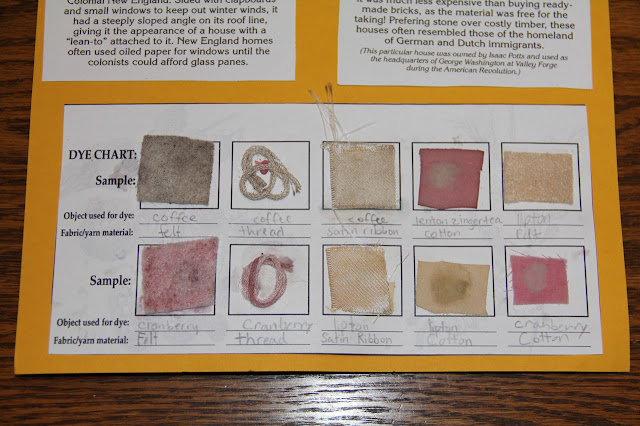 The boys created overlays using transparency paper, and gluing on the different layers of clothing worn by Colonial Men, Women, Boys and Girls.
This Colonial Woman has four different overlays, each one adding another layer to her outfit!
The boys were especially intrigued by the "pudding" worn by colonial toddlers! "While learning to walk, toddlers wore a "pudding," a soft pillow around their waist to protect from falls."
The boys finished this unit in January and have since moved on to Unit Three. They have been studying the American Revolution – one of their favorite time periods! I know I haven't answered all the questions I was asked after my last Lap Book post… I'll be back sometime this week with a few answers.