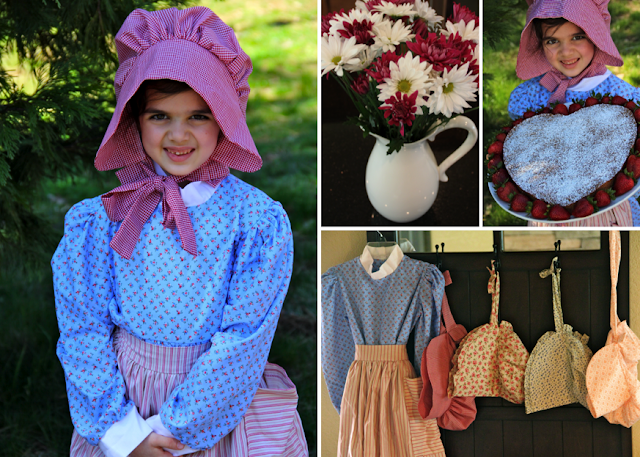 This past Friday our little Chiquita turned 7 years old! The day didn't start out as I had hoped, and we ended up spending the first half of the day at doctor's offices, then ran a few errands while we were in town, but we arrived home after lunch and thoroughly enjoyed the rest of the beautiful sunny day!
Chiquita had asked for a Kirsten themed Pioneer Birthday, inspired by their Early American History Lap Books and Unit Studies this year! I didn't get to all the ideas/plans I had come up with for our little family party (I'll save the others for another time, especially since Twinkle Toes is hoping for a "Little House on the Prairie Party), but despite my lack of organization everything fell into place.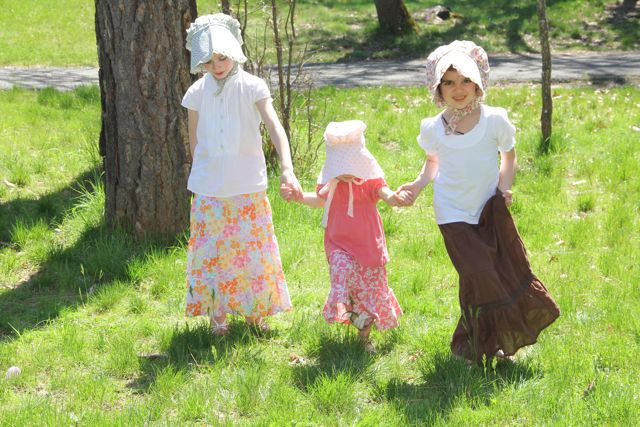 I just love how my children do their best to dress up for some of our various themed parties! The girls found their longest prairie skirts, bonnets, and had me braid their hair (just like Kirsten's for the birthday girl), and the boys put on long sleeved shirts, with vests, and their Daddy's old Rodeo hats!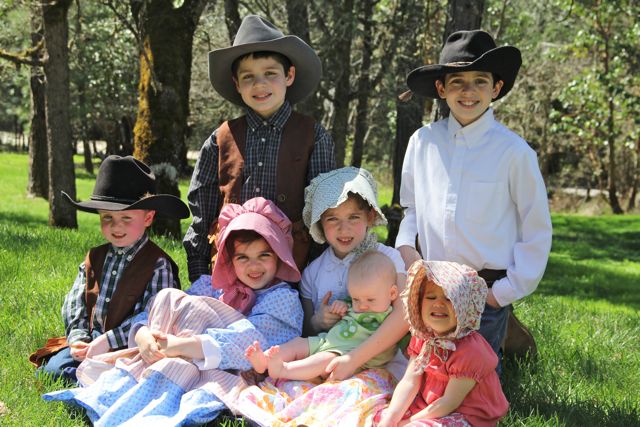 "When they laid them together on the grass, the squares made a lively pattern of blues, reds, greens, browns and white."
~ Happy Birthday, Kirsten!
Decorating Friendship Quilt Cookies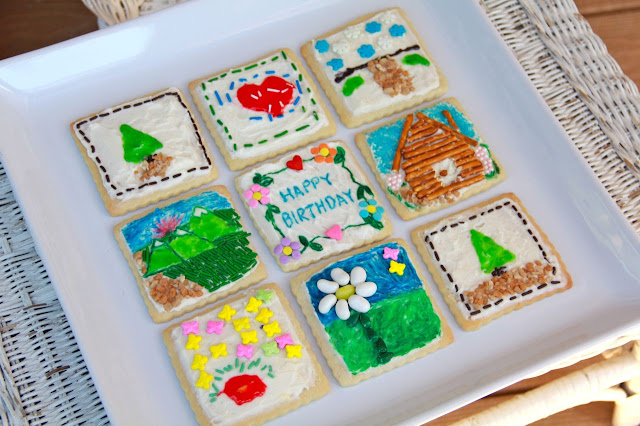 I wanted to try and find a way to tie in the quilt that Kirsten and her friends made in the book Happy Birthday, Kirsten! As much as I would love to be able to sew a real quilt, I am not at all talented when it comes to sewing. Someday I would love to take some more classes… maybe when my girls are a little older we can do so together.
Instead, I made some square sugar cookies and frosted them white. I had each of the children decorate their own square with decorator icing and candies. We placed them together on a tray to form a friendship quilt!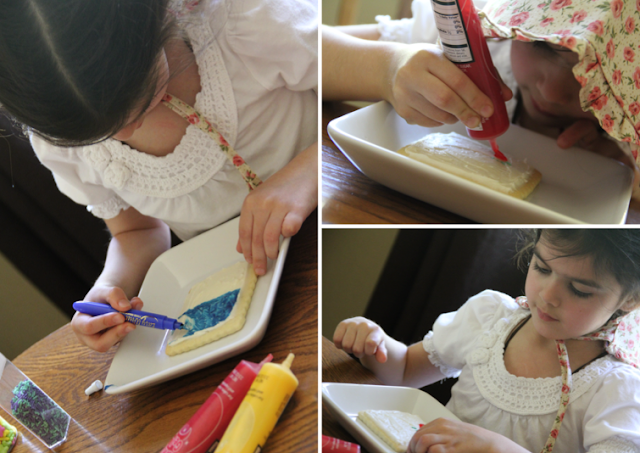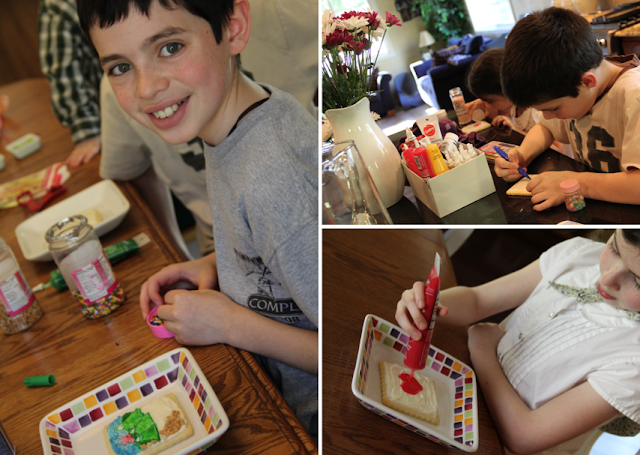 The kids enjoyed this so much, they just kept asking to decorate "just one more!" I removed the quick "sample" Happy Birthday Square I decorated to make room for Captain's 2nd cookie…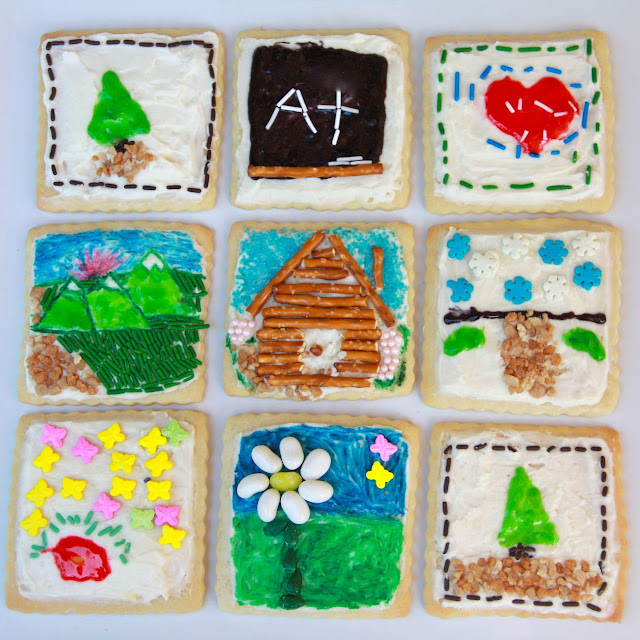 Top row: Tree by Snuggles, Chalkboard by Captain, Embroidered Heart by Twinkle Toes
Middle row: Mountains by Captain, Little House by Twinkle Toes, Snowy Path by Rascal
Bottom row: Flowers and Butterflies by Chiquita, Daisy by Chiquita, Tree by Rascal
… but the "Quilt Squares" just kept coming so I started making a second quilt. It looks like I forgot to take a picture of that second quilt completed, but I did get one of the finished cookies on the cookie rack: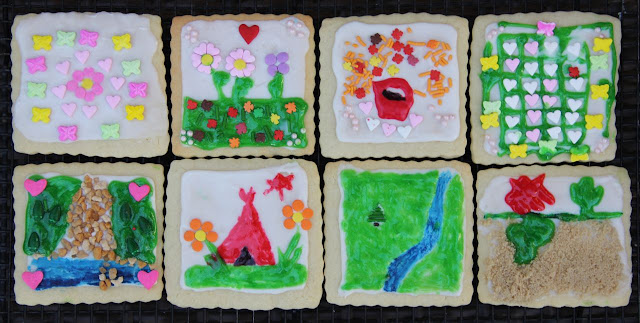 From left to right – top row: Chiquita, Twinkle Toes, Chiquita, Twinkle Toes
Bottom row: Twinkle Toes, Rascal, Rascal, Captain
(This has become a new favorite game around here. They were having SO much fun!)
To play, you'll need 5 players. Four people, with one person at each corner. The fifth person stands in the middle. She is Puss- she wants a corner too! The object of the game is to change places without letting Puss get a corner. When Puss yells "Change!" all the players scramble to change corners. As they change, Puss tries to run to an empty corner. Whoever is left without a corner becomes Puss.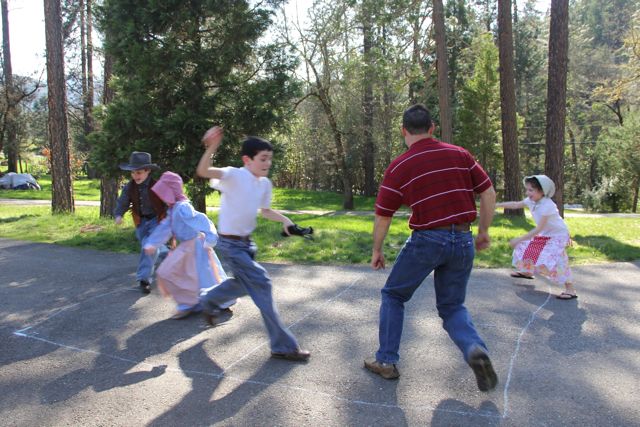 All the players stand in a circle. The first player begins the game by saying, "I have a basket." The player besides her asks, "What's inside?" The first player names something that starts with the letter A. the second player then names something that starts with B, and so on. If a player can't think of an object, she sits down. The last player standing is the winner.
All the players but one join hands to form a circle. That player is held prisoner in the middle. She touches a pair of joined hands in the circle and says, "Here I bake." Then she touches another pair of hands and says, "Here I brew." Suddenly she tries to force her way out of the circle at another spot as she says, "Here I mean to break through!" If she succeeds, she picks a new player to be the prisoner.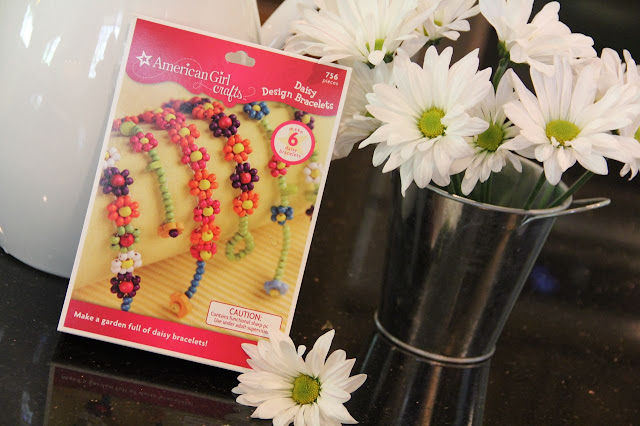 This past week Michaels had all of their American Girl Crafts 50% off! So, on our way home from taking the baby to see the doctor we picked up
this fun little craft kit
. The girls needed a little bit of help, but were mostly able to make their bracelets on their own.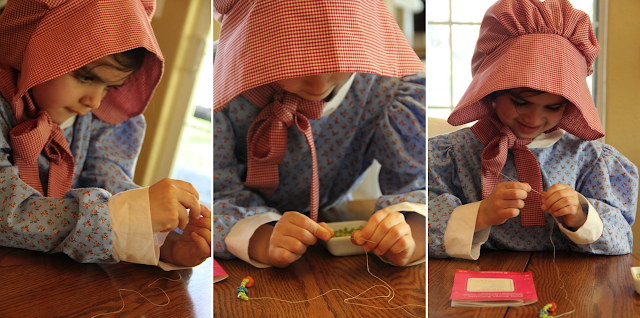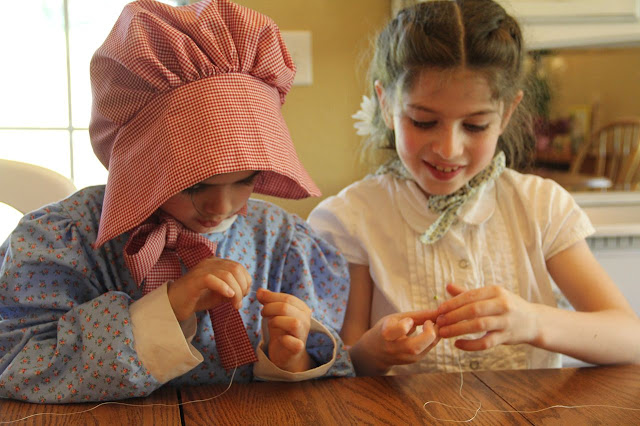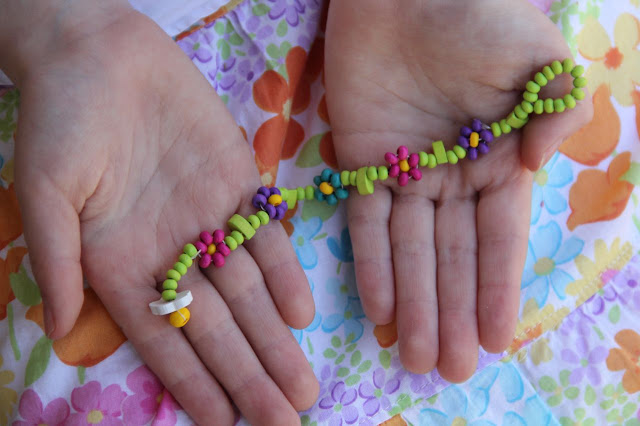 .: Kirsten's Birthday Cake :.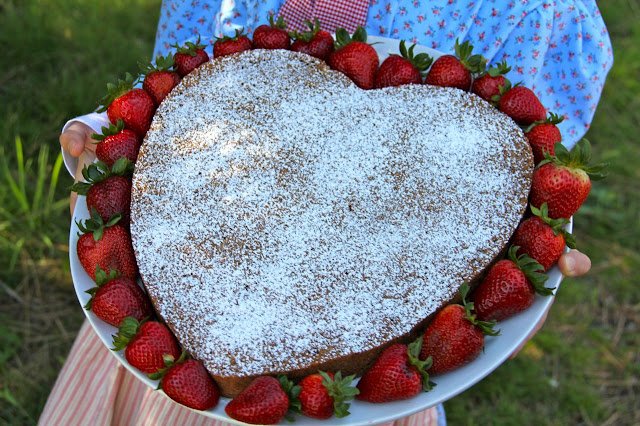 After a yummy dinner of Roasted Chicken, Baked Beans, Potato Salad, Garden Salad, and Lemonade, it was time for cake!
I am pretty sure that this was the easiest birthday cake I have ever made, and it still tied in perfectly with our theme! It was inspired by Kirsten's party treats and the picture of her birthday cake, in Happy Birthday, Kirsten!
Chiquita choose a Gluten-Free Applesauce Cake Recipe, and I baked it in a 12″ Heart Shaped Cake Pan. After it had cooled we just surrounded it with Strawberries and served it with some Fresh Cream! For Ice Cream she choose Old Fashioned Vanilla and Rocky (Prairie) Road.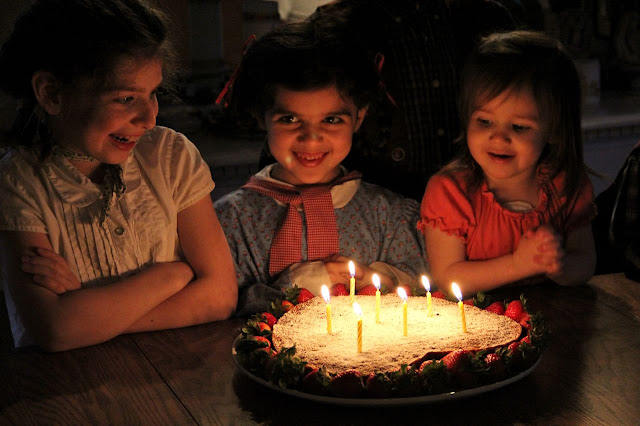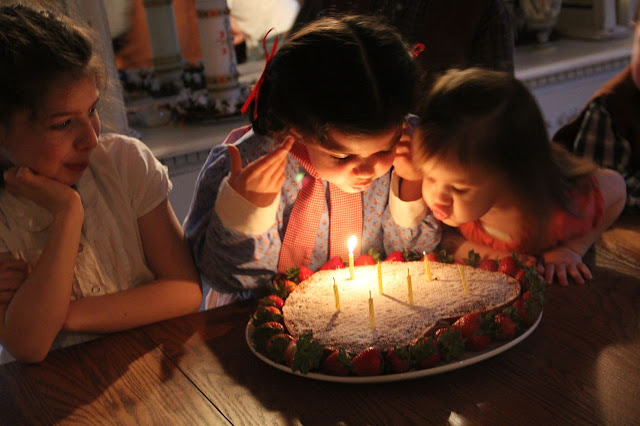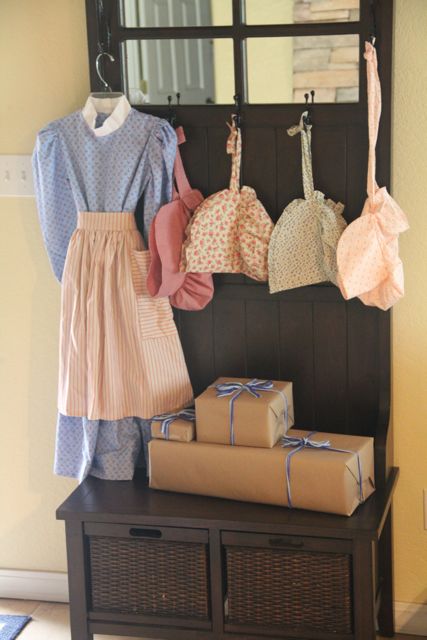 Despite Kirsten being discontinued a couple years ago, I was so excited to win an auction (at a fair price) for a new doll on ebay. Her other gifts included the darling Kirsten Prairie Dress, a gray cat (purchased at Costco), and Sari (Kirsten's doll, also from ebay).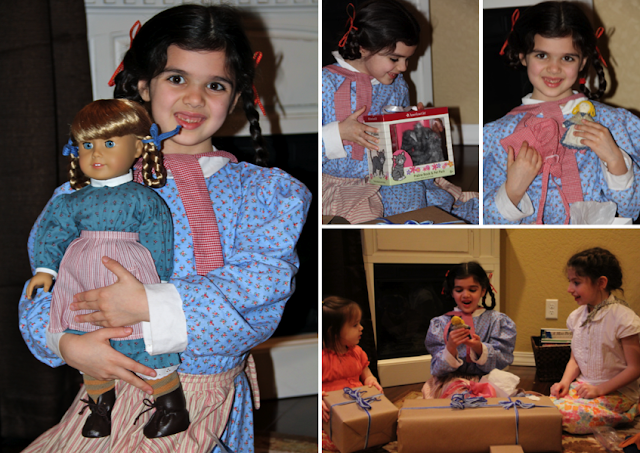 The birthday girl also used the gift from her grandparents/godparents to purchase her first and very own scooter, and received a doll sized Bonnet from her big sister!