On this coming Friday, January 13th (the traditional feast of the Baptism of Our Lord) our newest blessing is going to be baptized by his Uncle, who will fly in for a quick overnight visit just for this occasion.
Yesterday morning our oldest two daughters met with our local pastor and were given permission to receive their First Holy Communions (following their First Confessions) this week at the Traditional Latin Mass prior to the Baptism! It will be such a blessing for them not only to be able to receive these sacraments from one of their Uncles, but also during the Extraordinary Form of the Mass, which is rarely available in our area. They are both very excited!
Thankfully Hubby has been off work for the past few weeks and was able to really work with the girls on a daily basis, making sure that they were prepared for these sacraments. I on the other hand haven't had much free time, though I was able to find and order them some First Communion Dresses online and thought I would share them with you all. Aren't they pretty?!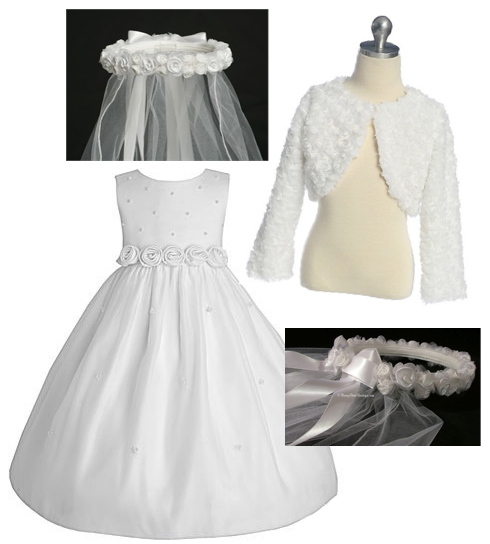 I purchased these dresses at the amazing price of just $24.99 each from JC Penney's the day after Christmas, thanks to a great sale along with the help of some bonus coupons! I would have liked to find dresses with sleeves, or have had time to add them, but instead I found a darling shrug/jacket for the girls to wear over the dresses.
These were only $22.04 each, after signing up for emails and using the bonus 30% off coupon from Sophia's Style. I thought this jacket would be perfect for our cold January weather!
These veils seemed to match the dresses nicely. We also liked that it had a nice long 30″ veil, and how can you go wrong with roses!?
Please keep the girls in your prayers this week, as they continue to prepare their souls to receive Our Lord for the very first time!