Yesterday we went on a field trip to a Hands-On Science Museum that offers over 80 interactive science exhibits, Science Live! performances and tons of hands-on activities! It had been over five years since we had visited this great place, so only our oldest two even remembered it at all. The kids were all wishing that their Dad would have been able to go along with us, and are really missing him, of course… Especially today since it is his birthday! Happy Birthday Daddy!!! Only two more weeks to go…
Here are some of the things we explored.
Bubble-ology
Five different ways to play with, and learn about, soap bubbles. Put yourself in a bubble; experiment with a wall of bubbles; watch bubbles magically float in mid-air; and more.
Water Rocket
Mix just the right amount of water and air pressure, and fire a rocket to the ceiling.
Pulley Chairs
Pull yourself up into the air. Three different chairs, with three different size pulleys, provide different levels of difficulty. Does the seat with more pulley wheels make it easier or harder to lift you? Count how many arm lengths of rope you must pull to reach the top. Do you pull the same length for each chair?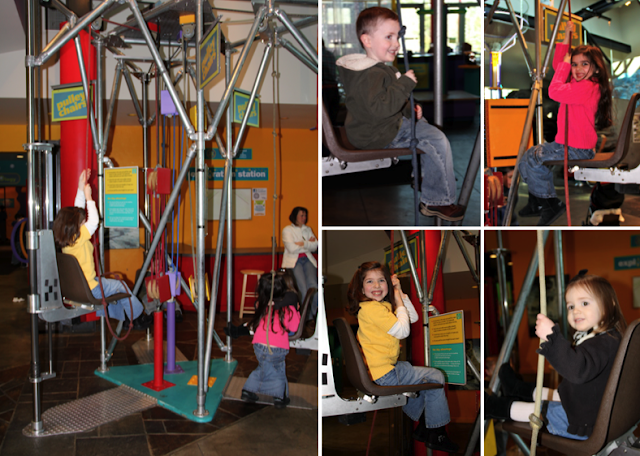 Sportsology
An exciting, interactive, bilingual exhibit that explores the science behind sports. This exhibition is composed of a series of hands-on challenges that allow visitors to test their athletic abilities while learning how their bodies work. Visitors can explore different kinds of athletic abilities including strength, speed, endurance, balance, coordination and agility.
Got Nano
Do you have nano? We have nano. Explore the extremely tiny ("nano" is a billionth of something) and extraordinary world of nano in this year's ScienceLive! theater show. How do materials behave differently on the nanoscale than on the macroscale? By participating in outrageous experiments like the "bed of nails" and "magic sand", you will discover the secret science of nano. At the end of the show, everyone is going to "get" NANO!
Chemistry Matters!
What do atoms and molecules have to do with your life? Everything! This ScienceLive show will get kids of all ages thinking about what makes up everyday "stuff" and how the science of chemistry helps us create new kinds of useful substances. A variety of fascinating demonstrations and entertaining audience participation help you gain a clearer understanding of physical science topics including states of matter, chemical reactions and more!
Bee TV
See a live bee hive where bees travel in and out of their bee hive through a clear tube providing access to the outdoors, flowers and trees for pollination. Watch trails of bees exiting and returning with pollen visible on their little feet. A magnifying camera, donated by Ashland Kiwanis, is on a telescoping arm that can be adjusted to anywhere on the glass bee hive enclosure. The magnified image projects onto an adjoining television so you can see the eyes, wings, bodies and feet of the bees up close. Look for the queen bee and watch how honey is made. Found in the Discovery Lab, the bee exhibit is available for all visitors to the museum to see.
Make an Impression
5-foot high wall made of 65,000 plastic "pins." Push up against it and you'll get an impression of your face, hands, body, etc.



We all had such a great time and even Bud enjoyed hanging out in his stroller most of the morning! Hopefully we won't wait another 5 years to visit again.