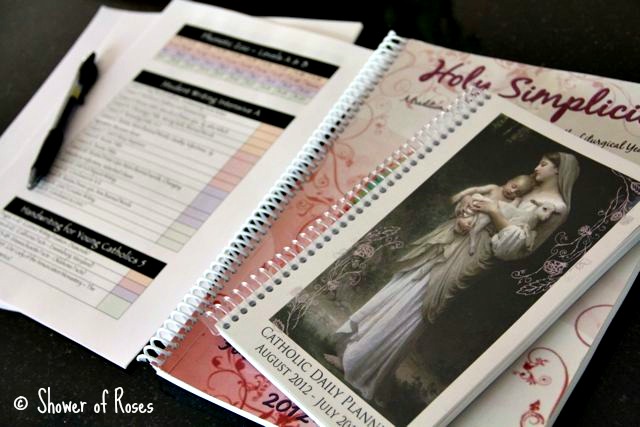 Since I prefer designing our own curriculum each year, rather than purchasing a boxed curriculum conveniently complete with lesson plans and syllabi, I usually try and create my own plans and checklists. Each year has been different. When the older boys were younger, and using lots of workbooks, I would fill a page divider in their binders with all of their worksheets for the week. As they finished the assignments they would move them to another page divider for all their "completed" work. Some years we just used individual lesson planners to schedule and record our work. (That didn't work too well, though I wouldn't mind giving it another try now that they are older.) The last couple years, I've been making checklists, inspired mostly by Sarah at Amongst Lovely Things. Checklists have been perfect for us!
Here is a peek at the checklists I made the kids this last school year, in addition to our History Unit Study Checklists. (Note: I always try and leave Friday free for attending Mass and catching up on any unfinished school work and projects.)
(Click to enlarge)


Each weekend I would update and print the lists for the upcoming week, after reviewing each child's work. It was working wonderfully, until the baby arrived… After that I just didn't have the extra time or energy to continue. The kids continued completing their school work, but they
really
missed having their check lists. This year I knew I wanted to find an easier way…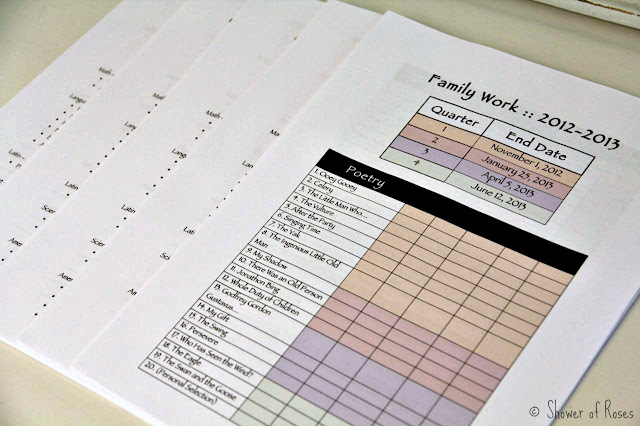 Inspired once again by Sarah and her Color-Coded Progress Lists, we began the year with beautiful colorful checklists, listing our
"color-coded"
goals for each of our four semesters. This is such a awesome idea and has been making it so easy for the children (and mom!) to keep track of where they are in each subject, while being able to see their progress and overall goals for the whole school year at a glance.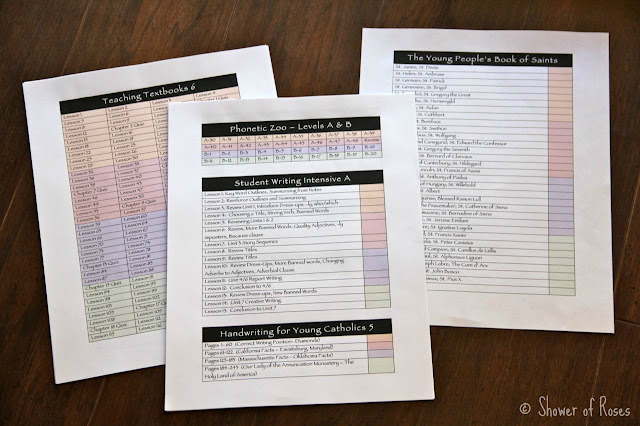 Sarah has generously shared her modifiable documents over at her blog. I created my own documents with tables in Microsoft Word, using the same idea and colors. (They were perfect picks after all: Orange for Fall, Red for Christmas, Purple for Lent, and Green for Spring!)
.: Links to our Checklists :.
I've uploaded copies of my completed documents to Scribd, for anyone who would like a peek at our plans for the year:
Snuggles :: Kindergarten
UPDATE:
Since I've had so many requests, I uploaded the actual modifiable word documents to Scribd as well. You can find them here: Family, Captain, Rascal, Twinkle Toes, Chiquita, Snuggles (includes Alphabet Path). When you click to download the documents just be sure to select "DOCX" to be sure you download the Word Document and not a Scribd PDF. Depending on your computer the formatting will probably be off, but you can change the fonts, etc, to your own preference. Hopefully it will save some time for those of you that have students using a similar curriculum! In exchange, would you please just offer a prayer for my family!
🙂
For Snuggles I am also making a checklist for each letter of the Alphabet, as I finalize our plans. So far I have only made the checklists for the letters A-C: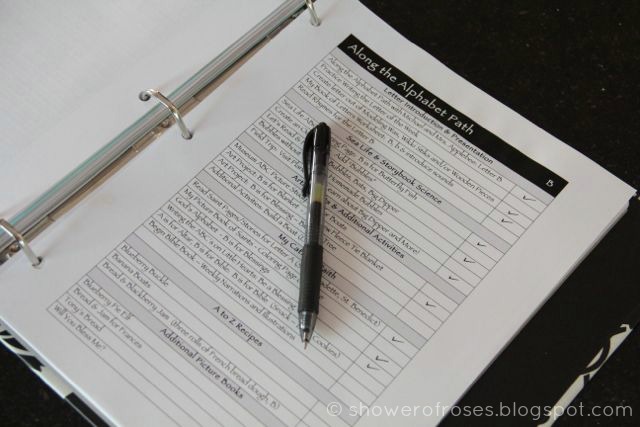 "When we once begin to form good resolutions,
God gives us every opportunity of carrying them out."
.: Organizing the Checklists :.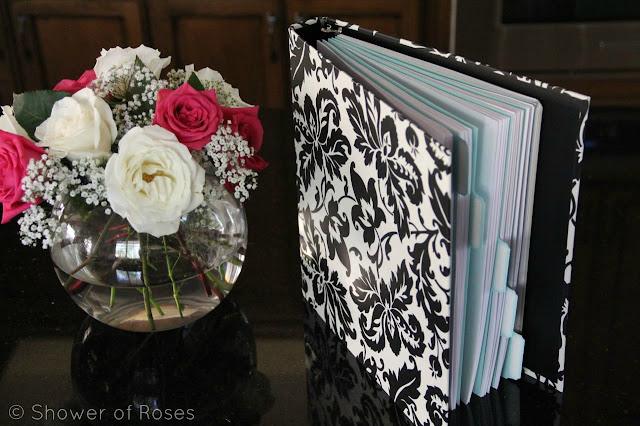 Using a 40% off (all Martha Stewart!) coupon, I purchased some Martha Stewart Office Supplies at Staples this fall. I choose a pretty Black Damask three-ringed binder to hold the checklists.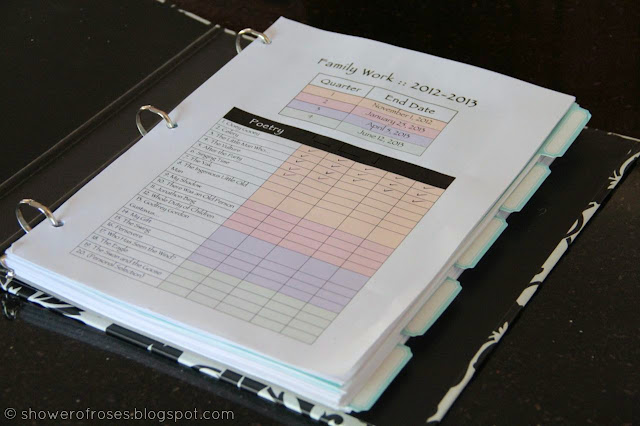 I placed the "Family Work Checklists" in the front of the binder, followed by a section for each of the kids, using five Blue Paper Dividers.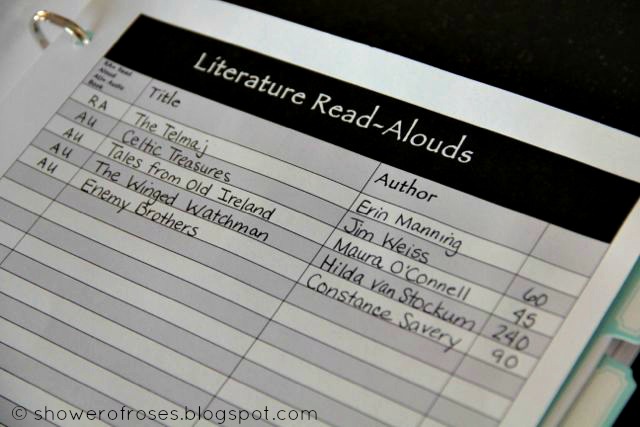 At the back of the the "Family Work" Section I have printed pages for recording all of our extra Literature Read-Alouds. The page pictured above is the record for our October Read-Alouds… I'm still working on reading The Telmaj to the kids, and in the meantime they have already listened to four other audio books! Yes, we are an audio book loving family! I'm just not fast enough for the kids… 🙂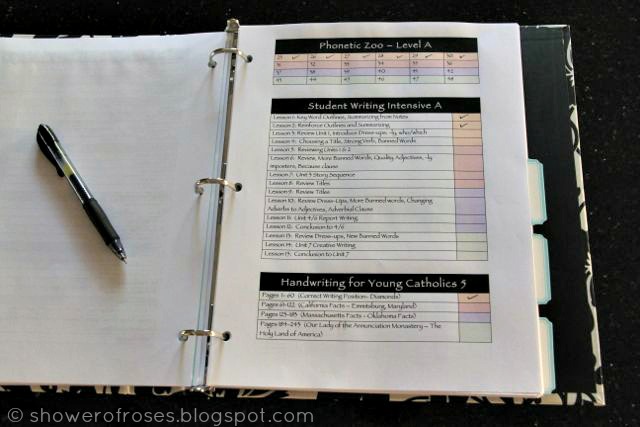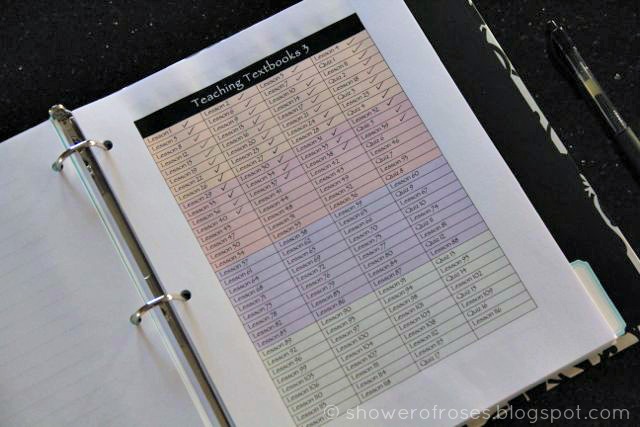 *I LOVE seeing that we are AHEAD in some subjects!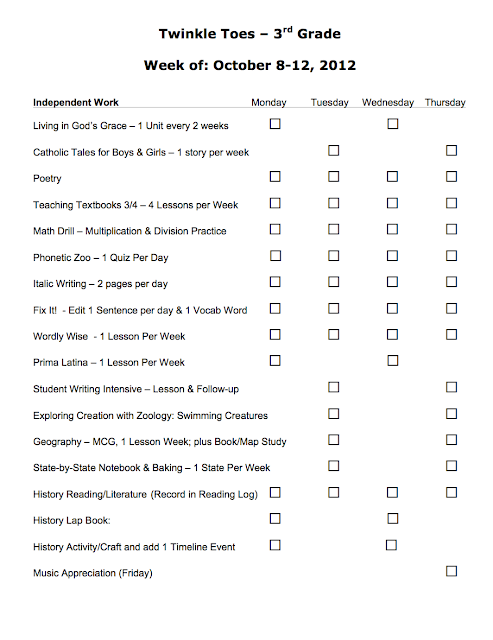 (Click to enlarge)
I also made generic weekly checklists for each child so they have a general idea of what they need to accomplish each week. I'm not updating them with the actual assignments and lesson numbers (that just takes too much time with this many kids) but so far these have also been really helpful. On Monday morning I post the checklists on the pantry door in the kitchen. That way, when they ask for extra privileges (i.e. watch a video, play a Wii game, etc) I can glance at their weekly checklist to see if they are caught up on their schoolwork before giving an answer. At the end of the week I go over the checklist with each child, and update our Color-Coded Checklists in my binder. Now I just need to come up with something similar for chores! 😉
"Without work, it is impossible to have fun."
While I'm on the subject of planning, some of you have been asking about my daily planners and calendars… Even though I have tried using my computer and phone apps to get organized, I always fall back on my printed calendars and day planners.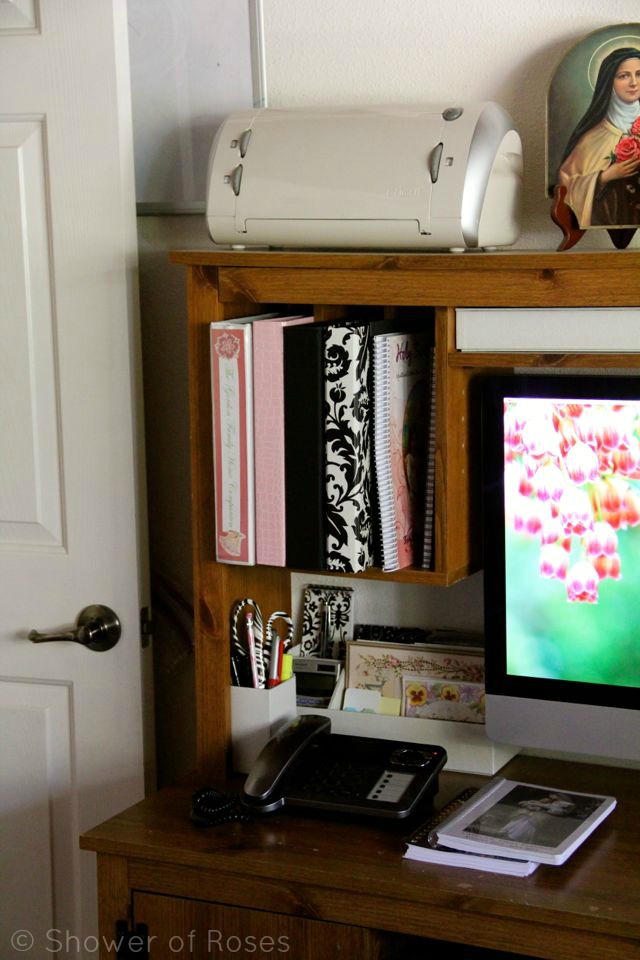 I've already blogged about our Favorite Catholic Calendars. This year, in addition to our wall calendar and Saints Calendar/Planner (which sits next to my computer to easily reference feast days and plan our celebrations), I am using two other Day Planners.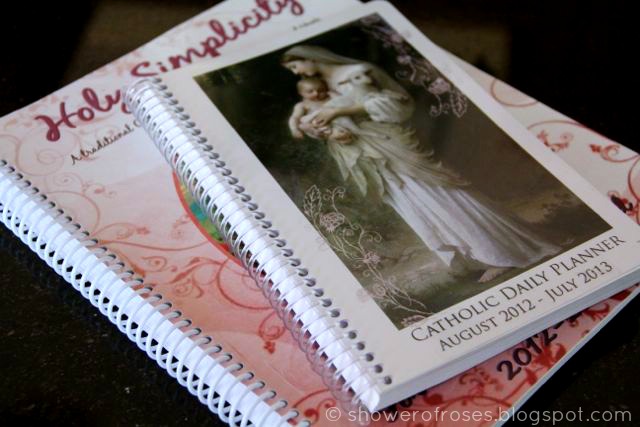 The first is my Half Sized Catholic Daily Planner. It fits perfectly in my purse, and it's what I use for scheduling and keeping track of all of our appointments and activities that take us out of the home.
I also was given a copy of the Holy Simplicity Planner. I've been using this Full Size planner to jot down notes each week, plan our menus, and record some of our weekly accomplishments that aren't accounted for on our checklists (i.e. various science experiments, feast day celebrations, etc.).
Note: The Tan Saints Calendar and the Catholic Daily Planner include the feast days for both the Extraordinary AND New Church calendars! The Holy Simplicity Planner is based exclusively on an [UPDATE: older version – not the current Traditional Calendar] of the Extraordinary Church calendar. [UPDATE: I am no longer using the Holy Simplicity Planner, and will not be using it agin in the future.]
My favorite part of this planner was the Weekly Planning Sheet which is found in the Reproducible Section in the back. I may change my mind, but for now I'm posting it inside my broom closet in the kitchen… It was either there, or on my laundry room freezer, and lately I've been sweeping multiple times each day, and spending very little time doing laundry… [UPDATE: I wasn't consistent with using these either, and had the most luck with the above color-coded checklists I made for myself. LOVED those and will be making them for the 2013-2014 school year too.]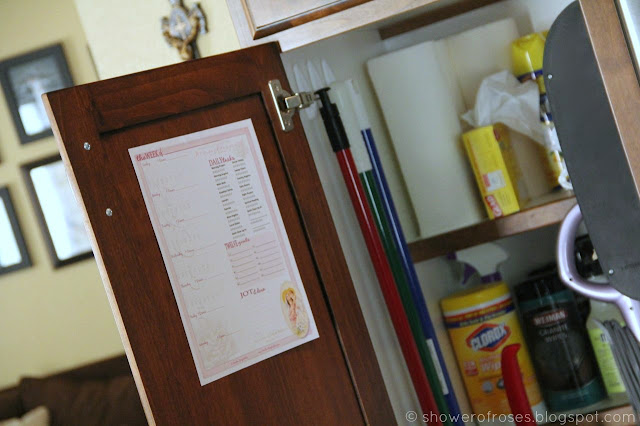 Anyhow, I'm still working on updating our old daily schedule, which has been quite challenging. If only there were a few more hours in the day! I'll be sure to share it with you all if I ever do figure it out.
"The goal of all our undertakings should
be not so much a task perfectly completed
as the accomplishment of the will of God."