Back in November I shared a product review for Jesse Tree Treasures O Antiphons and Jesse Tree Ornaments. Now, with Lent beginning a week from Wednesday, I was asked to review their lovely Holy Week and Easter Ornaments, along with their new Stations of the Cross Ornaments and Parable Pouch. Once again I am more than happy to recommend these beautifully decoupaged ornaments!
.: Stations of the Cross :.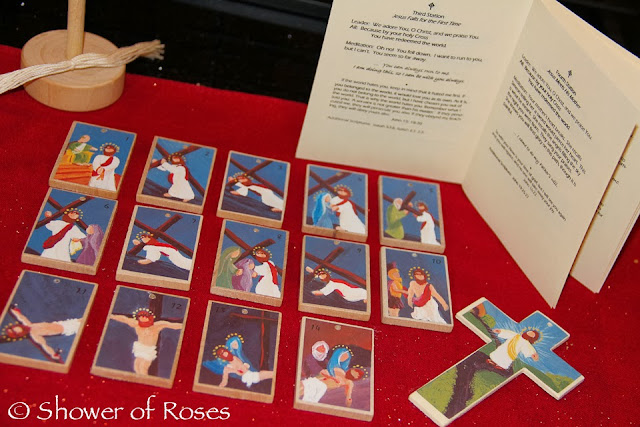 Isn't this set just gorgeous?! I love the simplicity and beauty of each painting. It didn't take me long to assemble the tree and attach the strings to each ornament. We already have a beautiful set of Stations of the Cross that we will display once again during Lent, but these will be such a nice addition, especially for my younger children. My hope is that we will be able to attend Stations of the Cross each Friday morning after Mass, but since my husband will be out of town for half of Lent, I think we might be praying them at home quite a bit as well. This new set, along with our The Way of the Cross for Children DVD, will be such a nice help!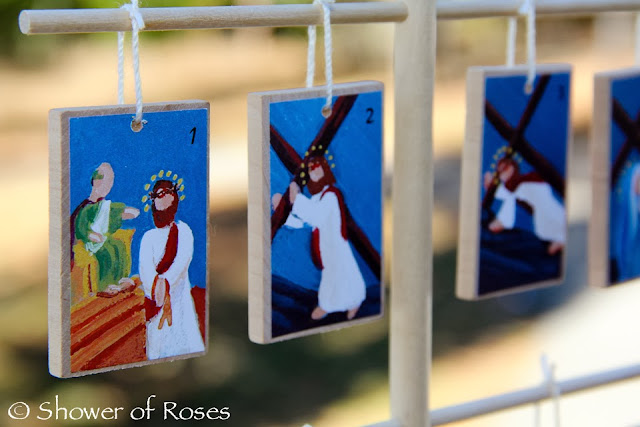 .: Holy Week and Easter :.
I especially love this set of Holy Week and Easter Ornaments. The images, created from original folkpainted artwork, make such pretty ornaments. Love them!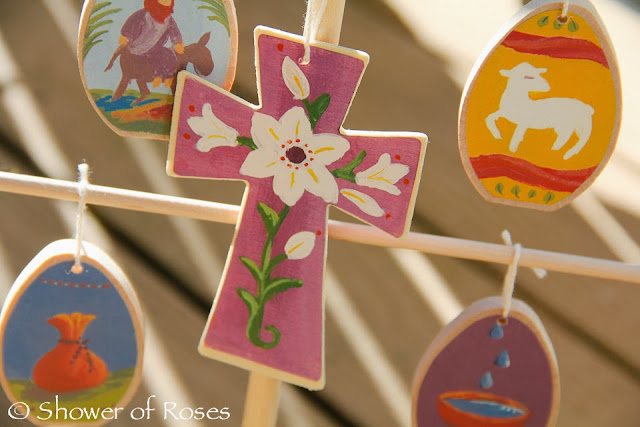 "These ornaments can be used sequentially during Holy Week starting on Palm Sunday, or sooner with one ornament per day. We've included 8 eggs, 1 cross, and a booklet with 10 devotions. On Easter Sunday, the cross may be flipped around to see flowering Easter lilies, a celebration of our new life in Christ. Many of the symbols on the ornaments represent more than one of the events from Holy Week, which allows your family to experience more of the richness of the last week of the earthly life of Christ."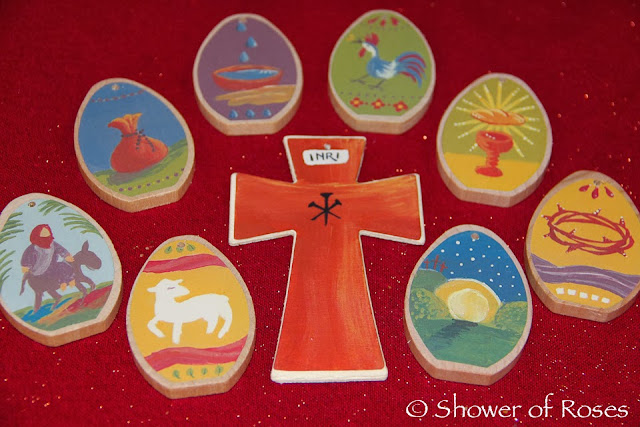 According to the Etsy shop, you can "
buy both the Stations of the Cross with tree and the Holy Week ornaments and save $5.00! These sets work really beautifully together. They help to travel through Lent and look toward Easter with longing. Then on Easter morning, there is true rejoicing."
This last new product would make another great addition to Easter Baskets! Last year I had an Easter Basket that was filled with gifts based on Easter Symbols for the whole family. I am planning on adding this "Parable Pouch" to that basket this Easter.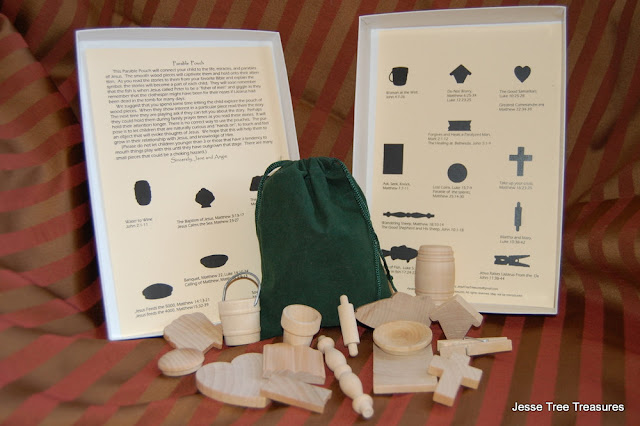 "This Parable Pouch will connect your child to the life, miracles, and parables of Jesus. The 17 smooth wood pieces will captivate them and hold on to their attention. As you read the stories to them from your favorite Bible and explain the symbol, the stories will become a part of each child. They will soon remember that the fish is when Jesus called Peter to be a "fisher of men" and the jar is when Jesus turned the water into wine. The scriptures for each of these stories is listed inside each box. Each set includes: 17 wood shapes, 2 scripture cards, velvet bag, and gift box."
Thank you to Jesse Tree Treasures for the sets that were given to us, in exchange for sharing this review. We look forward to adding them to our family traditions for Lent and Easter!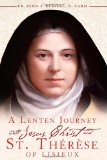 Before you go, I have a little giveaway I've been meaning to post. Last year I somehow managed to order a second copy of A Lenten Journey with Jesus Christ & St. Therese of Lisieux. I'd love to send it to one of you to read this Lent! If you'd like to be placed in the drawing just leave a comment on this post by Wednesday night, sharing which of the above three Jesse Tree Treasures sets is your favorite, or your favorite book to read during Lent. I'll draw a name on Thursday, and announce it here in this post. Please make sure you leave me an email address so I can contact you if you are the winner!