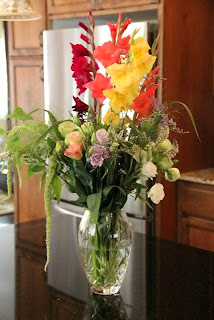 Outside my window…
it has cooled off a little bit. A friend of ours was married this past Saturday, on the hottest day we have had all year! Of course, the reception was outside… Despite the heat, the wedding was beautiful and we all had so much fun at the reception!
I am thinking…
about how nice it is going to be to really slow down the next two weeks. I've already cancelled the last golf camp the kids were going to attend, and so far we don't have anything scheduled other than attending Mass. I want the kids to have plenty of time to just play outside during these last couple weeks before school starts, and I'm hoping to have the time to finally finish our plans for this coming year.
I am thankful…
that God always provides! I wasn't sure how we were going to pay for all the medical bills I wracked up last month (on top of our school book orders), but we now have just enough thanks to some overtime Hubby is working, and all of your book purchases. Thank you!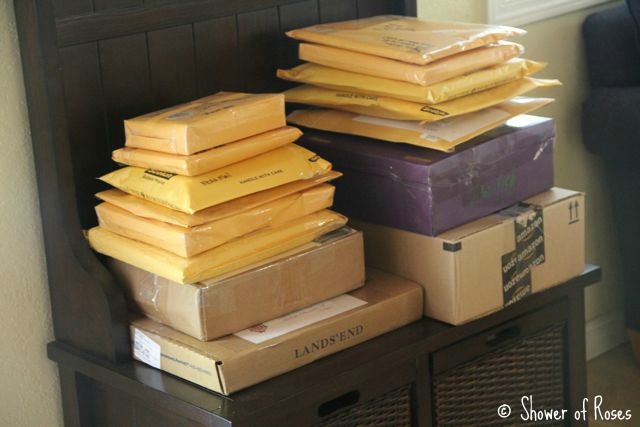 Learning all the time…
the kids are still working on Math everyday. The boys are getting close to finishing, and the girls are getting a jump start for this coming year. Other than that we are still reading some books for our Olympics Unit Study, but watching clips on youtube is just not the same as watching it live… I sure wish there was a better option for those of us without cable and/or tv reception… oh well.
Celebrating the liturgical year…
the feast of St. Clare is coming up this weekend! Since St. Clare is the patron saint of embroiderers, I printed off Charlotte's Saints 'N Stitches pattern for St. Clare. I embroidered a couple saints back when the girls were making there way Along the Alphabet Path, but now I think they are old enough to embroider one on their own. We'll start this weekend and it will be a perfect project for them to continue this coming week here at home.
From the kitchen…
Our pastor came over for dinner Wednesday night, for the first time! (We had invited our newly ordained parochial vicar as well, but it somehow didn't get on his calendar and he wasn't able to make it after all.) We ended up serving Teriyaki Pork Tenderloin, along with Roasted Brocolette & Garlic, Sautéed Summer Squash, Garden Salad with those fresh picked tomatoes, and Dinner Rolls.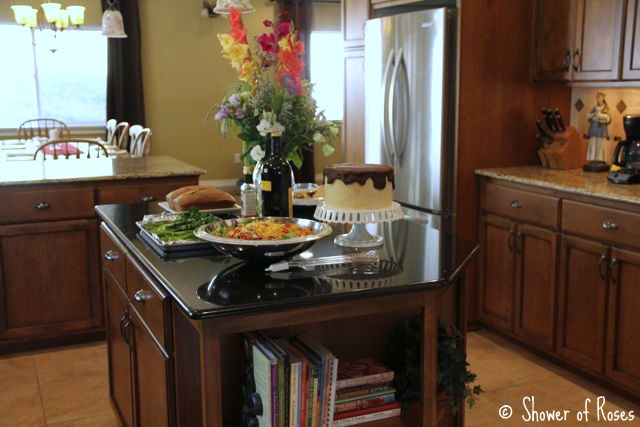 I am creating created…
another Chocolate Peanut Butter Cake to serve with Vanilla Ice Cream for dessert! YUM!! The ganache hardened way too quickly, and didn't drip down the sides very well, but it tasted amazing!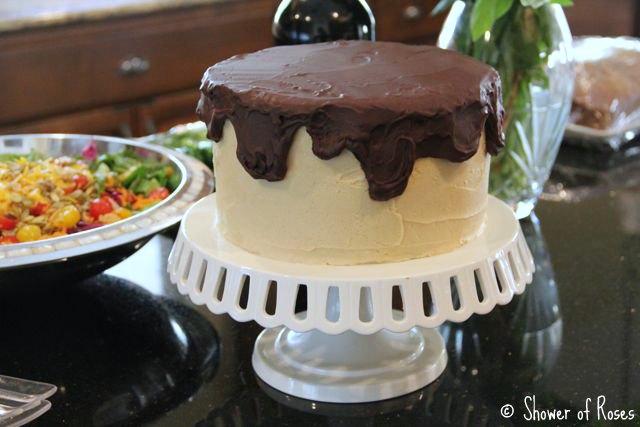 Sour Cream-Chocolate Cake, made from scratch, topped with Cream Cheese Peanut Butter frosting and Chocolate Peanut Butter Ganache… Yumm! Totally worth cheating on a diet to eat a piece!!! Now someone needs to get the leftover cake out of my house!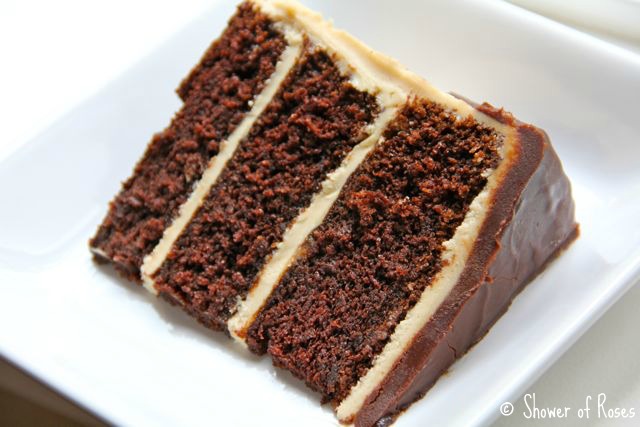 I am working on…
staying out of my laundry room – away from our extra fridge and all that leftover cake… Good thing I'm caught up on laundry at the moment!
I am going…
to stop by the library so Rascal can pick up his $15 gift card to Barnes and Noble, which he just won for participating in the Summer Reading Program! I guess our family had pretty good odds of winning at least one prize from the drawing, living in such a small town and all! 😉
I am hoping…
to make it to the Grower's Market again tomorrow morning. I'd have to take all the kids, since Hubby will be working all day, but it has been so nice to have all the extra produce in the house each week.
I am reading…
We are all really enjoying G is for Gold Medal. One of our favorite little tidbits of information that we have learned from this book was about all the "Extinct Events." My kids have been having their own backyard Olympics, and including some of these extinct events!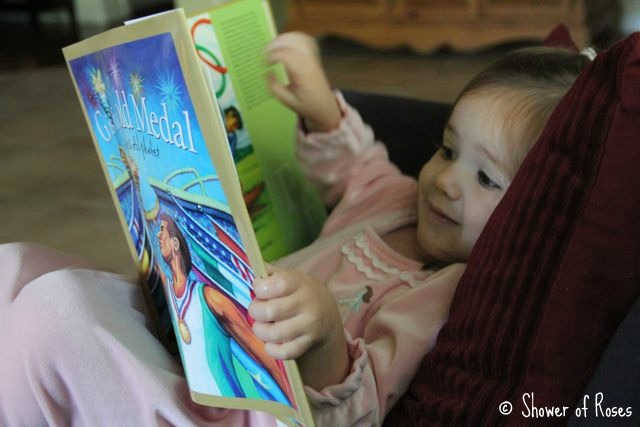 "E is for extinct events, Dozens are no more,
like motorboating, rope climbing, croquet, and tug-of-war."
Croquet and Tug-of-war are fine, but I drew the line at the discontinued weight lifting event from the 1904 Olympic Games, which was called "the all-around dumbbell contest." We don't allow any name-calling in our home! 😉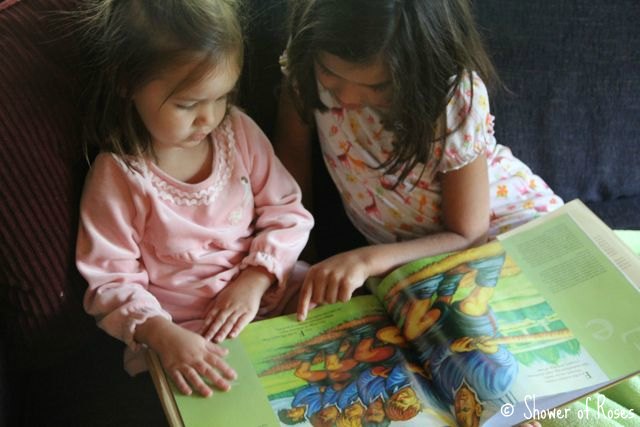 I am praying…
for my husband, and a job interview he has coming up on August 14th. Not only would the job be a promotion, it would also possibly allow us to transfer to an area with a traditional parish that offers the Extraordinary Form of the Mass – something he has been praying for since he married me and got stuck here for years!
Pondering these words…
from Mother Teresa:
"Everybody today seems to be in such a terrible rush, anxious for greater developments and greater riches and so on, so that children have very little time for their parents. Parents have very little time for each other, and in the home begins the disruption of peace of the world."
I am listening…
to Roses for Mamma. My boys heard it playing awhile ago on one of our Pandora radio stations, and Captain said it is his "new favorite song, even though it is so sad." When it played again this past week Captain came running to pull me into the living room and listen to the whole song. It really is such a sad song, but so sweet too.
Around the house…
clean floors! I just finished sweeping, mopping, and vacuuming the whole house. With our little guy crawling all over the place, I've been cleaning the floors much more frequently!
One of my favorite things…
garden salads during the summer! My favorite salad is inspired by the "side salad" at an awesome little restaurant nearby, made with a mixture of romaine lettuce, spring mix, red cabbage, grated carrots, cucumber, Colby-Jack cheese, tomatoes, and a mixture of raw cashews, honey-roasted sunflower & pumpkin seeds. Yum! I prefer Honey Mustard dressing, but lately have been opting for just olive oil and balsamic vinegar or
Bragg's Healthy Vinaigrette
.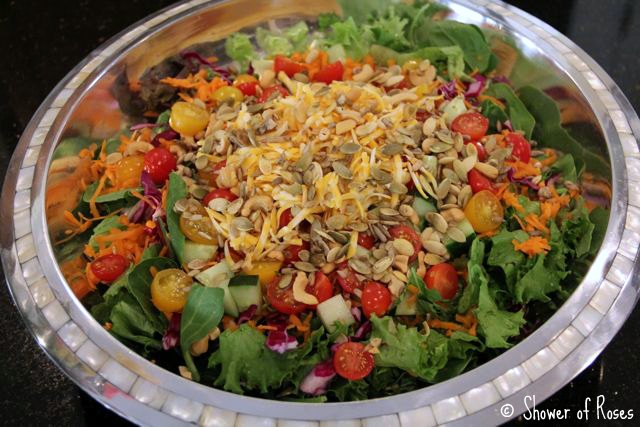 This week's plans…
Swimming Lessons Monday-Thursday
Mail out all book orders
Pastor for Dinner Wednesday Night
Visit from my Cousin and her family on Thursday afternoon
Visit with Friends and Lunch at the pool on Friday
Saturday Morning Grower's Market
St. Anthonty Festa/Mass on Sunday
A little peek at my day…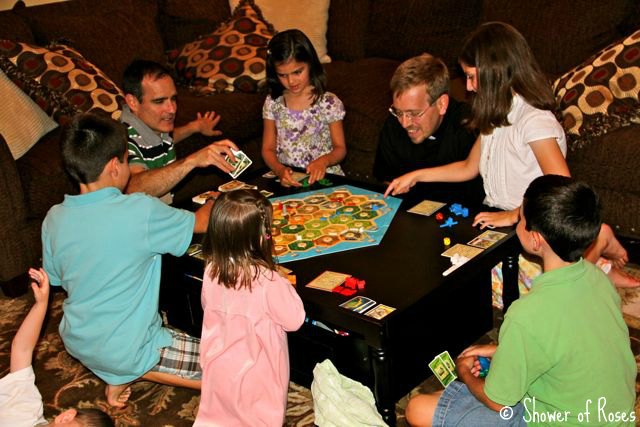 The kids all had so much fun teaching Father how to play Settlers of Catan after dinner.