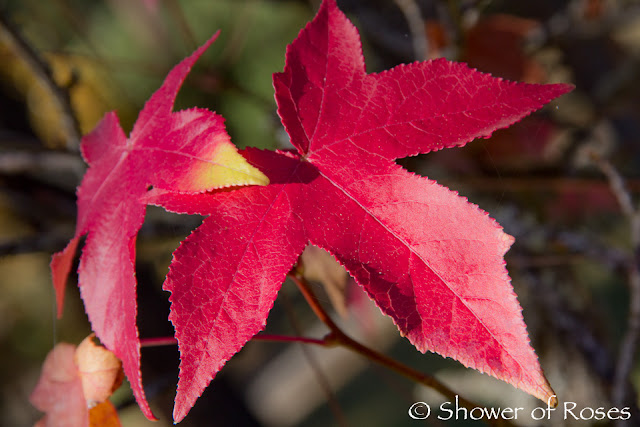 Outside my window…
the leaves are falling off the trees and we have lots of firewood to stack! Winter is on it's way…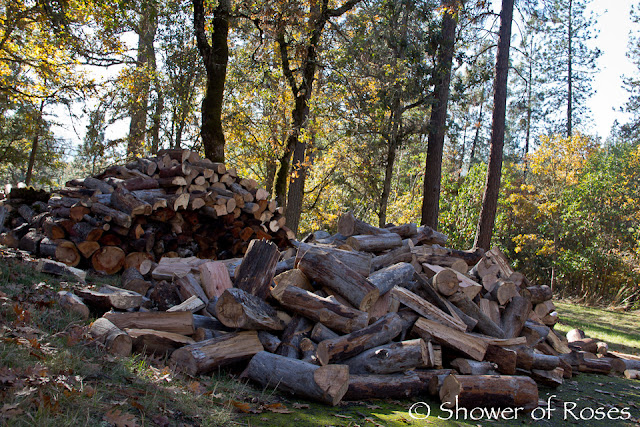 I am thinking…
about blogging… and Facebook… and Copyright Terms and Conditions, which, apparently, most people just ignore! I had absolutely no idea, when I posted this picture with a link to my blog post on my Shower of Roses Facebook page that it would go viral like it did. I guess the Holy Spirit wanted it out there for some reason. Still, I would have preferred being asked before my children's picture was turned into a "Meme" to be shared all over the world.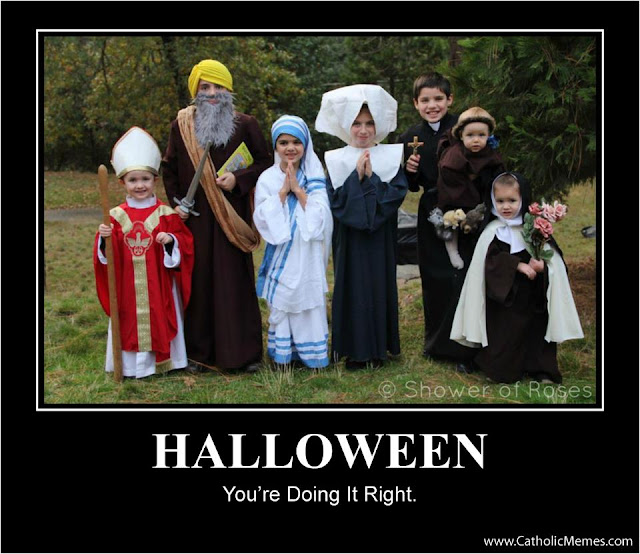 I guess I was not clear enough when I said: "I do not ever allow pictures of my children/family to be reposted anywhere online, other than on my own blogs and Facebook pages. If you see pictures of my children elsewhere online (other than on my personal friends blogs), please let me know. My husband & I only want our family/children's pictures posted in the context of how we choose to post them, and not used to illustrate other bloggers posts, etc, whether we agree with them or not. Thank you for understanding and respecting our wishes!"
I am thankful…
for all of my dear blog readers who are always watching out for me and my family, and letting me know when someone isn't "Doing It Right!" 😉 And for all those that let the various commenters know that Captain was dressed as ST. PAUL!
Learning all the time…
With Election Day tomorrow, we are going to spend this afternoon reading books about the Election Process (including the Electoral College) and creating our Election Lap Books!
Celebrating the liturgical year…
Have you started preparing for Advent and Christmas? I already have my Advent candles, since I ordered extra last year. I purchased new nightgowns and pajamas to give all the children on Christmas Eve. I've started choosing this year's new Christmas themed picture books for the feast of St. Nicholas. And I've started making and ordering a few gifts. I like to be done with all (or at least most) of my shopping by the beginning of Advent, which is less than a month away!
From the kitchen…
Don't you love my "Fairytale Pumpkin" Vase?! Hubby carved it out for me, inserting an empty pumpkin can in the middle, to hold the autumn flowers he brought home before our party last week.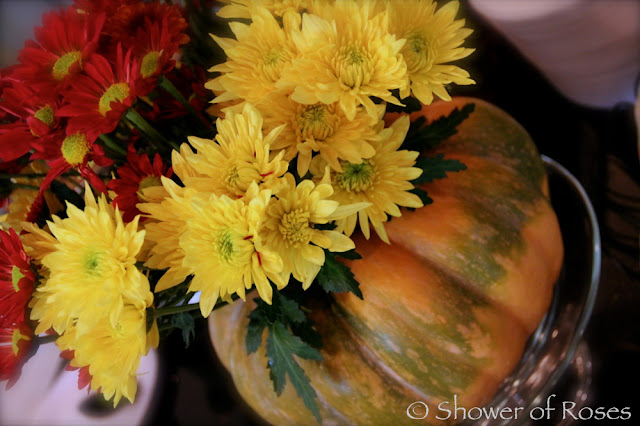 I am working on…
answering comments and emails. A frequent question that I am asked, anytime I post a picture of my girls in their veils, is where they are purchased. I'm currently looking for new veils for my older girls, but they have been wearing the Girls' Kerchief Tie Veil for years. (It's time for me to order a couple replacements…) Rose's gorgeous veil was a handmade gift from Amy!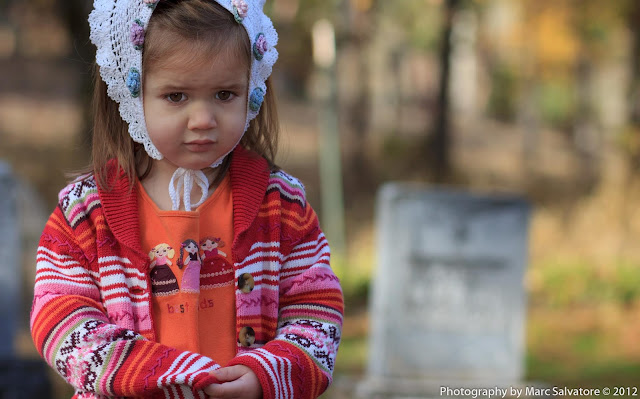 I am creating…
a blog post about this year's All Hallows' Eve Party.
I am going…
to start shooting "raw" now that I am learning how to use Lightroom! (I'm only using Lightroom 3, but 4 is now definitely on my wish list. Thank you, Marc!)
Oh, and I am going to clean my camera!
I am hoping…
to complete our activities for "C" with Snuggle's this week. When it gets extra busy around here the Alphabet Path is the first thing to go, it seems.
I am praying…
for a good outcome in tomorrow's Election. Pray, pray, pray!!!
I am reading…
Presidential Elections and Other Cool Facts, See How They Run: Campaign Dreams, Election Schemes, and the Race to the White House, Vote!, So You Want to Be President?, and a few other books I picked up to share with the children.
Pondering these words…
I always love the saint quotes I find in my Catholic Daily Planner. They aways seem to be exactly what I need to hear each week. For example, here is last week's quote from St. Francis de Sales:
"Have patience with all things, but chiefly have patience with yourself. Do not lose courage in considering your own imperfections but instantly set about remedying them – every day begin the task anew
."
I am listening…
to Rascal completing his spelling lesson/test. I can't tell you how thankful I am for The Phonetic Zoo and all the products we are using from Institute for Excellence in Writing. They are all so effective and sure make my job easier!
Around the house…
lots of costumes that still need to be put away. At least I have kept up with the laundry and they have all been washed. Hopefully I can check that off my to-do list today.
One of my favorite things…
my Catholic Embroidery Aprons! I didn't dress up for our All Saints' Party, but I did wear my favorite St. Therese Apron. 🙂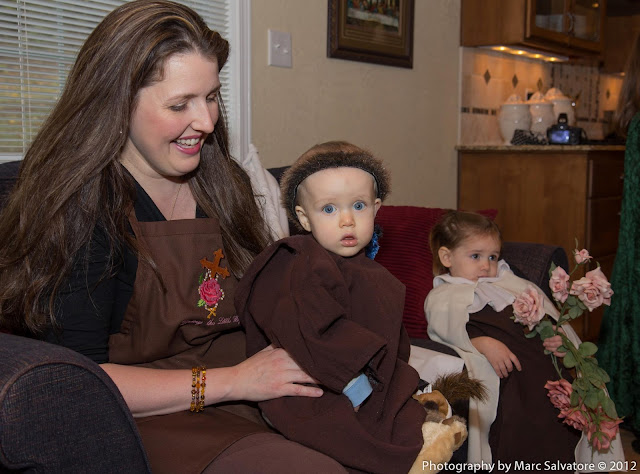 This week's plans…
Vote!
Take the kids to Mass and Adoration on Election Day
Return/Pick-up Library Books
Lego Robotics Classes for the Boys
Tutor on Thursday
Host an Online/Facebook Pampered Chef Party!
Try and stay away from all the candy and get back to my diet and exercise after completely failing last week…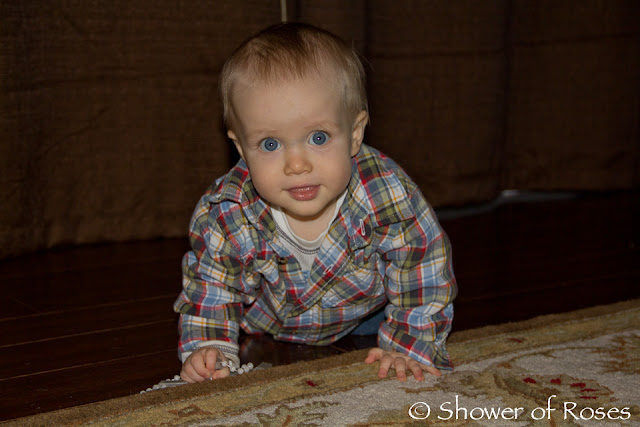 How is it possible that my little Bud is going to turn one next month?!