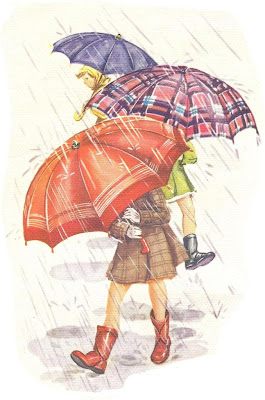 Outside my window…it's raining… it's pouring… We finally had rain for the first time this weekend, since Captain's birthday in July. It had been one of the ten driest periods in our area's recorded history!
I am thinking…
that it was really ironic to drive Hubby to the airport and watch him fly off to another fire assignment in the rain early Saturday morning. He is in Estes Park, Colorado at the moment, though it looks like this fire will be turned over to a smaller management team and he will either be coming home this week, or assigned to another fire. We'll see!
I am thankful…
that the colds that the kids have had never turned into more than runny noses. As for the poison oak on the back of my leg, that is another story… I guess I am just thankful I have plenty of intentions for which to "offer it up!" 😉
Learning all the time…
We begin the letter "C" today Along the Alphabet Path! I have so many more pictures to share for "B" and hope to start on those soon – these Alphabet Posts are a lot of work to pull together! This week we will be reading more about the Election Process for History and the big kids are all moving on from Whales to start learning about Seals & Sea Cows for Science.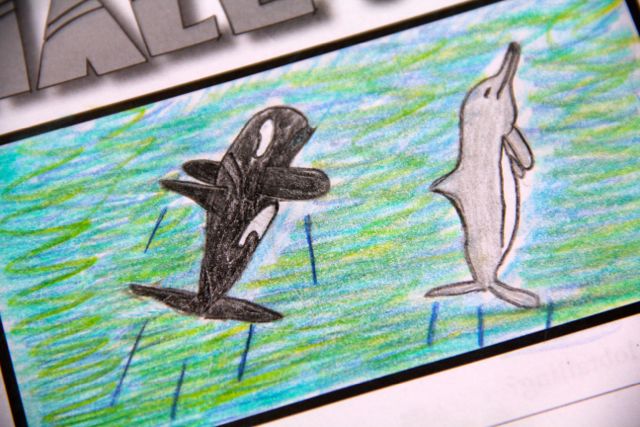 Celebrating the liturgical year…
This coming Sunday, October 21st, is the Canonization of Blessed Kateri! (How perfect for the letter C!) We will be using these lesson plans, along with picture books about Blessed Kateri. I already had planned to tie in (Indian) Corn, and hopefully we will be able to watch the canonization online.
From the kitchen…
Pan de Santa Teresa for breakfast, in honor of today's feast of St. Teresa of Avila!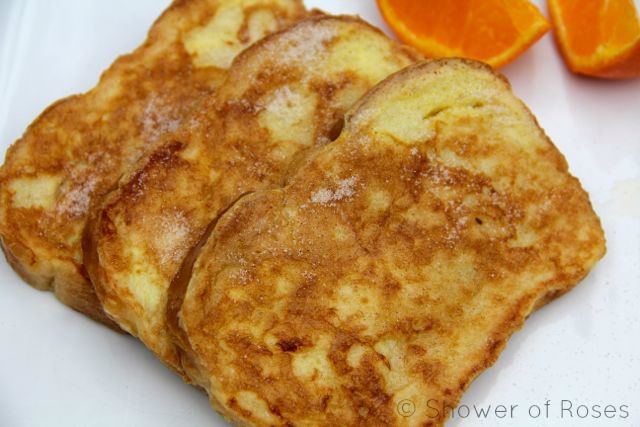 I am working on…
checking off all the orange boxes in my binder as we get close to completing our first semester this school year! I did go back and upload my modifiable documents for all of you who asked for them, and anyone else that would like to save a little time making your own.
I am creating…
that craft I mentioned last week turned out so cute! I've decided to make more to give away as Christmas gifts, which means I will have to wait to share pictures. Still, I'm dying to show it to all of you! It will be a good lesson in patience. 😉
I am going…
to need to order some more Craft Parts.
I am hoping…
that Rose's hair grows quickly. She decided that she wanted to add "bangs" and "layers" on Friday, while I was at Bud's check-up. She was very sad, since she "thought it would look pretty-uh!" I'm blaming Hubby (who she caught cutting his hair earlier this week, even though he said "Don't YOU do this!") Hallie and Amy! How did Rose know that bangs are so trendy at the moment?! 😉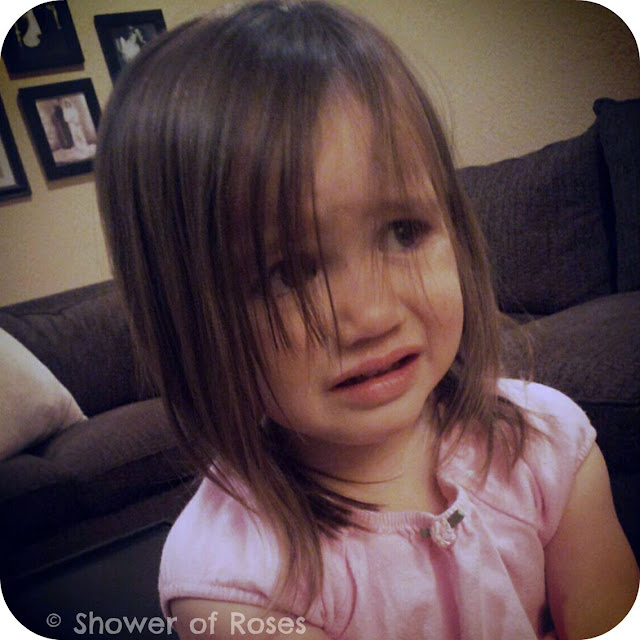 My hairdresser told me to bring her on down and she blended it in as best as she could. That, combined with a cute little owl clip, made Rose much happier!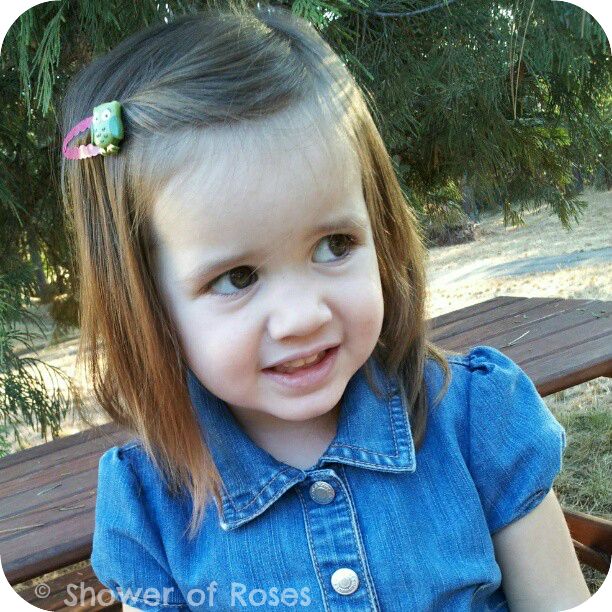 I am praying…
for safe travels for my husband, the upcoming election, and our adorable little goddaughter who celebrates a name day today!

I am reading…
I love the books on parenting and celebrating the liturgical year that were written by Mary Reed Newland back in the 50s. How to Raise Good Catholic Children (revised/edited edition) and The Year and Our Children have been on my bookshelf for years and were very instrumental in motivating me to begin celebrating the liturgical year in our home. When I saw that We and Our Children: How to make a Catholic Home, a new reproduction of the work originally published in 1954, I had to order a copy!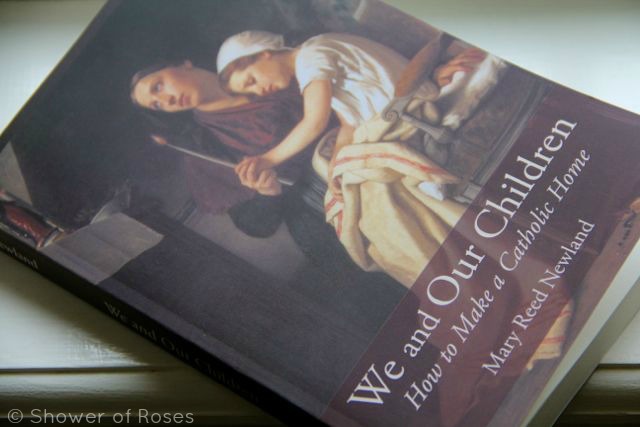 Pondering these words…
on The Rosary from We and Our Children: How to make a Catholic Home:
"Long-term promises are wearying, and Our Lord warned us to beware of fretting too much over tomorrow. "Sufficient unto the day…." One Rosary at a time, in other words. Then if a child remarks to you, as one of mine did recently, "You know, Mother, I don't always exactly like to say the Rosary, and sometimes I think that when I am grown up and don't have to mind you any more, I won't say it," you can laugh. You can laugh and tell her with confidence that she
needn't concern herself now about whether or not she will say it when she is grown. If she will say it now, one day at a time, asking for the grace to love it and say it well, Our Lady will fill in what is lacking. If we work hard to help them meditate its mysteries, and give them the sense of its real power, then we are teaching our children not only how to say, how to pray the Rosary – but, best of all, how to use it."
I am listening…
to the sound of rain drops falling on the roof. It's especially loud here in the schoolroom, as well as in the entry living room and boys bedroom, with the open wood beam ceilings. We are enjoying the weather, but I am hoping it clears back up for our All Hallows' Eve Party at the end of the month!
Around the house…
piles of clothing as I try to pack up the summer clothes and prepare for fall.
One of my favorite things…
moments like this: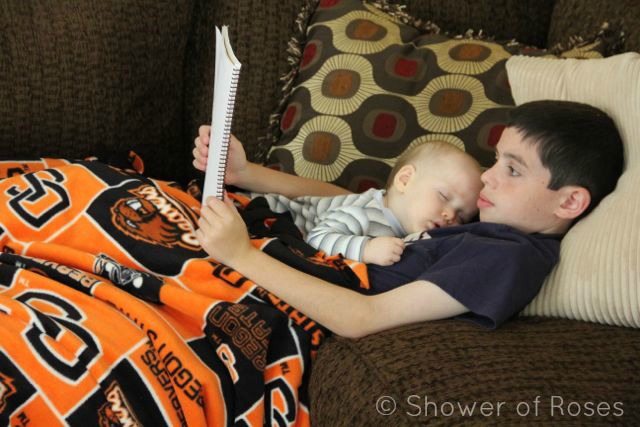 This week's plans…
Lego Robotics for the boys, Orthodontist Appointments, Tutor, and hopefully a trip to the Pumpkin Patch next weekend, if the weather is nice!