the older kids just came back inside from drinking hot cocoa and searching for the various constellations. It's our Columbus Day tradition! Since it got too late for the little ones, I think we may have to do it again later this week, on the the actual anniversary, October 12th.
I am thinking…
about how pretty it looks out there on the porch! Since Hubby had the day off work, he spent it painting the front deck railing. He then went on to re-paint the pillars and the trim around the front door. I can't believe the difference… It looks so nice and clean!
I am thankful…
that I am able to walk! Being the klutz that I am, I fell (again!) in the garden Friday evening, rolling/twisting my ankle. (The same ankle that I tend to injure on an annual basis!) I'm still limping around, but thankful I didn't need my crutches for long.
Learning all the time…
Despite the holiday I still printed out the children's new individual checklists for this week. After taking the last two Tuesdays "off" for field trips, I decided they needed to work on their school work today. They were all more than happy to get going on the new week.
Celebrating the liturgical year…
We celebrated the feast of Our Lady of the Rosary yesterday by attending morning Mass, and then praying our family Rosary before bed.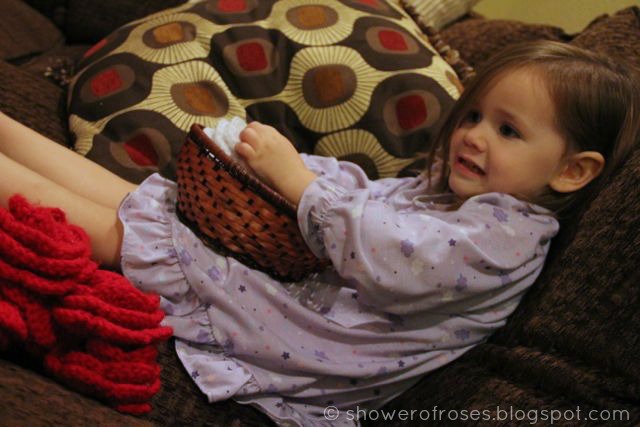 Rose was just as cute as can be, sitting next to me on the couch as I nursed the baby, placing her roses (the ones that arrived in the mail the week I found out that I was expecting her!) in the basket for each Our Father and Hail Mary.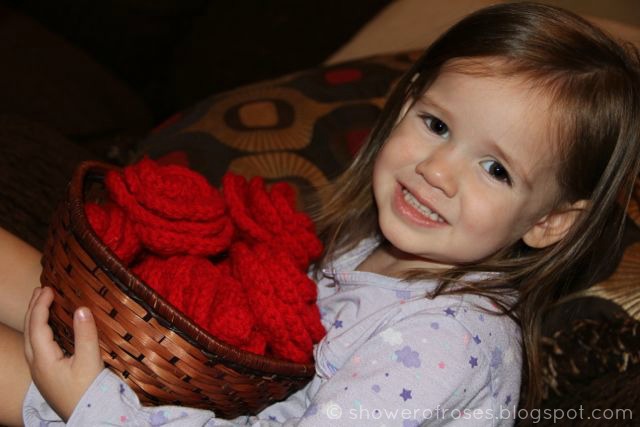 From the kitchen…
Blueberry Buckle with vanilla Bean ice cream for dessert, courtesy of Snuggles and the his A to Z Recipes. Ummmmmm… It was the Best!
I am working on…
a post about my binder and checklists for all of you that have asked. Hopefully I can finish it up in the next couple days.
I am creating…
a fun craft for B week. I'll be posting about it soon, if it turns out. If not, just forget I mentioned it! 😉
I am going…
to go get my hair cut in the morning. It's definitely time!
I am hoping…
that these colds that everyone seems to be fighting don't last long.
I am reading…
Will you Bless Me? to Snuggles, along with Bible stories, focusing on Bethlehem's Blessing. I can't wait to show you the picture Snuggles illustrated to go with his Bible narration. It is beautiful!
I am praying…
for this sweet little girl, and a number of other online friends.
Pondering these words…
from St. Louise de Marillac, that I happened to run across somewhere online:
"The faults of children are not always imputed to the parents, especially when they have instructed them and given good example. Our Lord, in His wonderous Providence, allows children to break the hearts of devout fathers and mothers. Thus the decisions your children have made don't make you a failure as a parent in God's eyes. You are entitled to feel sorrow, but not necessarily guilt. Do not cease praying for your children; God's grace can touch a hardened heart. Commend your children to the Immaculate Heart of Mary. When parents pray the Rosary,at the end of each decade they should hold the Rosary aloft and say to her,"With these beads bind my children to your Immaculate Heart", she will attend to their souls."
I am listening…
to the clicking of the keyboard in a very quiet home. Everyone else is asleep, and I probably should be too!
Around the house…
a basket on the counter in attempt to control the clutter/piles that manage to appear every day…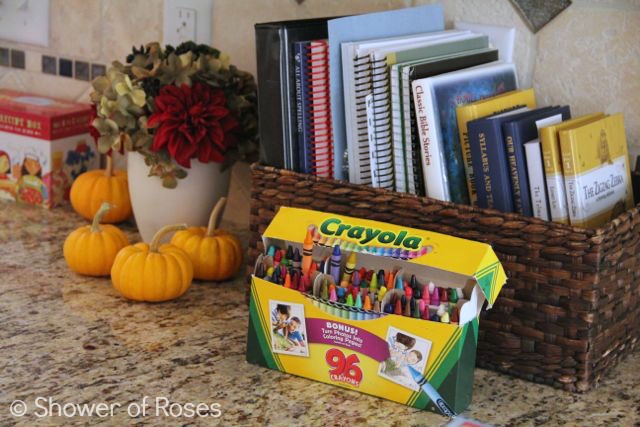 One of my favorite things…
baby milestones! Our little Bud took a few steps following the rosary on Sunday night, while hanging on to the edge of the train table. I have a feeling he is going to be walking soon!
This week's plans…
Other than my hair appointment in the morning, I am hoping to spend most of this week at home, at least until Friday when we'll head to town for Mass, errands, and a 9-month check-up for the baby.