Yesterday our sweet little "Rose" turned three years old… She just loves watching the Sound of Music and reading the My Favorite Things picture book she found in her Easter Basket earlier this year, so I decided to give her a "My Favorite Things" birthday party!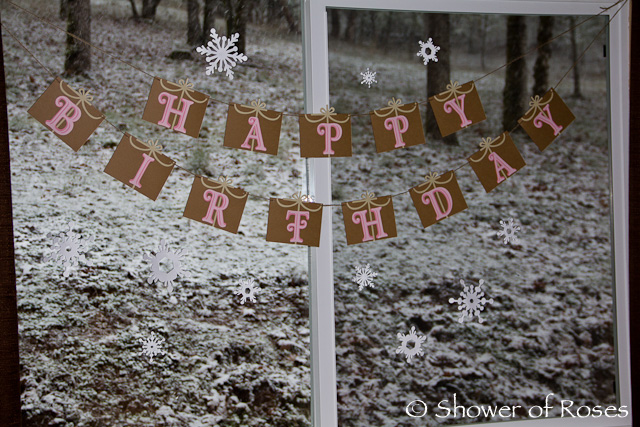 It had been a busy week, enjoying a visit with friends and celebrating feast days, but everything fell into place for her party. The boys and Sean arrived home from the Lego competition around 6pm, just as the rest of our guests (my parents, four of my brothers, my sister-in-law, and niece) were arriving. I'm pretty sure this birthday will be remembered as one of her own favorite things!
Pink Roses from Daddy, just for our little Rose!
The kids all enjoyed coloring (including the "whiskers on kittens") Three Little Kitten Coloring Pages. I realized that we don't have a copy of this book! We had the Golden Book when I was a child, but I couldn't find it online. Which is your favorite? Maybe the one illustrated by Jerry Pinkney or the one by Paul Galdone?
When I went looking for a copper kettle, I quickly discovered how expensive they can be! Yikes… I was very excited to find this little vintage miniature copper kettle on ebay. She will love having it for her play kitchen!
I made cut-out cookies, using store bought dough, for the kids to decorate using a printed template.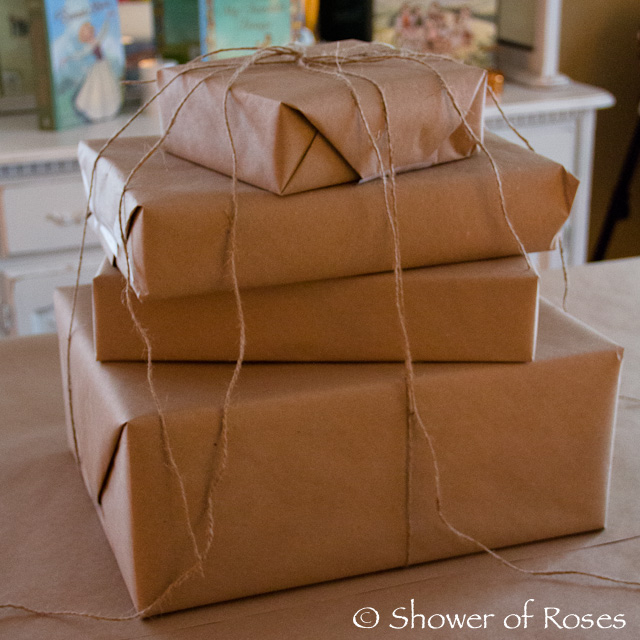 Of course I wrapped all her gifts in brown paper tied up with strings as well!
Rose opened one of her gifts before her dad and the big boys left for the day. She was so excited about the little toy guitar I found for her on ebay!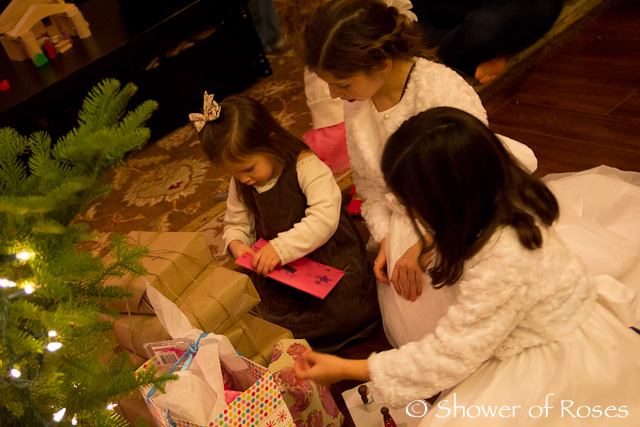 She opened the rest of her gifts after we had cake and she loved them all!
The Buckley Deer Family, Clothing, and a PINK doll (purchased from Magic Cabin with a gift certificate) from Daddy and Momma. A beautiful card and money from Grandpa & Grandma G. Adorable pink "Beaver" pajamas and play balls from Grandpa & Grandma M. And the cutest slippers and mittens from her Aunt, Uncle and Cousin.
Whew! And it's not even Christmas yet… I'm not sure what I think about these December birthdays… For Christmas she will be receiving another special doll, the Grimm Wooden Fairy Tale Village Blocks, and a homemade gift from Momma (if I have a chance to finish it, otherwise I will wrap up this stocking stuffer).
Rose loves her big brothers stick horse, so when I ran across this "cream colored pony" for a few dollars on Black Friday, I had to get it for her birthday! She spent most of the day (when she wasn't playing her guitar) galloping around the house!
I had forgotten to purchase Apple Streudel at the grocery store, but the homemade version I made ended up tasting so much better! Yum!!
We made "Sleigh Bell Necklaces" with silver and PINK jingle bells for all the girls – including mom and grandma – using some leftover twine.
They were so pretty and festive!
Both are definitely favorites of the birthday girl!
Of course we had to have pink lemonade too…
The birthday girl's two favorite big sisters dressed up in their beautiful white dresses and mom bought some blue satin ribbon to complete their party dresses.
While I was making the banner, I also cut out snowflakes using the Winter Wonderland cartridge. I love my little Cricut!
The birthday girl loved blowing out her candles…
… and eating her Strawberry Cake and Ice-Cream…