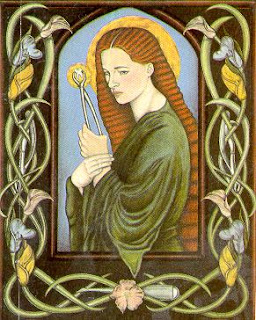 Outside my window…
it is COLD! It went from summer to winter pretty much overnight here in our little corner of the country. My kids are walking around the house this morning wrapped in blankets wearing scarves, hats, and mittens!
I am thinking…
it could have been worse… it could have been worse! 😉
I am thankful…
for all of your prayers, encouragement, advice, and support! May God reward you!
Learning all the time…
We just re-read the story of St. Apollonia and the Martyrs of Alexandria, after Charlotte mentioned praying for her intercession on Facebook while we were on our way to the ER on Thursday night. Reading about the early church martyrs really puts our own little challenges into perspective…
In Alexandria, Egypt, during the reign of the Emperor Decius, there lived a holy virgin named Apollonia.
Apollonia had spent her whole life serving God. Now that she was growing old, she did not take time to rest. She bravely risked her life to comfort the Christians in prison when a persecution began.
"Remember that the suffering will not last long," she would say. "But the joys of Heaven will last forever."
At last, Apollonia, too, was captured. When the judge asked her name, she courageously said, "I am a Christian and I love and serve the true God."
Apollonia was made to suffer greatly because she would not give up her Faith. First, all her teeth were smashed and then pulled out. That is why we pray to St. Apollonia when we have a toothache. The saint was then told that if she did not deny Christ, she would be thrown into the fire.
Apollonia was not afraid. She chose to die rather than sin.
When the pagans saw her heroic action, many of them were converted.
The martyrs greatly desired to shed their blood for Christ. And what do we do for Him? Are we strong enough to stand a little suffering for His love?
Celebrating the liturgical year…
We watched the canonization of St. Kateri, and the other six new saints, this past Sunday on EWTN online! It was beautiful! Snuggles and I had made Indian Corn Cookies to celebrate. I was going to make Hawaiian Teriyaki Burgers too, but we ended up going with quick and easy pizza instead.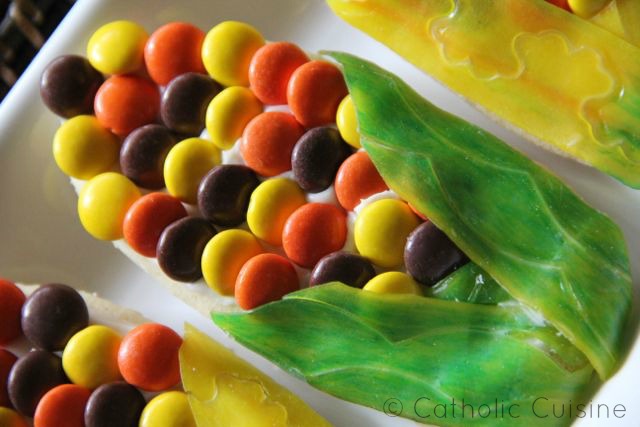 From the kitchen…
goodies from Trader Joe's! Friday evening I went to town to do a little grocery shopping (and pick up that rug) with Twinkle Toes. I heard that Trader Joe's was finally opening last week, but had I known that Friday was their OPENING DAY I probably would have waited. It was so packed! It was fun though and we brought home quite a few goodies, making the super long line worth the effort! Right now I am enjoying a hot cup of Joe with hazelnut creamer and some chocolate hazelnut biscotti. Yum!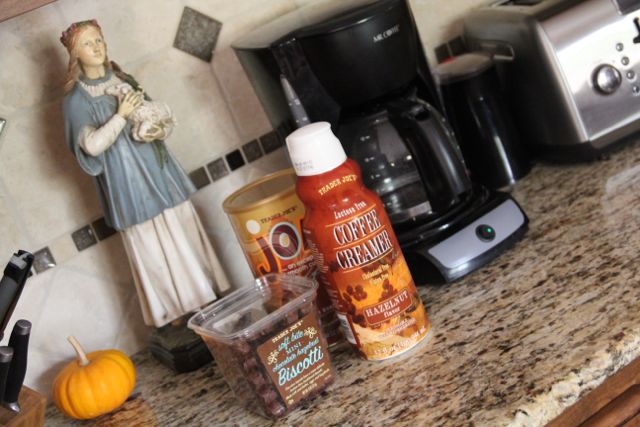 I am working on…
plans for our All Hallows' Eve party that we will be hosting next week! Ay yi yi…
I am creating…
Costumes… Costumes, costumes, costumes! And here I had thought I was pretty much done with planning costumes for this year! We were invited to a last minute "Oktoberfest/Costume Party" this past Saturday at Rascal's godparents home. We've actually never gone to a "non-saint" themed costume party, and the kids all thought it would be fun. Costumes were required, for the adults too, and the kids all really enjoyed coming up with costumes. Snuggles came up with a Peter Pan Costume with an old costume/shirt of my brothers, a belt, his green moccasin slippers, and some brown capri leggings from his sister! Oh, and a "sword" made from green Duplo Blocks, which, apparently, are not Legos! All he asked was that I make him a hat… Our events from Thursday and Friday didn't leave much time for creating costume accessories, and Saturday morning I spent relaxing, baking cookies with my littlest ones, and blogging. Just before we left for the party Snuggles asked about his hat. Whoops! It's amazing what you can do with a large piece of craft foam, scissors, a stapler and a red feather! He was a very happy little boy Peter Pan!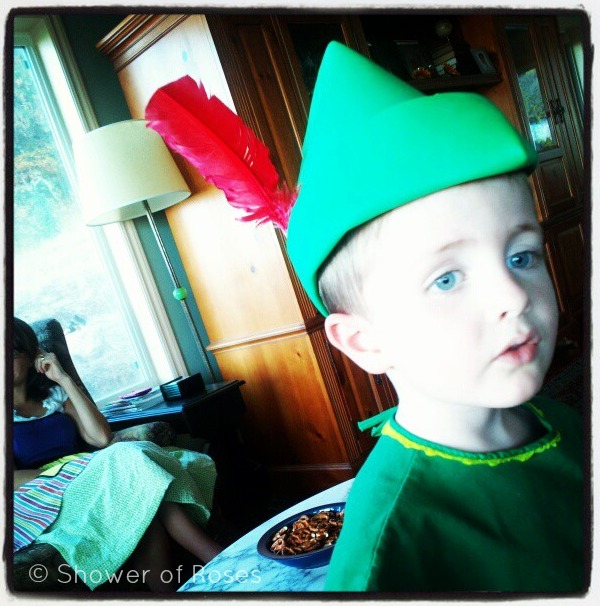 I am going…
to take the kids to our Parish Costume Party this coming Friday night. After our late night out on Saturday the kids went to the late Mass on Sunday with Hubby. I was still working on recovering from the panic attacks, so I went to an early Mass by myself and then came home to rest. Anyhow, the kids came home talking all about the upcoming party at the Church. I was excited to hear that they are encouraging Saint Costumes (you must be dressed as a saint to qualify for the costume contest) and the priests will even be dressing up! Our pastor is going to be dressing as Blessed John Paul II and Fr. M is dressing as Fulton Sheen! It should be fun.
I am hoping…
to start my Christmas (and birthday – we now have two in December!) plans and shopping soon. I'd like to have it all completed by the first Sunday of Advent, which falls on December 2nd this year. With timing flying by as quick as it seems to be, that is going to be here in no time.
I am praying…
for Rascal, and for Kelly.
I am (still) reading…
and loving, We and Our Children: How to make a Catholic Home (the new reproduction of the work originally published in 1954)… Here is my favorite quote from what I re-read this week from Chapter V on Security – Fear of Danger:
"Life will never be painless for our children, try as we might to spare them. We are foolish to think that we can. And it is wise not to waste time trying. We can bend every energy to giving a child the full measure of God, and in the end with His help they can learn to accept and bear, and one day find joy, in whatever assaults their sense of security will have to endure."
Pondering these words…
spoken by St. Francis de Sales:
"Do not lose your inward peace for anything whatsoever,
even if your whole world seems upset
."
I am listening…
to The Horse and His Boy. We own the 7 Volume Unabridged Audio Set of The Chronicles of Narnia and the boys started listening to it again last week. I just love audio books and this is such a well done set!
Around the house…
I am determined to find some new rugs for our tile floors. A couple for my kitchen, and a new one for the entry/living room (the old one that we had in there fell apart). I picked up the one I had considered at Costco over the weekend, and it is just a little too small for the kitchen. Does anyone have any suggestions for me, on where to start looking?
One of my favorite things…
my beautiful new bookmark, purchased from The Fig and Thimble.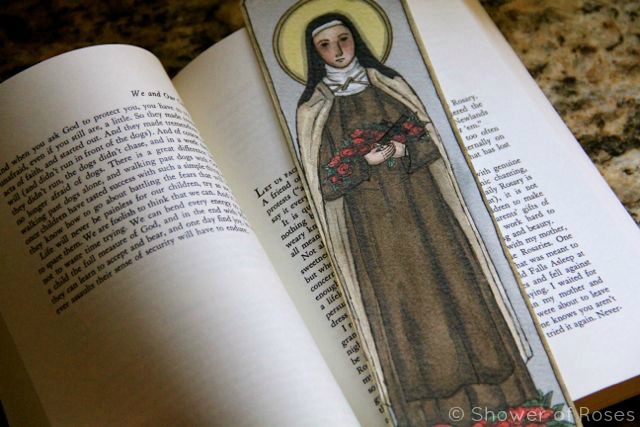 This week's plans…
Mom's Night Out at a new restaurant I've been wanting to try!
Lego Robotics Classes for the older boys
Tutor on Thursday
Saints Costume Party at our Church
Trip to the Pumpkin Patch
Hadley Hope Fundraiser Dinner
Carve Saint-O-Lanterns (and post a link-up at Catholic Cuisine!)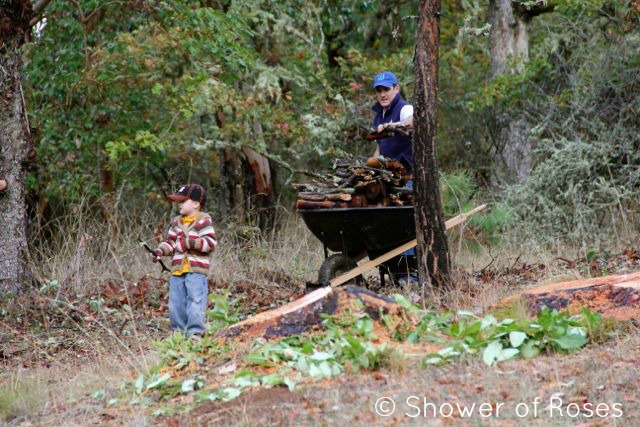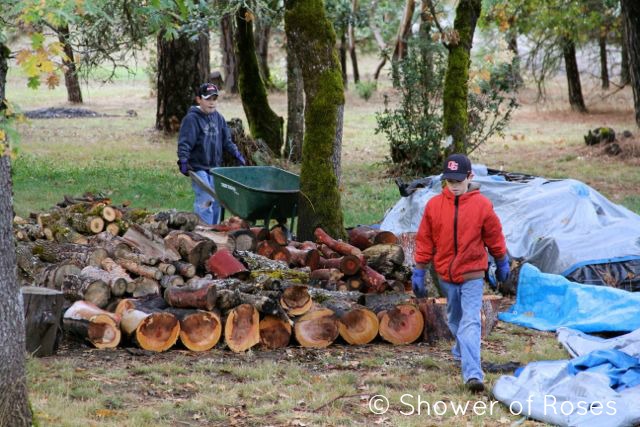 The kids helped their Daddy stack firewood yesterday, since he took the day off work. Even with the trees that he cut down, we still need to start looking for a couple cords of dry firewood for winter. Everyone is ready for a fire in our wood stove!