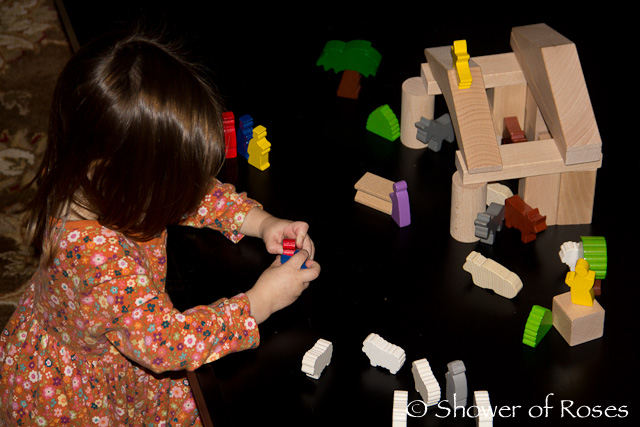 I'm not sure how many emails I have answered (or still need to answer) on where I purchased the Wooden Nativity Block Set that the children were playing with in my Advent & Christmas Book Baskets Post. It really is neat, isn't it?!?
I purchased my set quite a few years ago when it was made by HABA, and it doesn't look like they make it any longer. Haba now sells this beautiful (though very expensive) Wooden Nativity Set. However you can find a similar set made by Constructive Playthings and it happens to be on sale for just $14.99 at the moment, which is much less than I paid for our set! It looks almost identical to ours, though we did notice a few differences: taller columns, more bushes, the addition of camels…
Note: The stable built out of blocks is so tempting to one little toddler in our home who loves to knock it over, which is quite frustrating to his older (almost three years old) sister!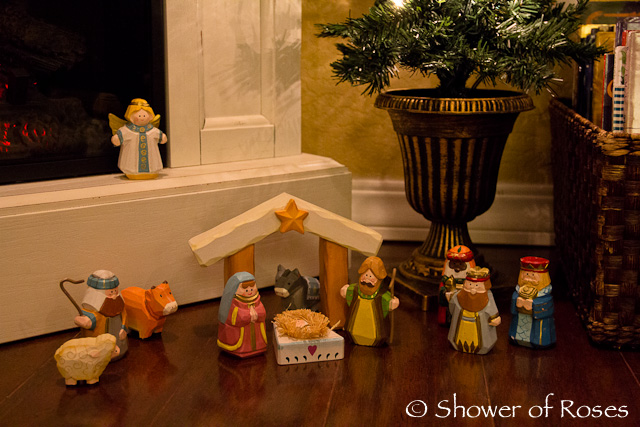 This darling Hand Carved Child's First Nativity Set was sent to us as a gift. It is designed by Kurt Adler, just like our favorite Nativity Advent Calendar. It's a little more fragile than the block set (i.e. the paint has chipped in a few places) but loved very much by my little ones!
Even though I prefer the wood sets, we also have The Nativity Play Set by one2believe, an older version of the Playmobil Nativity with The Three Wise Kings, and the Nativity Set by Schleich.
Originally I started out collecting a Child's Nativity Set for each of our children, but it looks like I missed one somewhere along the way and I still haven't found a new set for Bud. He would probably love the Little People Christmas Story Nativity Scene, but I wish it didn't light up and require batteries… I love the Kathy Kruse Nativity Set, but it is just too expensive! Additional options include the Melissa & Doug Nativity Set and the Olive Wood Children's Nativity Set. However, I think I am leaning more towards creating our own, or purchasing one of the many beautiful sets available on Etsy!
What is your favorite Children's Nativity Set?
I'd love to hear about it in the comments!