Every year on December 6th, the feast of St. Nicholas, our children wake up to find new slippers (when needed) filled with treats and chocolate gold coins, along with a new Christmas Picture Book to add to our every growing collection.

With the feast of St. Nicholas less than a month away, I spent some time this weekend preparing. Every year I worry that I'm not going to be able to find a new book for each of the children, since we have so many already, but that has yet to be a problem… Instead I have such a hard deciding which ones to choose! Here's a peek at the books I purchased for this year: (And the best part was I was able to order them all for only $19.96, since I've been saving up our Amazon Visa Reward Points! Yay!!)
"In 1914, British and German troops were dug into trenches in France, facing one another across the barbed wire and barren ground called No Man's Land. On Christmas Eve, the British soldiers heard the Germans singing Stille Nacht and joined in. Spontaneously, soldiers on both sides climbed out of their trenches and met in between the lines, sharing small gifts, food, and drink. They played a game of soccer. Then they went back to their trenches. The next day, the shooting resumed. McCutcheon's account of this true event is based on a song he wrote about it in 1984. An accompanying CD includes that song, Silent Night/Stille Nacht, and a reading of the story."
"Based on a true account of a football game played between the German and English troops in no-man's land on Christmas Day in 1914 during World War I, this book tells the story of four young men who have recently enlisted and have found that war is not as glamorous as they had once thought. The young men get to realize their dream of playing football for England when the English and German sides hold a ceasefire on Christmas Day and they play a friendly game against one another. This special new edition with beautiful color artwork is a touching and emotive story for children and adults to treasure.."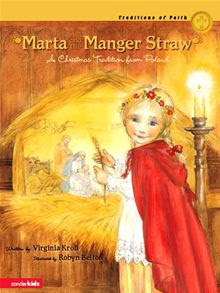 "In World War II Poland, a young girl receives straw at the Christmas Eve service to bring to her impoverished family. But on her way home, Marta meets others who are much poorer than she, and she shares her piece until there is nothing left. In spite of the lack of straw–though perhaps because of her generous heart—Marta finds riches she never expected in this tender tale of Christmas giving. The Traditions of Faith series features stories of how significant Christian traditions emerged from around the world. These traditions continue to be practiced today and encompass many different holidays. Each Traditions of Faith book includes an author's note about the history of the tradition, and ideas and activities to adopt into one's own family celebrations."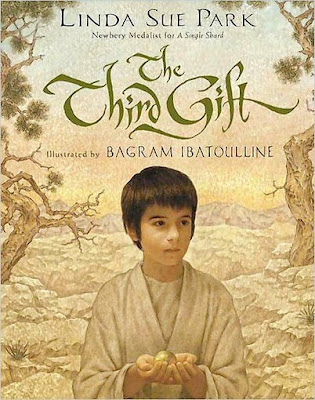 "The three wise men, or the three kings, are familiar figures in the Christmas tradition. Newbery medalist Linda Sue Park has taken the brief biblical references to the three as the starting point for a new story. In it we meet a boy who is learning his father's trade; a man who gathers resin from certain trees; a merchant in the marketplace; and three strangers in brightly colored robes who are shopping for a gift for a baby. Illustrated by Bagram Ibatoulline with exquisite paintings, this simple, moving tale of ordinary people involved in an extraordinary event brings new resonance to the well-known gift list of gold, frankincense, and myrrh."
UPDATE: I am saving this book to give to the children during the twelve days of Christmas and ordered Chiquita a copy of this new version of Our Lady of Guadalupe!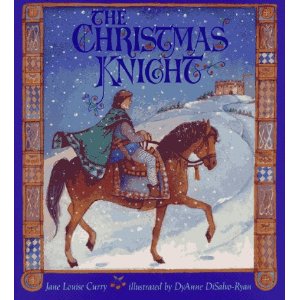 "A wondrous Christmas story based on a 15th-century tale tells the story of a generous nobleman and his prayer for a Christmas miracle. Beautifully illustrated in full color with pictures that reflect medieval times."
"This inventive and fresh Nativity story is told from a bird's-eye view. On the morning of the first Christmas, the birds of Bethlehem gather in the fields–not only to eat but to share the exciting news. People from all over have descended on Bethlehem and an angel has appeared in the night sky. Something extraordinary is coming! The birds agree that they must find this wondrous thing, and off they fly to the stable where a child has been born."
I had a super hard time choosing just one for Bud… I kept changing my mind and ended up ordering two to choose from for the feast of St. Nicholas (I'll save the second for his stocking.)…
… I also ordered a couple picture books for Bud's
Winter
ONE
derland
birthday next month!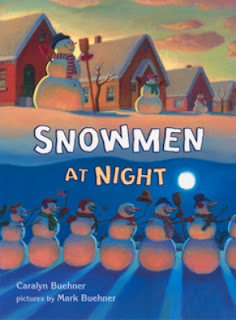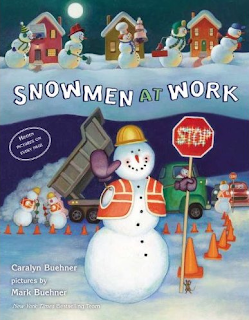 Snowman at Night and (the brand new!) Snowman at Work
(We'll have to add Snowman at Christmas and Snowman All Year to our collection later!)