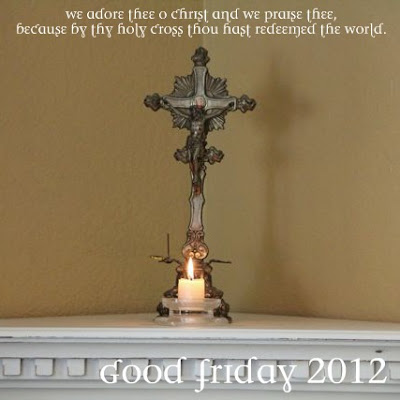 This year, even up until the afternoon on Good Friday, I wasn't sure if we'd have our Second Lenten Tea inspired by Cottage Blessings for our one main meal. (You can find the pictures from our 2009, 2010, and 2011 Good Friday Teas in the archives for Good Friday.) My children just love this tradition, so with a few modifications to simplify the meal even further and using just what we had in the house. I had hoped we would be able to attend the Good Friday Service before heading to the airport, but it just wasn't meant to be… Anyhow, here are the pictures from this year:
~ The Water Bowl ~
Alice suggests having a punch bowl of water to drink, but each year my children have prefer washing their hands instead. They look forward to this every year!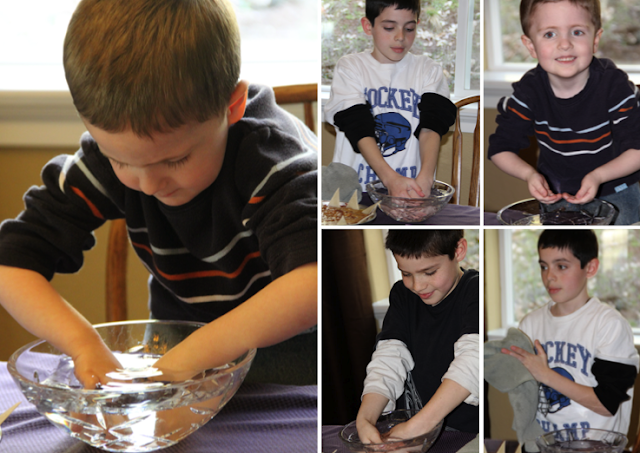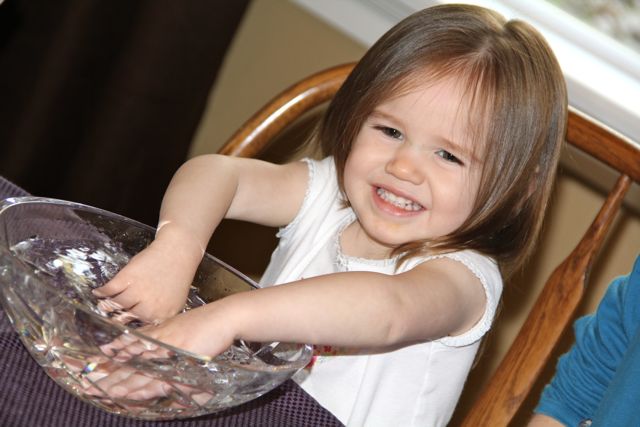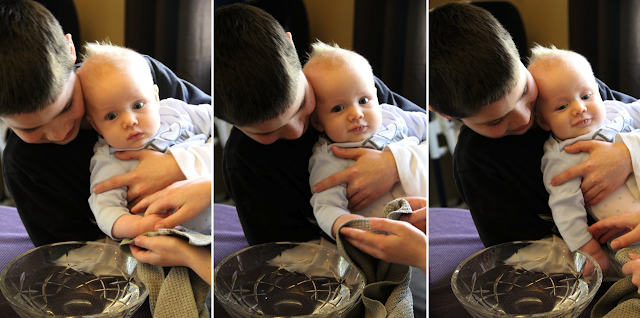 "Pilate took water and washed his hands before the crowd saying, "I am innocent of this righteous man's blood." Matthew 27: 24
~ The King's Crown ~
This year we used "Scoops" made by Tostitos, to go along with a Crown Shaped Bean Dip.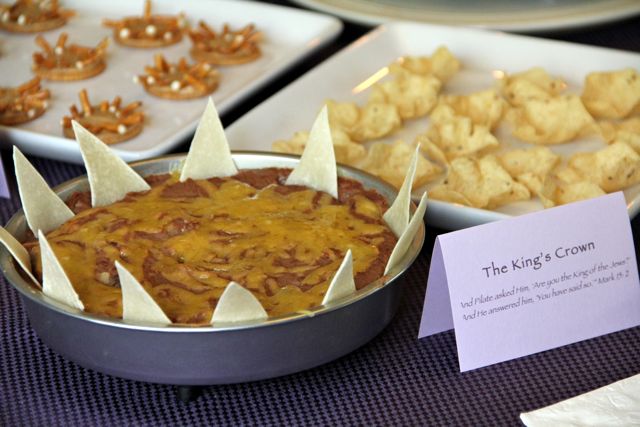 "And Pilate asked Him, 'Are you the King of the Jews?' And He answered him, 'You have said so.'" Mark 15: 2
~ Out of Envy ~

The Avocado I purchased didn't last, and so I needed to come up with something else that was "green" to represent envy. Roasted Asparagus worked perfectly.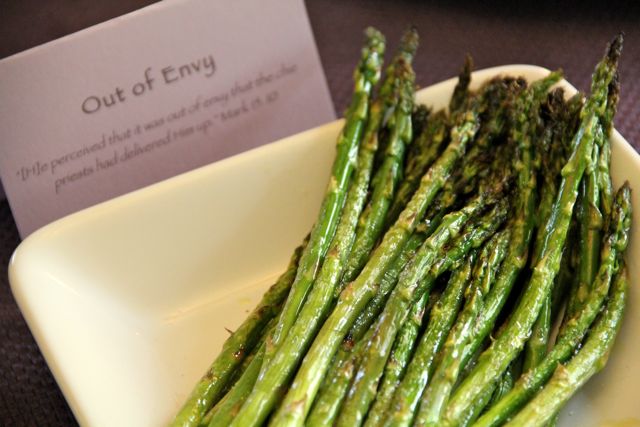 "[H]e perceived that it was out of envy that the chief priests had delivered Him up." Mark 15: 10
"And they clothed Him in a purple cloak . . . ." Mark 15: 17
~ The Crown of Thorns ~
These Crown of Thorns were made by my older children – with Ritz Crackers, Peanut Butter, and Pretzels.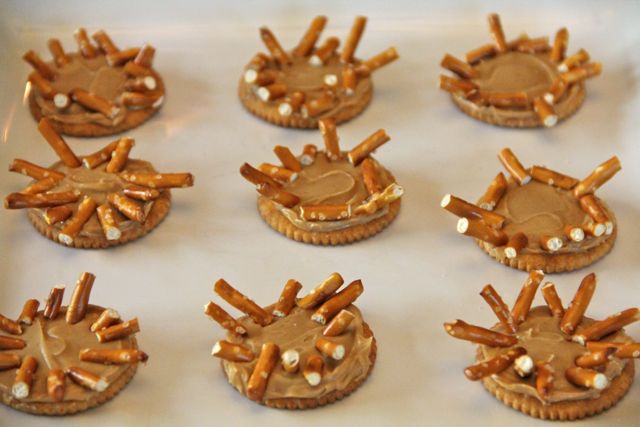 ". . . and, plaiting a crown of thorns they put it on him." Mark 15: 17
~ Golgotha Eggs ~
I wasn't feeling up to boiling and "decorating" eggs, and wanted to come up with something I could make a little quicker… Skull Sushi? It really was quick and easy using dome leftover rice, 2 asparagus stalks and a carrot. What do you think? Do those look like skulls to you?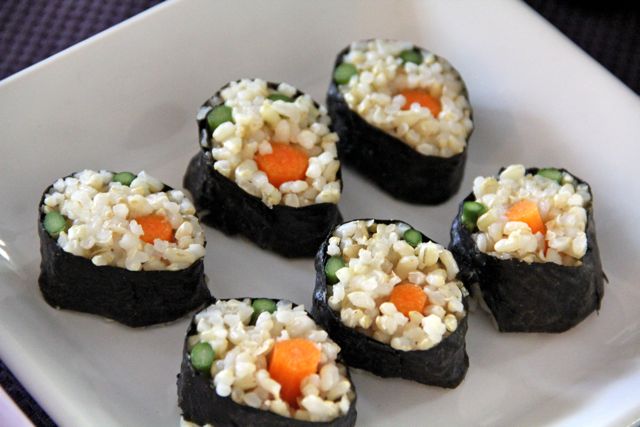 "And they brought Him to the place called Golgotha (which means the place of the skull)" Mark 15: 22
"But the tunic was without seam, woven from top to bottom; so they said to one another, 'Let us not tear it, but cast lots for it to see whose it shall be.'" John 19: 23-24
I didn't have any basil this year, so I decided to pull out our Basil Olive Oil again, to flavor our popcorn. Alice suggests using Basil for this menu item since "According to The Herb Society of America, legend has it that the Basil plant grew around the site of Christ's crucifixion. The Victorian Language of Flowers lists Basil as symbolic of both hatred and best wishes. The taunting thief and the good thief come to mind."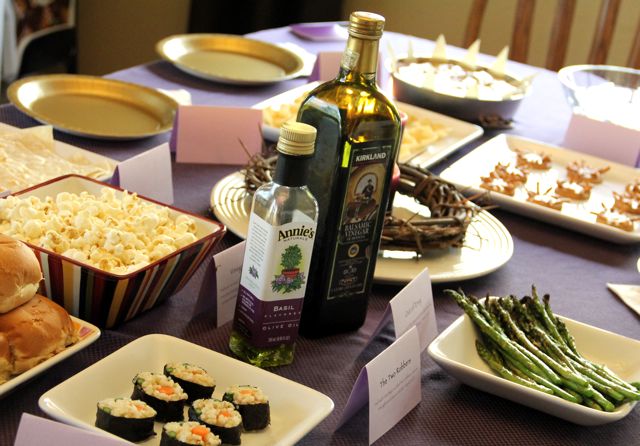 And with Him they crucified two robbers, one on His right and one on His left." Mark 15: 27
"And one ran and, filling a sponge full of vinegar, put it on a reed and gave it to him to drink, saying 'Wait, let us see whether Elijah will come to take Him down.'" Mark 15: 36
~ The Temple Curtain ~


My children, especially Snuggles, always love tearing the curtain in two… He didn't have any problem using his injured arm for this activity!

~ The Roman Centurion ~
This year, instead of tomatoes, I served some popcorn to represent the 100 Roman Centurion.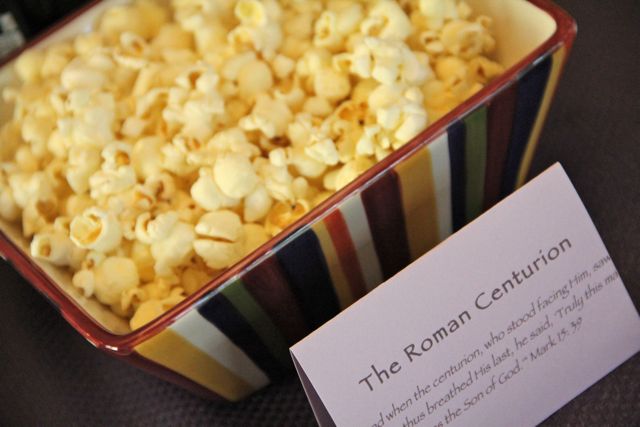 "And when the centurion, who stood facing Him, saw that He thus breathed His last, he said, 'Truly this man was the Son of God.'" Mark 15: 39

~ Laid in the Tomb ~
"And he brought a linen shroud, and taking Him down, wrapped him in the linen shroud, and laid Him in a tomb which had been hewn out of the rock; and he rolled a stone against the door of the tomb."

The Bible readings, recipes and shopping list can be found at
Cottage Blessings
. I reused the small card stock signs I created last year and my document can be found at
Scribd
, if anyone would like a copy.