Yesterday afternoon a couple of my super creative friends gave us the cutest baby shower ever to welcome our "Little Man!" It was actually a double shower for Amy and I, but Amy wasn't able to make it due to some of her family being sick. (We missed you Amy!!!)
I have known Ann-Marie and Kristi since I was a child. Their mom was actually the person that encouraged my own mom to start homeschooling us! Kristi was my Confirmation sponsor, I was a "junior bridesmaid" in her wedding, she is Rascal's Godmother, and we are Godparents to one of her sons. Ann-Marie was also one of the bridesmaids in my wedding! Apparently we look related, and I oftern get mistaken for one (or both) of them! 🙂 I just love all the connections between our families!
Kristi and Ann-Marie also set up a "Photo Booth" complete with a whole collection of their dads ties and Kristi's boys' hats. They made the cutest mustaches out of black foam and bamboo skewers and then had everyone pose for pictures. Here are a few of the ones that were taken on my camera:
Rose watched while everyone was "playing dress up" and decided to join the fun, getting herself all dressed up on her own.
It was so much fun!
In addition to the cake they had the yummiest peppermint bark candy (Kristi, I need your recipe!), Cookies shaped and decorated like Mustaches, Bowties and Onesies, Cowboy Cookies, Pretzel CIGARS, LITTLE ME Snack Mix (Complete with decorated Gingerbread Marshmallows, LITTLE MEN Cookies, BOW TIE (Peanut Butter) Pretzels, and Fruit KABOBS!
The drink BAR was awesome! Little mustaches on all the cups and straws, root BEER and darling mason jars with BOW TIES!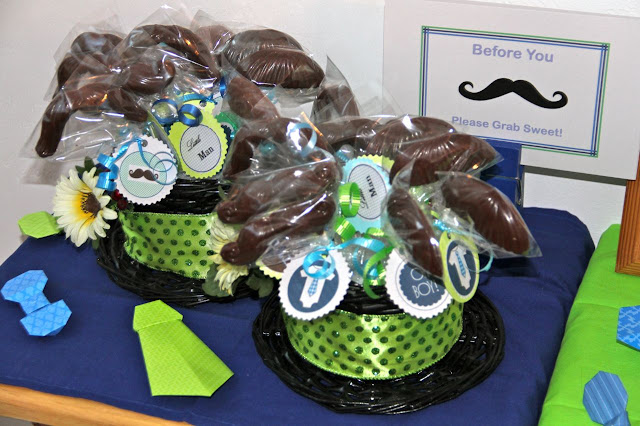 Did you get the sign?