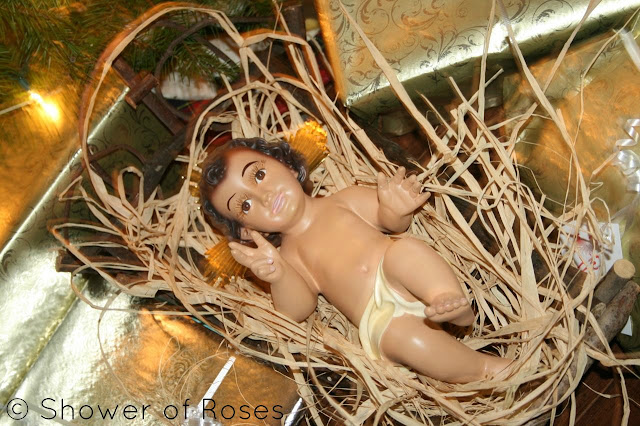 Each Advent, as we prepare for Christmas, our children love creating a soft place for the Infant Jesus to arrive on Christmas morning by placing a piece of straw (or raffia) in the manger for each of their extra prayers, good works, and sacrifices.
This year, as some of the children get older, we have decided to expand on this tradition by incorporating the Christkindl tradition which Maria von Trapp shares in her book Around the Year with the Trapp Family. (Unfortunately this book is out of print, but you can find the complete text at EWTN. Many years ago I printed it out in it's entirety!) Growing up my family enjoyed doing this during Advent, and it was also encouraged at Christendom College when I was a student! (I still remember the funky glasses and "pet bug" I found in my mailbox which my Christkindl – also known as Kris Kringle – left me as a gift! lol)
Mrs. Von Trapp explains the tradition much better than I ever could so I am just going to share a quote:
… And then comes another exciting moment. Once more the mother appears with the bowl, which she passes around. This time the pieces of paper contain the names of the members of the family and are neatly rolled up, because the drawing has to be done in great secrecy. The person whose name one has drawn is now in one's special care. From this day until Christmas, one has to do as many little favors for him or her as one can. One has to provide at least one surprise every single day–but without ever being found out. This creates a wonderful atmosphere of joyful suspense, kindness, and thoughtfulness. Perhaps you will find that somebody has made your bed or shined your shoes or has informed you, in a disguised handwriting on a holy card, that "a rosary has been said for you today" or a number of sacrifices have been offered up. This new relationship is called "Christkindl" (Christ Child) in the old country, where children believe that the Christmas tree and the gifts under it are brought down by the Christ Child himself.

The beautiful thing about this particular custom is that the relationship is a reciprocal one. The person whose name I have drawn and who is under my care becomes for me the helpless little Christ Child in the manger; and as I am performing these many little acts of love and consideration for someone in the family I am really doing them for the Infant of Bethlehem, according to the word, "And he that shall receive one such little child in my name, receiveth me." That is why this particular person turns into "my Christkindl." At the same time I am the "Christkindl" also for the one I am caring for because I want to imitate the Holy Child and render all those little services in the same spirit as He did in that small house of Nazareth, when as a child He served His Mother and His foster father with a similar love and devotion.

Many times throughout these weeks can be heard such exclamations as, "I have a wonderful Christkindl this year!" or, "Goodness, I forgot to do something for my Christkindl and it is already suppertime!" It is a delightful custom, which creates much of the true Christmas spirit and ought to be spread far and wide…
On the first Sunday of Advent we will draw names. (I'm thinking the oldest five children this year, but if any of you have done this before and have suggestions or advice, I'd love to hear it in the comment box!) I also plan to have the children write a letter to the Christ Child this year, also inspired by Maria Von Trapp:
…And there is still one very important thing to do for Advent. According to Austrian custom, every member of the family writes a letter to the Holy Child mentioning his resolutions for the weeks of Advent and listing all his wishes for gifts. This "Christkindl Brief" (letter to the Holy Child) is put on the window sill, from whence the Guardian Angel will take it up to heaven to read it aloud to the Holy Child…

Update: Our children tuck their letters into their shoes on the eve of the feast of St. Nicholas so that he can pick them up and deliver them to the Christ Child.