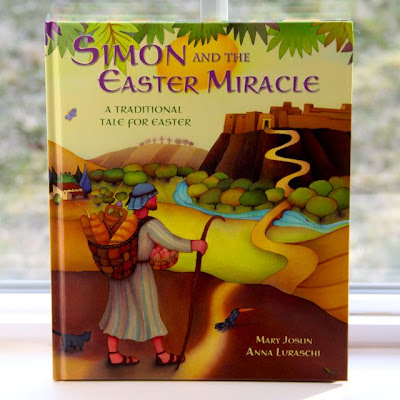 With Easter coming up in just one month, I have started making a few little purchases to add to our children's Easter Baskets this year. I wanted to take a second to share a lovely new picture book that I happened to run across on Amazon titled Simon and the Easter Miracle: A Traditional Tale for Easter. I think it's the perfect book for our little 4 year old (Snuggles) this year!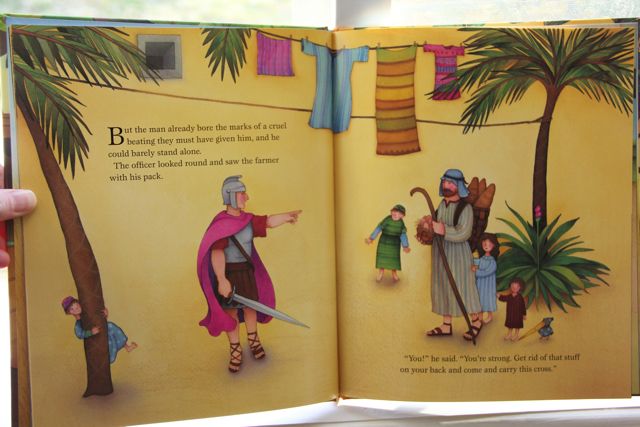 Simon and the Easter Miracle: A Traditional Tale for Easter is written by Mary Joslin, author of a number of other books we already own and love including: The Story of the Cross: The Stations of the Cross for Children, Mary, Mother of Jesus, and The Good Man of Assisi. This beautifully illustrated book is the story of Simon of Cyrene — "a man coming in from the country," as the Gospels refer to him—who was ordered to carry Jesus' cross.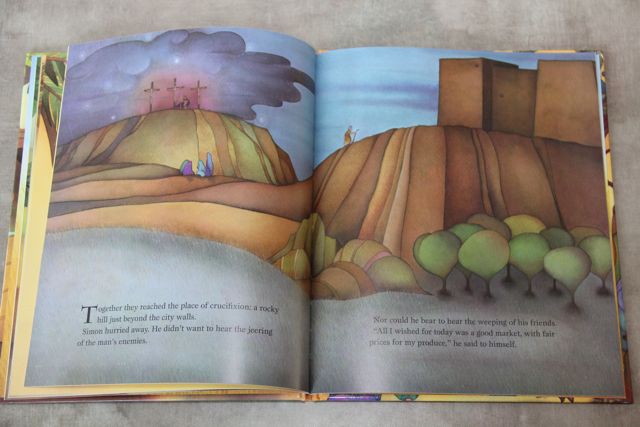 "Over the centuries, his story has been woven into Polish folklore; when Simon the farmer brings his wares to market, little does he expect how he will be involved in the events of that very special day, nor how his produce—of bread, eggs, and wine—will become important symbols of Jesus' passion and resurrection, remembered throughout the ages." I am very excited to share this traditional tale with my children and add this book to our
ever growing
collection
!
Here are the other books I have purchased for this coming Easter:
(This year I have chosen two books for each basket, though they are not all Easter/Faith based.)
Easter Babies: A Springtime Counting Book and The Tale of Sir Prance-a-Lot (for Bud)
An Easter Gift for Me and My Favorite Things (for Rose)
Simon and the Easter Miracle: A Traditional Tale for Easter and Easter In The Garden (for Snuggles)
Beautiful Butterflies Stained Glass Coloring Book and Fancy Nancy's Elegant Easter (for Chiquita)
Kat Finds a Friend, a St. Elizabeth Ann Seton Story and Zita the Spacegirl (for Twinkle Toes)
Saints Stained Glass Coloring Book and Treegate's Raiders (for Rascal)
Amon's Adventure: A Family Story for Easter and Sea Captain from Salem (Treegate) (for Captain)
I am also trying to decide on one of these for Palm Sunday:
(Do any of you have these? Any favorites?)
Humphrey's First Palm Sunday
Little Colt's Palm Sunday
The Donkey Who Carried a King