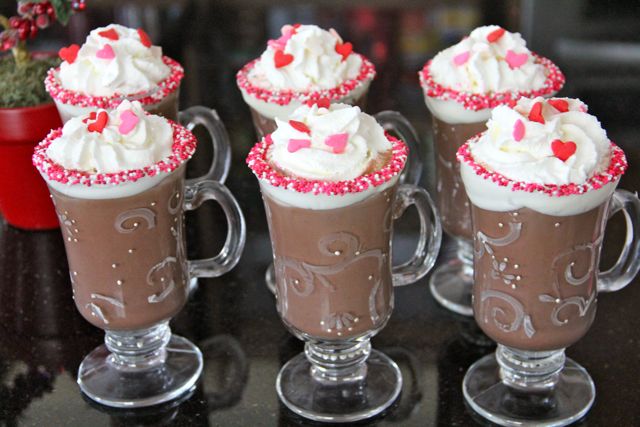 Didn't those mugs of Hot Cocoa turn out super cute?!?
When I came in from snapping a few pictures of our children playing in the snow, I decided to whip up a batch of Hot Cocoa to help warm them up when they came back inside, since the baby was still sleeping. I remembered a recipe I had pinned to my St. Valentine's Day board for this Strawberry Sweethearts Cocoa. I didn't have the required Strawberry Ice Cream, and honestly I think "Hot Strawberry" anything doesn't sound nearly as yummy as Hot Chocolate (not that I could actually have any, but still), so I decided to improvise. The thing that had caught my attention in the first place was the chocolate around the rim of the glass. I could still do that, without having to make the recipe! PLUS, I could still include pink and reds, with St. Valentine's Day coming up tomorrow, by then dipping the chocolate in sprinkles!
I pulled out my Irish Coffee Mugs (very similar to these ones, though mine were handpainted by a friend), some white chocolate chips (candy melts would work great too), and some Valentine sprinkles. It only took me about 5 minutes, while the hot cocoa simmered on the stove, to melt the chocolate, dip the rims of the mugs in the melted chocolate, and then dip again into a bowl of sprinkles. (Let set for a minute to harden.)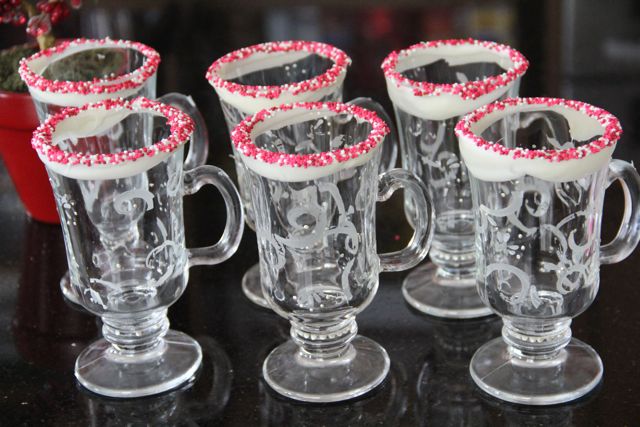 I happened to have some heavy whipping cream as well, so I pulled out my iSi Easy Whip and had homemade whipped cream (sweetened with some Chocolate Liquid Stevia) in about two minutes. After filling the mugs with cocoa, I topped them with the whipped cream and added a few hearts to the top of each.
As I said, it was so quick and easy, yet my children all LOVED the extra touches! When my oldest son walked into the kitchen he said "WOW!" walked over to me, started rubbing my shoulders, and continued to say, "Mom, you are AMAZING!" I sure love that boy of ours, he definitely made my day!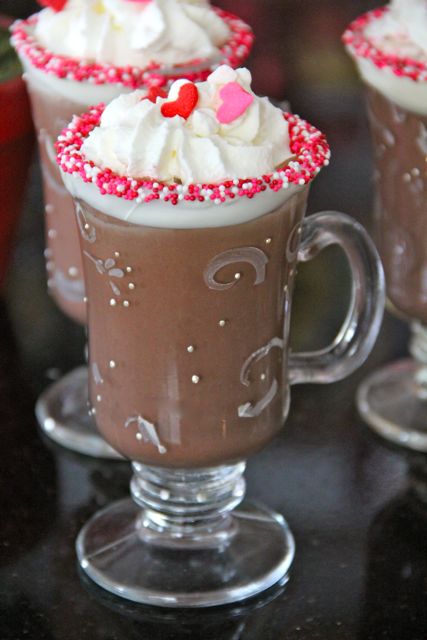 I hope you all have a very happy feast of St. Valentine!