Inspired by The United States Cookbook: Fabulous Foods and Fascinating Facts From All 50 States
the girls decided to make Boston Baked Beans for with our Sunday dinner:
"Early colonists learned to make baked beans from their Native American neighbors. Native Americans flavored the beans with bear meat and maple syrup. The colonists substituted salt pork for the bear meat and molasses for the maple syrup. Baked beans on Saturday night became a Massachusetts food tradition in colonial times. The tradition started because Puritans were not allowed to work on Sunday, so beans were cooked on Saturday and served for Sunday's dinner as well. Some women who were not so crazy about beans served them only on Sunday."
We had a few children, Chiquita included, that were not so crazy about these beans. Maybe if we would have cut back on the onion…
1 medium onion
2 16-ounce cans navy beans
1 15-ounce can pinto beans
1/3 cup ketchup
3 tablespoons brown sugar
2 tablespoons molasses
1 tablespoon spicy brown mustard
Preheat oven to 400˚F.
Remove the skin from the onion. On the cutting board, cut the onion into quarters and chop with Food Chopper.
Spray a saute pan with cooking spray. Heat the pan over medium heat.
Add the onions and saute until soft, about 5 minutes.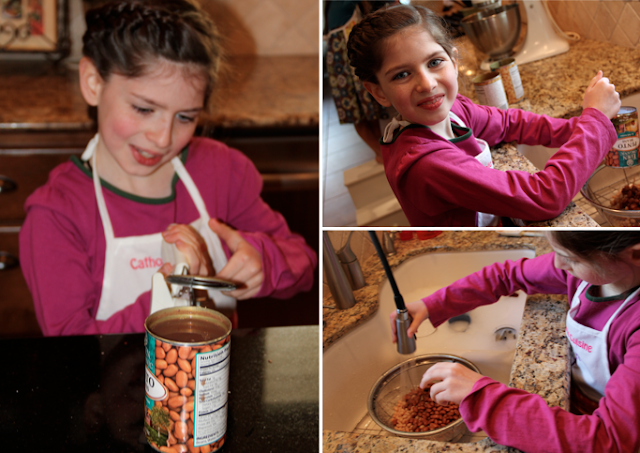 In the casserole, stir together the onions, beans, ketchup, brown sugar, molasses, and mustard.
Cover and bake for 30 minutes until the mixture is bubbly.
To go along with our Beans and Burgers, the girls also made an extra treat, inspired by some Basketball Cupcakes, using mini Reese's Peanut Butter Cups instead of the cupcakes:
Mini Peanut Butter Cups
For each basket, trim the cookie flush with the wrapper's edges, if needed. Unwrap the peanut butter cup and pipe a ring of decorators' gel around the edge. (We forgot to do this last step. Oops!)
For the backboard, frost half of a cookie, then add decorators' gel details. Keeping the cookie flat, dab frosting where the basket will go and gently press the peanut butter cup in place.
Use another dab of frosting to secure a chocolate basketball. Let the treats set for at least a half hour before standing them up. (We stood ours up right away and didn't have a problem.)
Other Posts of Interest:
State-by-State Scrapbook
State-by-State Scrapbook :: Massachusetts