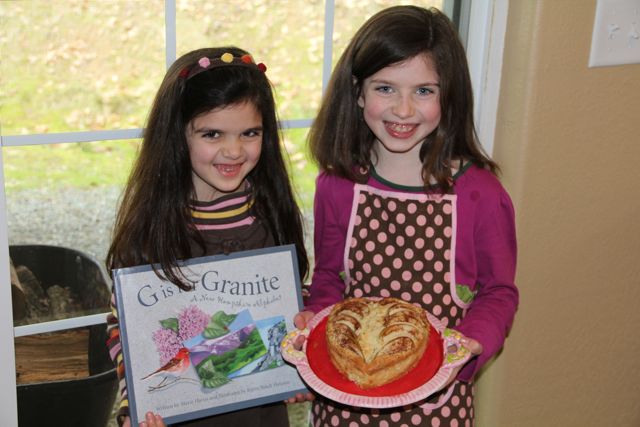 Are you all completely sick of our "State-by-State Baking" posts this week? I promise I will blog about something other than geography and food soon!
The girls have been making great progress this week, catching up on some recipes to go along with the states they have been studying over the winter. They've already completed a recipe for Virginia (I just need to upload the pictures) and will be making Crab Cakes for Maryland on Friday. We just need to decide on (and make) recipes for New York, North Carolina, Rhode Island, Vermont, and Kentucky to be all caught up… We have a couple ideas, but would love some suggestions from anyone that lives there, or is familiar with any great recipes specific to those states!
Anyhow, back to New Hampshire… New Hampshire, originally one of the thirteen colonies, "created" the new nation by becoming the 9th state on June 21, 1788, meeting the requirement for nine states to ratify the Constitution! The girls studied this state with the help of G is for Granite: A New Hampshire Alphabet and then completed their Notebook Pages.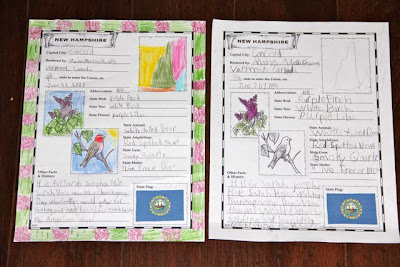 New Hampshire Notebooking Pages
by Twinkle Toes (L) and Chiquita (R)
To go along with our South Carolina Butterflies and Tea, the girls decided to make an Apple Tea Cake, recalling the apple orchards that were planted by the early settlers in New Hampshire. As we enjoyed our tea and cake, we read the poem "After Apple Picking" which was written by American poet, Robert Frost in 1914.
"F is for Robert Frost
Frost is a poet of countryside things:
stone walls and hay rakes,
stoneboats and snowflakes,
orchards and woods where the ovenbird sings. "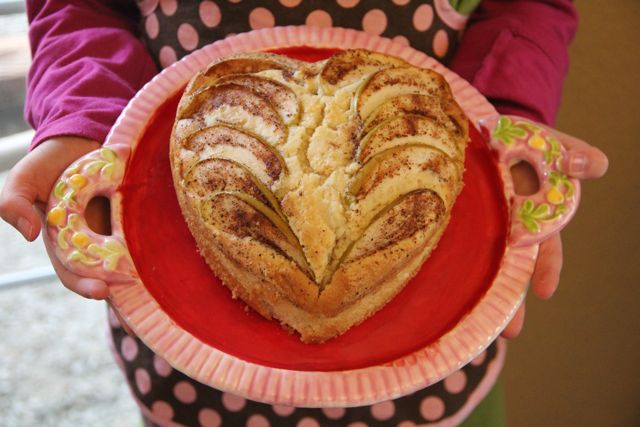 New Hampshire Apple Tea Cake
Ingredients:
1/4 cup butter
1/2 cup sugar
1 egg
1 cup flour
1 tsp baking powder
1/4 tsp salt
1/2 cup milk
1 apple, cored and thinly sliced
extra sugar
nutmeg
Directions:
Cream butter and sugar and then add egg, beating well.
Add flour, baking powder and salt, alternating with milk and mix until light and fluffy.
Pour mixture into a greased and lined cake tin.
Place apple slices decoratively on top of cake and sprinkle with the extra sugar and some nutmeg.
Bake at 350 degrees for 30-45 minutes. (Ours took longer since we used a smaller pan, making the cake deeper.)
Remove from pan and cool on tray.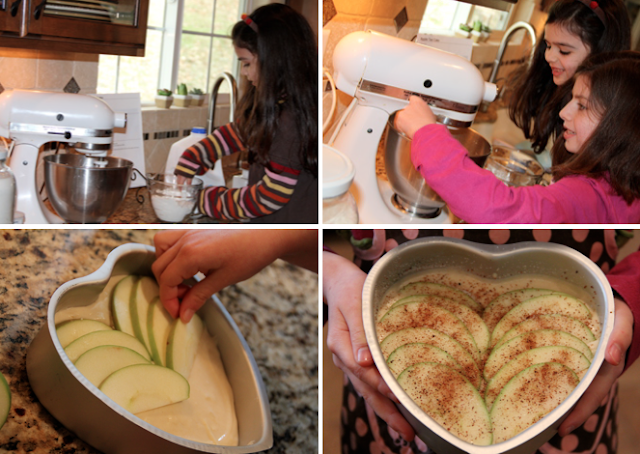 Resources we used for this State Study:
G is for Granite: A New Hampshire Alphabet
G is for Granite Teacher's Guide (pdf)
New Hampshire's Notebooking Page from United States Maps
United States Coloring Book (Dover)
State Birds and Flowers Coloring Book (Dover)
The United States Cookbook: Fabulous Foods and Fascinating Facts From All 50 States
Other Posts of Interest:
State-by-State Scrapbook
State-by-State Scrapbook :: New Hampshire