We skipped over our Maryland Crab Cakes, since we decided to save them for our meatless meal this coming Friday (though it will hardly be a sacrifice!), and made a fun snack for the 8th state to join the Union, the state of South Carolina. The girls studied this state with the help of
P is for Palmetto: A South Carolina Alphabet
and then completed their Notebook Pages.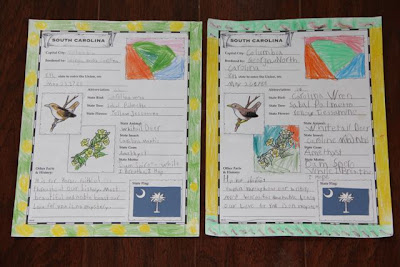 South Carolina Notebooking Pages
by Twinkle Toes (L) and Chiquita (R)
"
E
is for the Eastern tiger swallowtail,
a colorful butterfly to see.
Flying from flower to flower,
flitting and soaring, wild and carefree."
Inspired by these Orange Slice Butterflies, the girls created some fruit Eastern Tiger Swallowtails, the official butterfly of the state of South Carolina. These were so fun and easy to make. Since the Butterfly is one of the Easter Symbols, I think we will be making these again, sometime during the 50 days of Easter. They are pretty self explanatory, but here are the directions:
Eastern Tiger Swallowtail Fruit Butterflies
Ingredients:
Oranges
Blueberries or Purple Grapes
Toothpicks

Directions:
Slice the oranges, trimming off the ends, into 4 slices each. Cut each orange slice into quarters.
String the blueberries onto toothpicks, covering the toothpick, creating the body of the butterfly. Insert and center a toothpick horizontally through the middle blueberry. Add one orange slice to each end of the toothpick, creating the butterfly's wings.
Arrange the finished butterfly fruit snacks on a platter. Enjoy!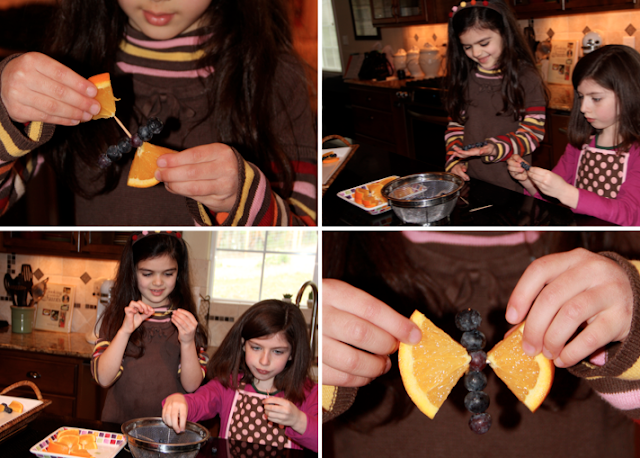 Since the first commercial tea farm in the United States was in Summerville, South Carolina, we also made some tea to go along with the Butterflies for our afternoon snack.
"Polly put the kettle on,
South Carolina's favorite drink
Following South Carolina is the 9th state with…
G is for Granite: A New Hampshire Alphabe
t! I'll be back soon with pictures of the girls' New Hampshire Apple Tea Cake that they made to go along with their South Carolina tea!
Resources we used for this State Study:
P is for Palmetto Teacher's Guide (
pdf
)
Other Posts of Interest:
State-by-State Scrapbook
State-by-State Scrapbook :: South Carolina