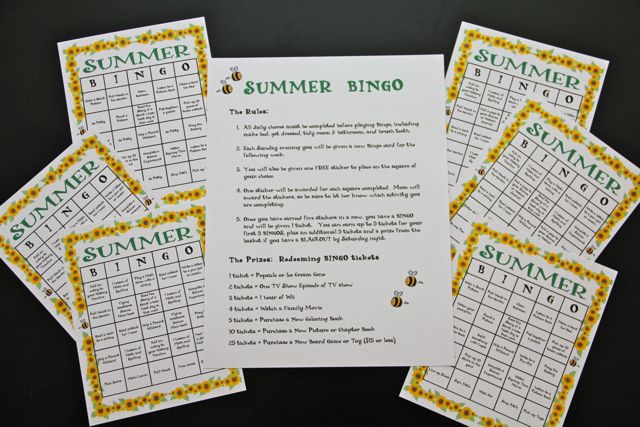 I have been asked by some of you to share my updated version of our original Summer Bingo. I'm sorry it has taken me so long to get to, but on top of not having any extra time online I was trying to figure out how to create a fillable pdf to share with you all and I just don't seem to have the right software. Instead I've uploaded pdfs of my files, along with blank versions… Hopefully that will help get you started!

Small Blank Summer Bingo Card Template pdf:Bingo2
Older Kids Sample Bingo Card pdf (plus blank pdf):
(I have been printing these 2 to a page)
Younger Kids Sample Bingo Card pdf (plus blank pdf):
(also printed 2 to a page)
Once again I modified the rules and prize options for my children:
Summer Bingo Rules
You can find a list of ideas for filling the squares in this past post of mine. This year my kids cards are filled with mostly summer school activities and extra chores since I created a separate "Summer Bucket List" that we are working on completing as well.
Our Family's 2012 Summer Bucket List (plus blank pdf):
Summer Bucket List