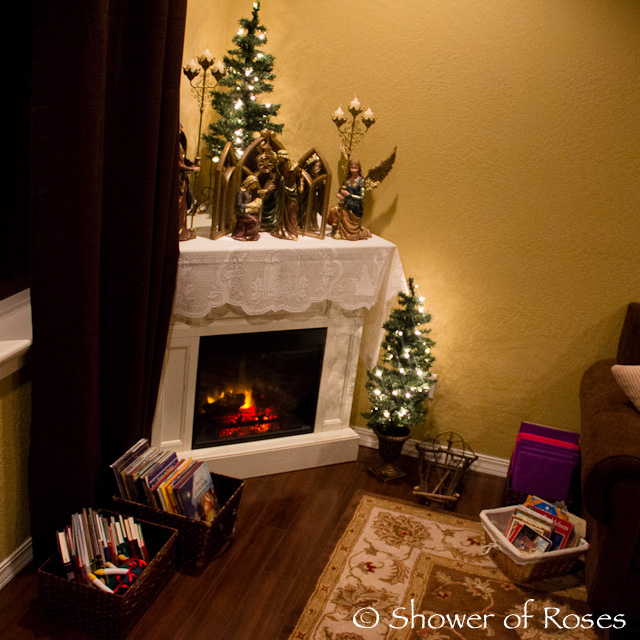 I hope you all had a blessed first Sunday of Advent! Our day was beautiful and peaceful, despite the excessively rainy weather, flood warnings, and Captain coming down with an awful stomach virus… We made the best of it and (thankfully) by the end of the day he was feeling much better. Deo Gratias!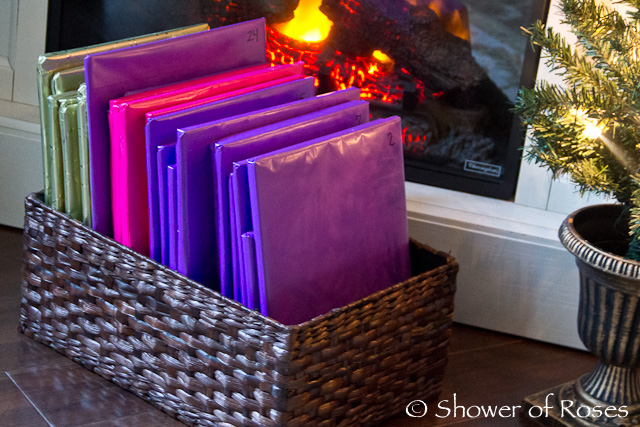 As you probably noticed in
my last post
, I did end up wrapping some of our Advent and Christmas themed picture books in purple, pink and gold paper for the children to unwrap each day during Advent and over the twelve days of Christmas, like we have done for the
past
few
years
now.
I
usually wait until Christmas morning to add the twelve books wrapped in gold for the twelve days of Christmas, but since Advent is short this year, and I had extra room in the basket, I went ahead and included them as well.
I then piled
the remaining books in a few additional baskets and moved them to the living room so they are readily available.
Our collection has grown so much over the past years, and I was having such a hard time choosing books to wrap! How was I going to decide which ones to focus on this year?!? I finally gave up and asked all the kids to choose four favorites each off the shelf and bring them to me… They were all very excited and I ended up with a nice big stack of 25 books, since someone (Rose) apparently snuck in an extra!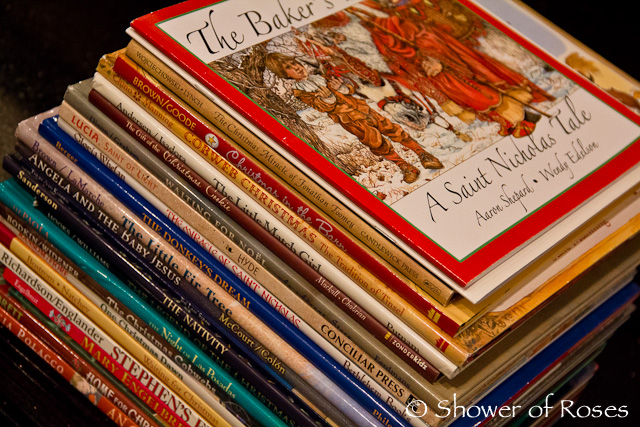 Here is the list of books we will be reading through this year as a family:
Note: The ones marked with an * are the ones that I choose for this year, and the books listed in bold are new additions to our collection that I've purchased on sale here and there, including a few new ones on Black Friday…
December 2 (First Sunday of Advent) ~ Waiting for Christmas: A Story about the Advent Calendar
*Decorate for Advent with Advent Calendars, Advent Wreath, Jesse Tree, etc… Set out Manger for Baby Jesus and all of our Christmas Books. Bless the Advent Wreath during nighttime prayers. Choose names for Christkindl!
December 3 ~ The Christmas Miracle of Jonathan Toomey with CD: Gift Edition
*Celebrate the Feast of St. Francis Xavier
December 4 ~ The Christmas Cobwebs
December 5 ~ The Baker's Dozen: A St. Nicholas Tale
*Bake St. Nicholas Cookies (We will probably try the recipe in the book this year!)
December 6 (Feast of St. Nicholas) ~ The Miracle of Saint Nicholas
*Celebrate the Feast of St. Nicholas
December 7 (Feast of St. Ambrose) ~ The Little Fir Tree
*Decorate our Christ Candle for Christmas
December 8 (Feast of the Immaculate Conception) ~ *Mr. Willowby's Christmas Tree
*Cut Down Christmas Tree after Mass
December 9 (Second Sunday of Advent) ~ *Our Lady of Guadalupe (pop-up)
* Feast of St. Juan Diego; possibly have our Our Lady of Guadalupe Tea
December 10 (Feast of Our Lady of Loreto) ~ An Orange for Frankie
December 11 ~ Cobweb Christmas: The Tradition of Tinsel
December 12 (Feast of Our Lady of Guadalupe) ~ The Legend of the Christmas Rose
*Begin Christmas Rose Novena
December 13 (Feast of St. Lucy) ~ Lucia, Saint of Light
*Celebrate the Feast of St. Lucy
December 14 ~ Waiting for Noel: An Advent Story
December 15 (Rose's Birthday) ~ *The Mitten 20th Anniversary Edition
* Birthday Party for Rose!
December 16 (Gaudete Sunday) ~ The Night of Las Posadas
December 17 ~ The Miraculous Child: A Christmas Folktale from Old Russia
*O Wisdom… (View all our O Antiphon Plans here.)
December 18 ~ Home for Christmas
*O Adonai, and Ruler of the House…
December 19 (Bud's Birthday) ~ *Snowman at Night
*Birthday Party for Bud!
*O Root of Jesse…
December 20 ~ The Gift of the Christmas Cookie: Sharing the True Meaning of Jesus' Birth
*Bake Cookies for Christmas to give as gifts
*O Key of David – Key Lime Pie and Sparkling Drinks with Dinner
December 21 ~ One Christmas Dawn
*O Dayspring… Hot Cocoa in thermoses and drive around to see Christmas lights in town after dark, then head to friends home for a Christmas Yule Party!

December 22 ~ *The Christmas Cookie Sprinkle Snitcher
*Bake and Decorate Cut-out Cookies.
*O King of the Gentiles…
December 23 (Fourth Sunday of Advent) ~ The Donkey's Dream
*Bake Starlight Cookies
*O Emmanuel…
December 24 (Christmas Eve) ~ *A Christmas Manger (Punch-out-and-play Books)
*Gingerbread House Decorating Party and Midnight Mass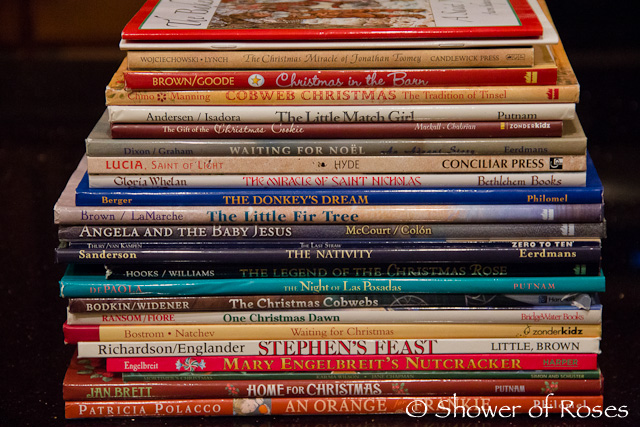 The following are wrapped in gold paper for the 12 Days of Christmas:
December 25 (Christmas Day) ~ The Nativity by Ruth Sanderson
December 26 (Feast of St. Stephen) ~ *Good King Wenceslas (pub. 2012)
December 27 (Feast of St. John the Apostle) ~ Stephen's Feast
December 28 (Feast of the Holy Innocents) ~ Angela and the Baby Jesus
December 29 (St. Thomas Becket) ~ *S is for Star: A Christmas Alphabet
December 30 ~ Mortimer's Christmas Manger
December 31 ~ The Little Match Girl
January 1 (Feast of the Circumcision) ~ *Who's Hiding: A Christmas Lift the Flap
January 2 ~ Mary Engelbreit's Nutcracker
January 3 ~ Christmas in the Barn
January 4 ~ *The Third Gift (I ended up changing my mind and adding this here, getting this new Our Lady of Guadalupe book instead. The Third Gift looks wonderful, I just wanted something a little more "girly" for her and this books looks perfect for our little Chiquita!)
January 5 ~ The Last Straw
January 6 (Feast of Epiphany) ~ *Babushka and the Three Kings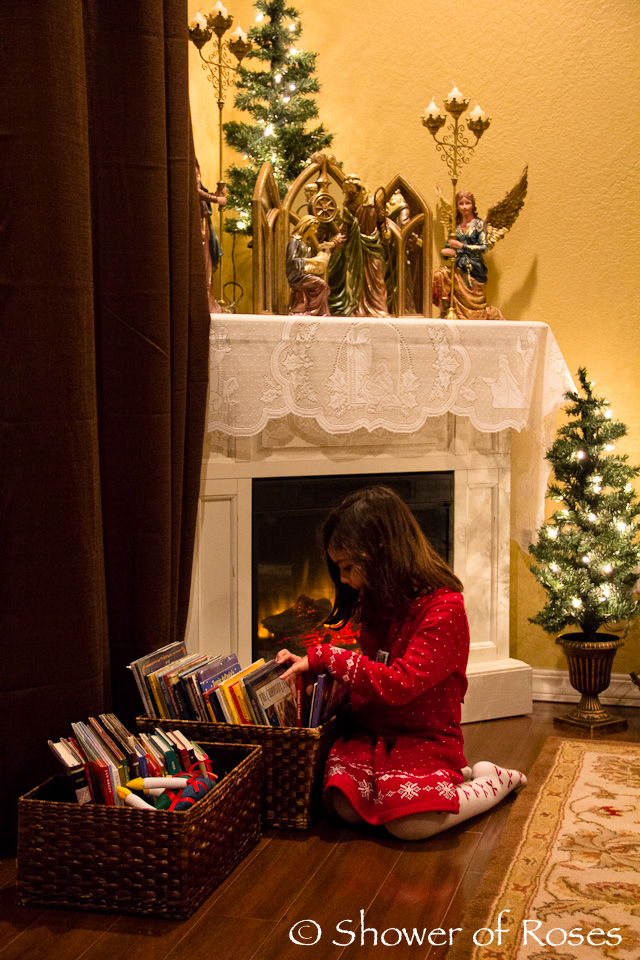 In Addition to the favorites listed above, here are the rest of
Our Additional Books for Advent and Christmas:

Advent and Christmas Chapter Books:
A Christmas Carol
A Christmas Chronicle
Destination: Bethlehem
The Catholic Christmas Book of Cherished Christmas Customs
The Story of Holly and Ivy
The Thirteen Days of Christmas
The Trees Kneel at Christmas
Early Advent:
Advent Storybook: 24 Stories to Share Before Christmas
The Twenty-four Days Before Christmas, An Austin Family Story
Feast of St. Nicholas:
A Gift from St. Nicholas
Saint Nicholas
St. Nicholas: A Closer Look at Christmas
The Church Mouse of Saint Nicholas
The Legend of Saint Nicholas
The Real Santa Claus: Legends of Saint Nicholas
Feast of the Immaculate Conception:
Mary, Mother of Jesus
Feasts of St. Juan Diego and Our Lady of Guadalupe:
Saint Juan Diego and Our Lady of Guadalupe
Our Lady of Guadalupe
Our Lady of Guadalupe(Coloring Book)
The Lady of Guadalupe
The Story of Our Lady of Guadalupe Empress of the Americas
Feast of St. Lucia:
Bells of Santa Lucia
Hanna's Christmas
Kirsten's Surprise: A Christmas Story
Lucia Morning in Sweden
Lucia, Child of Light: The History And Traditions of Sweden's Lucia Celebration
The Christmas Story:
All for the Newborn Baby
Bethlehem
Bright Christmas: An Angel Remembers
Christmas in the Barn

Christmas Night Fair and Bright
Father and Son: A Nativity Story
Little Star
One Winter's Night

The Birds of Bethlehem
The Christmas Bell

The Christmas Bird
The First Christmas
The Stable Where Jesus Was Born
The Tale of Three Trees: A Traditional Folktale
The Very First Christmas
There Was No Snow on Christmas Eve
Christmas Books Inspired by Music:
Good King Wenceslas
O Holy Night
The Huron Carol
Christmas Around the World:
Baboushka: A Christmas Folktale from Russia
Christmas Around the World

Marta and the Manger Straw: A Christmas Tradition form Poland
Pablo's Christmas
Historical Christmas Books:
An Early American Christmas
Christmas in the Trenches
Legends, Inspirational Stories and Other Miscellaneous Books:
A Small Miracle
Night Tree
On Christmas Eve
Saint Francis and the Christmas Donkey
Santa's Favorite Story
Shoemaker Martin
The Christmas Candle
Just for Fun:
Golfer's Night Before Christmas , A

How the Grinch Stole Christmas
Christmas Crafts and Baking:
Christmas Cooking (Activities)
The Twelve Days of Christmas:
Twelve Days of Christmas Stained Glass Coloring Book
The Twelve Days of Christmas
Feast of Epiphany:
We Three Kings
And a Basket of Board Books for our Littlest Ones:
Wishing you all a very Blessed Advent!