I frequently receive emails asking for movie suggestions for both adults and children. We have never had TV reception, but we do enjoy watching movies! Last night I asked my husband if he would be interested in sharing his favorites with you all. Before he left for work this morning he gave me the following list of 20 favorites, just in time for the long Thanksgiving weekend. He even included a little about each movie, who it's appropriate for, and even some of his favorite quotes! (Though we do have some favorites in common, my own list would look a little differently and definitely wouldn't include that quote he shared from Becket! Hmpfh… Maybe I should just let him make Thanksgiving dinner this year! lol) Be sure to leave him a comment and perhaps I can talk him into writing another post about his favorite resources for training our Altar Boys. 🙂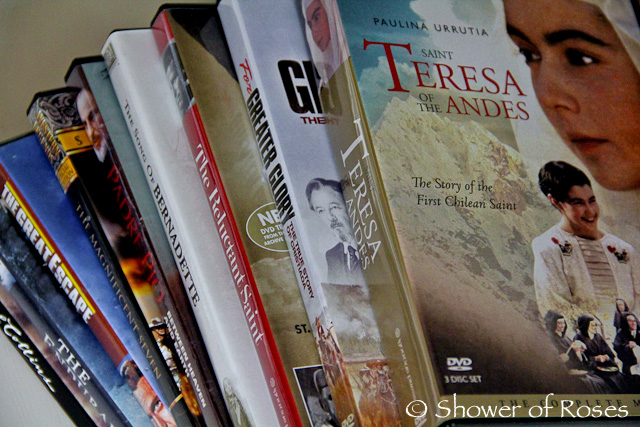 20. Valkyrie (2008)
Rated PG-13 for violence and brief strong language
True story of the assassination attempt on Adolph Hitler where Catholic Army officer of the Third Reich, Colonel Claus von Stauffenberg masterminds a plan to save Germany from Hitler. Powerful and suspenseful. Another one of those movies that you can't hold your breath on – unfortunately, we all know how this one ends. Great story of courage, love of country, and defiance against tyranny.
19. The Great Escape (1963)
Not Rated (Violence)
The true story of the largest and most daring P.O.W. escape from what was supposed to be the most contemporary escape-proof stalag of the Third Reich.
18. The Enemy Below (1957)
Not Rated
A WWII naval cat and mouse between a U.S. destroyer and the German U-Boat it is tracking. The honor and code of chivalry in combat is displayed here even in modern warfare.
17. The Miracle of Marcelino (1955)
Fictional story of an abandoned baby left at the doorstep of an Italian monastery. When nobody will adopt the child, the monks raise him themselves and are transformed by the love and affection between him and a mystical visitor. Longing for a mother to see and love, Marcelino is granted his wish.
16. The Magnificent Seven (1960)
Not Rated (Violent) – Adults and adolescents
Gang of drifters, mostly at odds with life, get hired by a Mexican village to rid them of El Guapo – I mean Calvera. Star studded cast with Charles Bronson, Yul Brynner, Steve McQueen, and James Coburn. Inspired by the foreign film The Seven Samurai and inspired the modern movie The Three Amigos.
Calvera: If God didn't want them sheared, he would not have made them sheep.
Village Boy 2: We're ashamed to live here. Our fathers are cowards.
O'Reilly: Don't you ever say that again about your fathers, because they are not cowards. You think I am brave because I carry a gun; well, your fathers are much braver because they carry responsibility, for you, your brothers, your sisters, and your mothers. And this responsibility is like a big rock that weighs a ton. It bends and it twists them until finally it buries them under the ground. And there's nobody says they have to do this. They do it because they love you, and because they want to. I have never had this kind of courage.
15. Come to the Stable (1949)
Not Rated
Heartwarming fiction for all audiences. This amusing film follows two nuns who come to America to establish a hospital to fulfill a promise. Good message of faith and hope.
14. I Confess (1953)
Not Rated (Adult theme)
Recommended for dads and moms and other adults in the house – not really for adolescents.
Alfred Hitchcock fiction about Father Michael Logan, a priest who is confronted by the local government authorities to break the seal of confession. The only fault in the film is the murky interior struggle the priest has with a former girlfriend. Probably inspired the heinous movie, Priest. Filmed in beautiful Quebec.
13. The Endurance – Shackleton's Legendary Antarctic Expedition (2000)
Rated G – Adults and adolescents
Gripping documentary narrated by Liam Neeson. True story of men who conquered despair. Just when you think they've had enough, new and more daunting challenges befall the ill-fated Antarctic voyagers. Incredible adventure story.
Famous Quotes: "Until our food ran out, we each had one meal a day: a biscuit which we looked at for breakfast, sucked on for lunch, and ate for dinner."
12. Going My Way (1944)
Not Rated
Bing Crosby plays his usual role of the suave and debonair priest . . . enough said.
Watch for this quote: "A golf course is nothing but a poolroom moved outdoors."
11. A Man for All Seasons (1966)
Rated G
Story of man's pride and fall when King Henry VIII rejected the Church to obtain a divorce and remarriage. To quell his conscience, the King tried to force Sir Thomas More to submit . . .
Sir Thomas More: When a man takes an oath, he's holding his own self in his own hands like water, and if he opens his fingers then, he needn't hope to find himself again.
10. Becket (1964)
Rated PG-13 for some sexual content and violence
Do not watch this with your kids. Emotionally dramatic movie throughout. It captures the tension between former friends King Henry II and the new Archbishop of Canterbury, Sir Thomas a Becket. Thomas a Becket was Archbishop of Canterbury from 1162 until his murder in 1170. He is venerated as a saint and martyr by both the Catholic Church and the Anglican Communion.
The quote of the film: In that Lord Gilbert has rendered no act of contrition or repentance, and is at the moment, at liberty in the land, we do, here and now, separate him from the precious body and blood of Christ, and from the society of all Christians. We exclude him from our Holy Mother Church and all her sacraments, in heaven, or on Earth. We declare him excommunicate and anathema . . . [slams candle to the ground] Monks: [response] So be it.
And we can't forget this classic: King Henry II: "I can do nothing. I'm as useless as a woman."
9. Michael Collins (1997)
Rated R for violence and language
The daring and bold true story of the establishment of the Irish Free State in the 1920's. Great historical drama, but don't get your hopes up watching this film – we all know how it ends.
Great quotes to watch for:
Michael Collins: "We have a weapon more powerful than any in the whole arsenal of the British Empire! That weapon is our refusal!"
Michael Collins: "We won't play by their rules, Harry. We'll invent our own."
8. The Day the Sun Danced: The True Story of Fatima (2005)
Not Rated
The inspiring animated for children true story of Lucia, Francisco and Jacinta, whose great faith and courage brought the message of Our Lady of Fatima to the entire world. The earnest message of Fatima is repeated here to help inspire children in praying the rosary with devotion.
7. The Reluctant Saint (1962)
Not Rated
Based on the true story of Saint Joseph of Cupertino, patron saint of aviators – for obvious reasons as depicted in the movie. Great message that "I can do all things through God who strengthens me." The other lesson here is how God lifts up the lowly and humble; whereas, the proud, He casts down in the conceit of their heart.
6. Padre Pio: Between Heaven and Earth (2009)
Not Rated (Adult Drama)
One of several recent films on the newly ordained Saint Pio of Pietrelcina. This 2009 film with Michele Placido playing the Capuchin monk from his stigmata through his adult life contains several real events and quotes of the man as it journeys through his life in San Giovanni Rotundo. The most authentic of the film versions will make you chuckle at his sense of humor and stand in awe at his marvels.
5. For Greater Glory: The True Story of Cristiada (2012)
Rated R for war violence and some disturbing images, including child torture
A chronicle of the Cristeros War (1926-1929); a war by the people of Mexico against the atheistic Mexican government. Fitting for our time when government intrusion into religion is escalating. We are to ask ourselves: 'how far would you go for your faith?' Having been falsely accused of bombing, Blessed Miguel Pro was arrested and shot by a firing squad. Before the order to fire was given, he spread his arms in the form of a cross. His execution is depicted in the closing credits.
Favorite quote: "Men will shoot bullets but God decides were they land."
4. Nicholas: The Boy Who Became Santa (2005)
Not Rated
Animated for children. Based on historical facts and tradition here is the true story of the boy whose love and care for others make him one of the most popular figures of all times. Today, more than sixteen centuries later, the entire world celebrates the kindness and generosity of the man we call Santa Claus. Great message of courage and steadfast hope for our current age institutional hostility towards religion.
3. The Song of Bernadette (1943)
Touching depiction of the Apparition of Our Lady of Lourdes to Bernadette Soubirous. The pompous government officials think she is nuts, and do their best to suppress the girl and her followers, and the church wants nothing to do with the whole matter until the miracle at the grotto transforms the village – and the world.
2. Rudy (1993)
Rated PG for profane language (many instances using God's name in vain)
Played by Catholic actor Sean Astin, this is the real life story of Daniel 'Rudy' Ruettiger, a walk-on hopeful to overcome great odds to star in Notre Dame's collegiate football team. Great inspiring message of perseverance and long-suffering.
1. Saint Teresa of the Andes (2009)
Not Rated (subtitled) 450 minutes on 3 discs.
The story of a Carmelite who was canonized by Pope John Paul II in 1993. Keep your handkerchiefs handy, her story will make even a grown man cry.