I love Pampered Chef! I was a consultant for many years, after Hubby & I were first married, and my kitchen cabinets are full of these wonderful kitchen products! With Thanksgiving and Christmas coming up, I thought it would be fun to host an Online/Blog/Facebook Pampered Chef party (from November 4-November 10) and you are all (at least all my US visitors!) invited!
My cousin Heather Kitterman, our Pampered Chef Consultant will be posting kitchen tips, tricks and fun recipes each day on the Facebook Event Page that is open to everyone. Please feel free to post questions and/or comments about your favorite Pampered Chef products or your own great recipe ideas! If you post a comment about your favorite product or a favorite recipe you will be entered into a drawing to win a fun Pampered Chef prize!
TO ORDER:
– Visit Heather Kitterman's website: www.pamperedchef.biz/heatherkitterman
– Click "shop online" and enter Jessica as the host.
OR
If you prefer, you can email or call Heather Kitterman with what you'd like! (heather@kitterman.net/206-351-5962) and she can take your credit card information over the phone.
BONUS:
1. The first person that places an order wins a special prize from Heather!
2. Each person that enters a recipe, cooking tip or a blurb about their favorite Pampered Chef product will be entered into a drawing and win a prize!
3. Anyone who spends $75 or more will receive 1 of the following FREE!!! Large Serving Spatula, Slice N Serve or Mini Serving Spatula: Guest Specials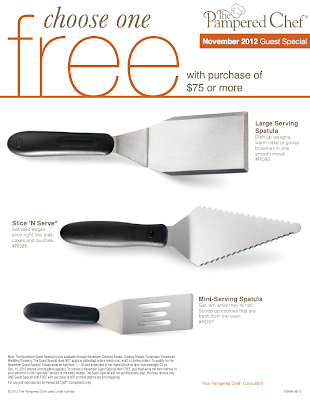 This show will be closed on November 10th (at 5p.m. PST), so please post your ideas and place your orders by then!
NOTE:
All orders will be submitted together and shipped when the show closes on November 10th (at 5p.m. PST); credit cards will be processed at that time. Direct shipping is available to anywhere in the U.S.
Happy Shopping!