— 1 —
What an exciting week! We've been glued to the live feeds online all week (which has left very little time for blogging or answering emails, sorry!) watching for that white smoke, the announcement and first blessing Urbi et Orbi from our new Pope Francis, the Holy Father's first Papal Mass, and more! I have loved seeing my children's interest and excitement as well! All that work with the Lap book and Unit Study has paid off, and I have even had my older boys explaining a few things to me this past week!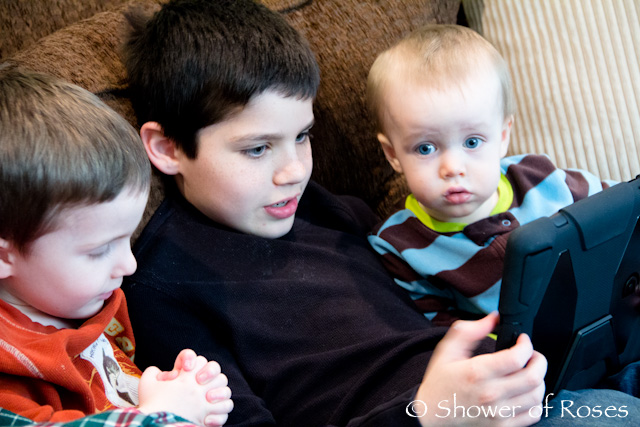 Watching the white smoke and waiting to hear who has been chosen!
I actually had an appointment at 11:40 on Wednesday, here in our little town, to pick up some paperwork… I was torn on whether to reschedule or not, having seen the white smoke, and knowing the Pope would be announced soon. It was the quickest trip to town EVER! I arrived back home with plenty of time to spare. Whew!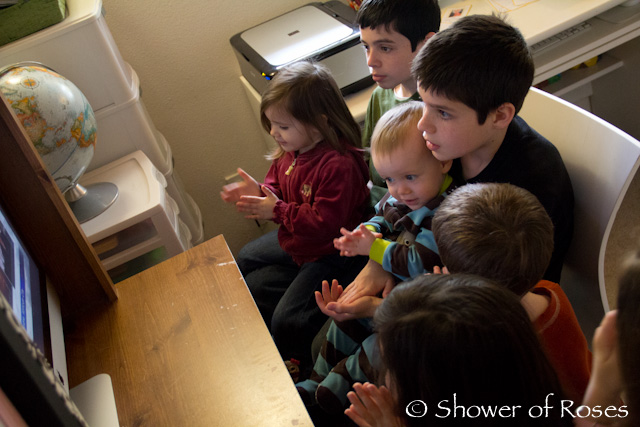 — 2 —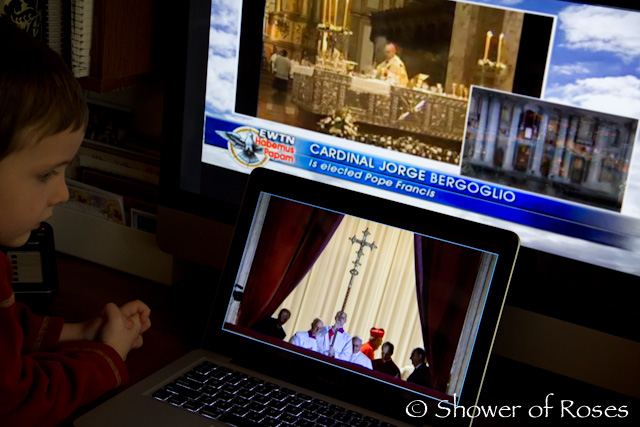 The big kids all recognized the new pope immediately as "Microphone Man" from
their Guess Who?! Cardinal game
! (Yes, all the cardinals were getting nicknames!) However, it took us a few minutes to realize that this was the cardinal that
Snuggles
had adopted and has been praying for each day! He was beyond excited and hasn't stopped talking about it yet!
— 3 —
The girls wanted to make sure their Daddy heard the news the moment he got home from work (though he had been able to watch the live feed at work) and wrote "We have a new Pope!" up the driveway!
— 4 —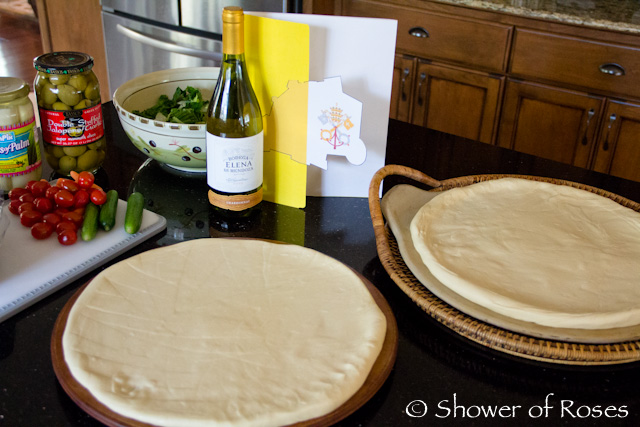 As I posted on the Catholic Cuisine Facebook Page following the announcement and learning a little more about Pope Francis, "I told my children they get to "cook their own meals" today, just like our new Pope!" They loved the idea! I ran to the store to purchase some Argentina Wine and we modified our dinner plans so the kids could make some "Argentina/Italian" pizza!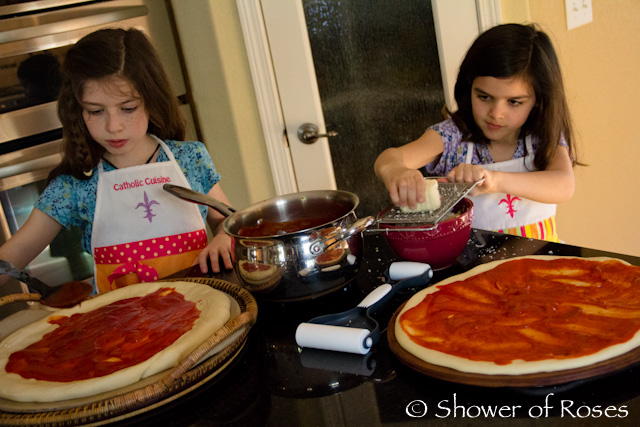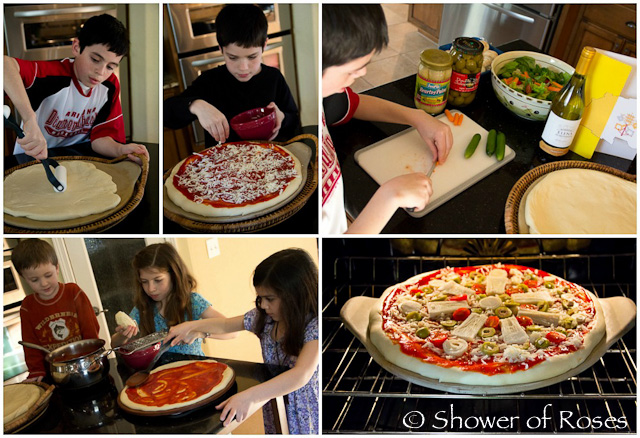 — 5 —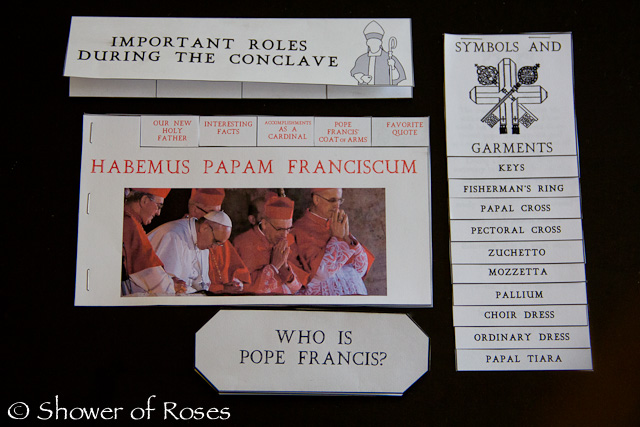 I have made a few more additional Mini-Book options for the
Papal Lap Book
!
For those that have asked, I did end up creating Fill-in-the-blank options for the "
What Happens When a Pope Dies?
" and "
Selecting A New Pope
." By the way, if anyone runs across any typos, do let me know so I can correct them and upload a revised document. I've made a few corrections already! 🙂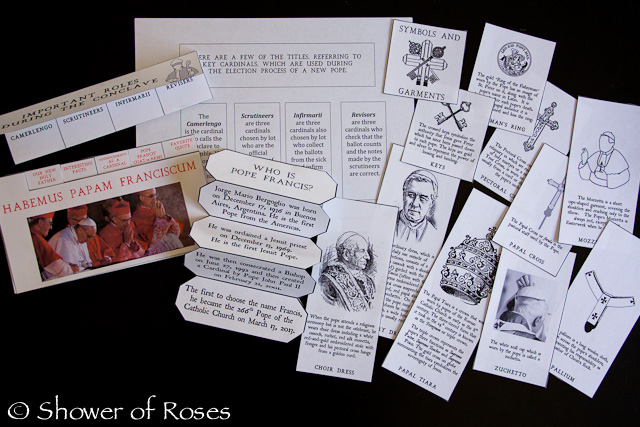 If you'd like to add these to the current Lap Book, but don't have any room left, you can easily add another white card stock flap to the bottom of the center page, just like you did at the top. We haven't assembled our Lap Books yet, but I think my older children are going to need a little more to be able to include everything!
— 6 —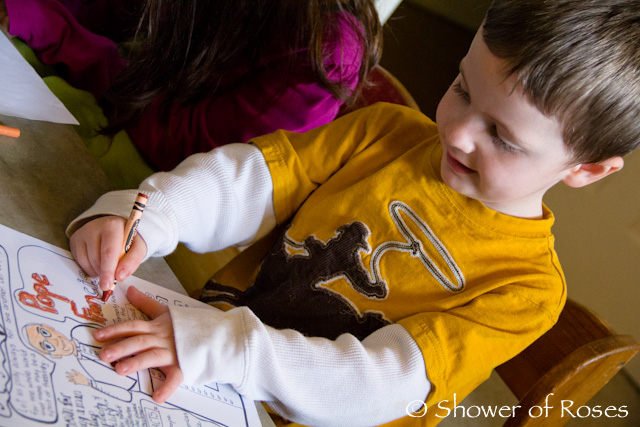 Snuggles was very happy to finally get to color a picture of "his" Pope!
I heard him say to Rascal yesterday that "I prayed REALLY GOOD for my Pope!"
He will be adding this page to his Papal Lap Book.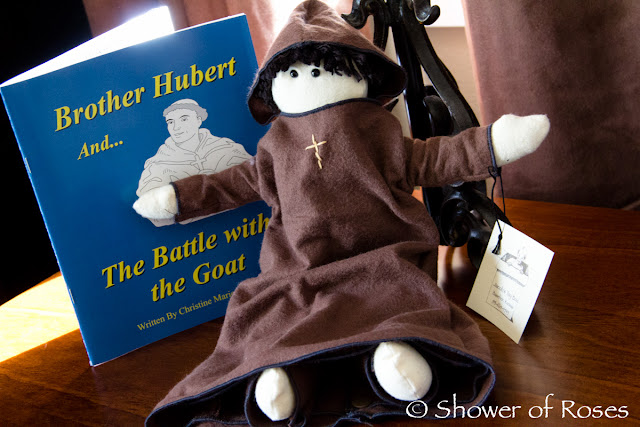 You have until tomorrow night! I will announce the winner on Sunday!
For additional Quick Takes visit
Conversion Diary
. Thanks, Jennifer, for hosting!