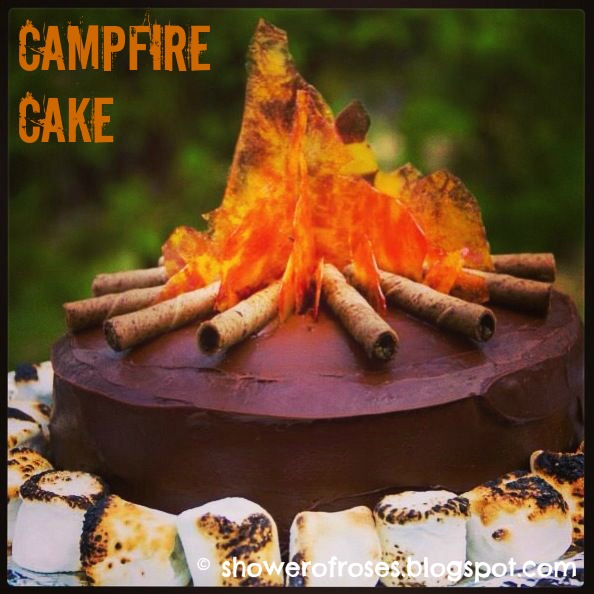 This year Snuggles (who desperately needs a new blog nickname – perhaps Cowboy or Ranger?) requested a "Lone Ranger" themed birthday party for his 6th Birthday! I had all sorts of plans and had hoped to decorate a two-tiered mountain cake (similar to my Camping Cake) complete with a homemade candy horse for Silver (I even bought the mold)… Then, between camping last week, golf camp this week, and coming down with another bad cold, I had to simplify.
Thursday afternoon I was searching online for ideas and considered trying to make a Gold Mine themed cake (which probably would have been just as difficult as my first idea) and considered just going to the bakery when I ran across lots of variations of Pillsbury's Campfire Cake and decided it would be perfect! After dinner on Thursday night I ran to town for the supplies and to search for a white cowboy hat… Even though it was definitely one of the easiest birthday cakes I've made, I didn't get started on it until after 11pm. I was roasting scorching marshmallows over my kitchen stove around 2am, and didn't get to bed until about 3, but it was totally worth it just to see the birthday boy's smiles in the morning!
Supplies:
Directions:
Prepare and bake cakes according to directions. Cool.
Meanwhile, line 15x10x1 inch baking pan with foil. Spray with non-stick baking spray. Place red and yellow candies in a plastic bag. Finely crush the candies with the flat side of a meat mallet or hammer. Sprinkle the crushed candies onto the sprayed foil-lined pan in a thin layer. Bake at 350˚ for 6 to 8 minutes or until candies are completely melted. Cool the melted candy completely before handling.
Cover a cake platter or large round plate with foil. Place 1 cake layer bottom side up on the platter and spread with 1/2 cup frosting. Top with the second cake layer, bottom side down. Spread a very thin layer of frosting on the top and sides of the cake to seal crumbs. (Opt: place in the freezer for about 20-30 minutes. This make spreading the final coat of frosting so much easier.) Spread remaining frosting evenly over the sides and top of the cake.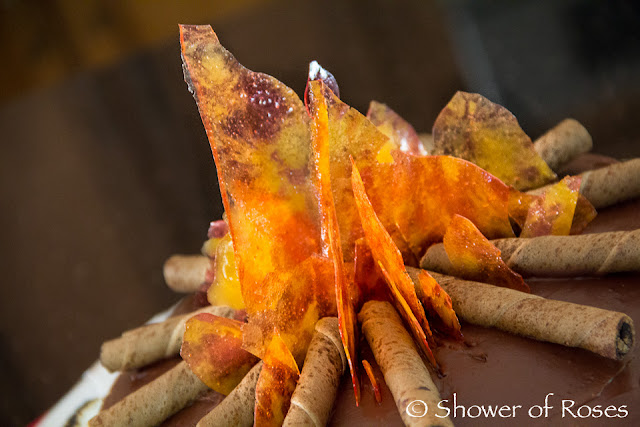 Arrange Piroettes in a circle on the top of the cake to resemble campfire logs. Break the cooled sheet of melted red and yellow candies into pointed shards. Insert the candy pieces into the top center of the cake and around the "logs" to resemble flames.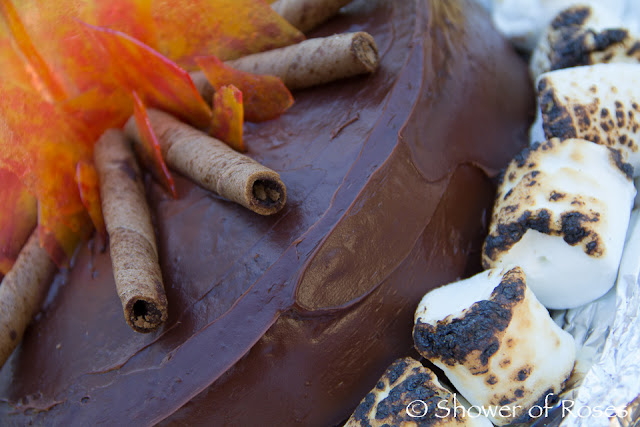 Roast Marshmallows over a flame and arrange around the base of the cake.
Preparation time: Approximately 50 minutes. Ready in 2-3 hours.
Makes 12 Servings.