I noticed that many of you seemed interested in my last Bargain Book post, at least according to all the copies of Saint Louis and the Last Crusade purchased through my link – thanks! Our copy already arrived! Originally published in 1958, it looks wonderful! The old re-published books are almost always my favorites… Anyways, I thought I'd share a couple more book deals I ran across this past week. I'm always watching for the extra great sales to stretch my homeschool book budget as far as possible! 😉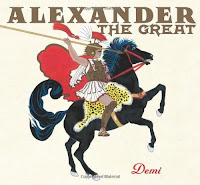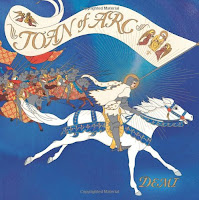 Alexander the Great by Demi is currently 75% off and is one of the recommended titles for our Ancient History Study next year!
Joan of Arc (also just $5 for the hardcover with prime!) is also on it's way to our home and will eventually find a place on the shelf (after Chiquita's birthday) with all of our other saint themed picture books.
We already own The Legend of St. Nicholas, Mother Teresa, Mary and The Empty Pot by Demi, and we all love the beautiful illustrations in these books, so I think these will make a nice addition to our collection! (Note: These are not currently discounted to 75% off.)
And speaking of deals I also noticed that
Shadow in the Dark
, which Rascal received in his Easter Basket has dropped to 44% off! He has already finished reading it and is wishing he had book 2 of the series,
The Haunted Cathedral
which is also 44% off… He needs to loose a tooth or something so I can slip it under his pillow. His birthday already passed and Christmas is still a long way off! However, at the rate the weeks are flying by this year, it will be here in no time…