Yesterday morning, after Mass, we headed to the Pumpkin Patch! Just like last year, we met my brother Brian and his family there, as well as my youngest brother David, Aunt Bridget and Uncle Shawn. This year even my parents decided to drive out as well! (I don't remember my dad ever going to the pumpkin patch with us as children, since we always went with our homeschool group.) It was such a fun day!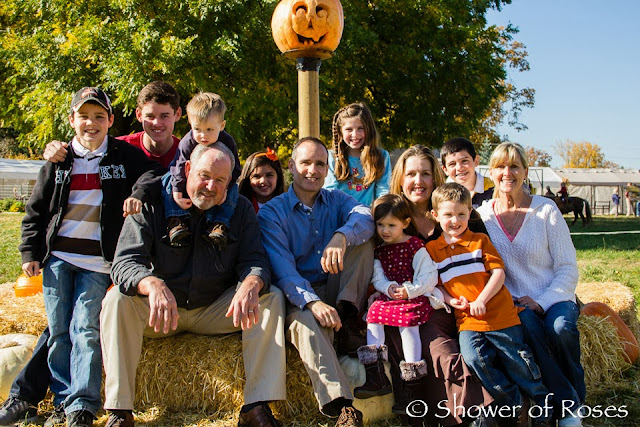 Family Picture with my Parents and Youngest Brother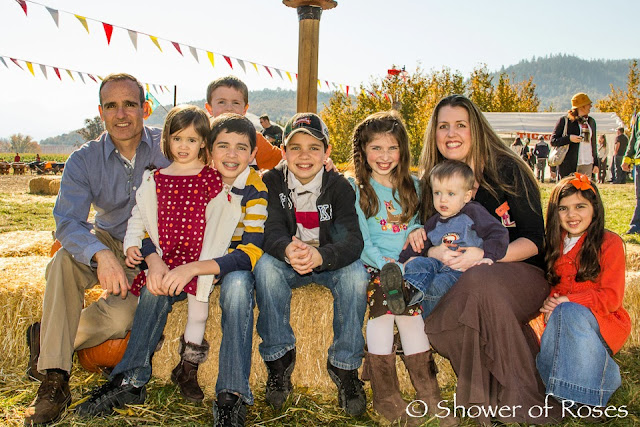 Our Little Family 🙂
Most of the different activities at this particular farm require "tickets" so the children each choose a couple things each from the list. Riding ponies was at the top of the list for Snuggles and Rose.
I was able to take one quick group picture (with Rascal's bubble gum popping on his face) before they were off and left Bud and I in the dust.
Here are a couple pictures I posted on Instagram while we were lost in the maze.
Bud and I were enjoying spending time together…
… and just as when he was too tired to walk any further Daddy showed up to help us find our way out!
The shooting gallery was a blast! Our short little Snuggles was about a foot shy of the height requirements, much to his disappointment, but the older boys (all of them!) were having a great time trying to hit the pumpkin targets.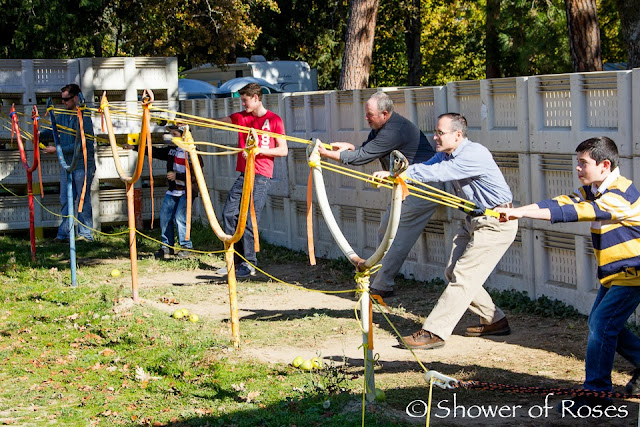 Brian, Rascal, David, Dad, Sean and Captain – Ready, Aim, Fire!
It was so much fun to watch Brian *almost* hit that moving target! 😉
And I couldn't resist giving it a shot. I didn't hit the pumpkin, but it did go through the middle of the tire! So close…
All the kids piled up on the wagon for a picture with their sweet little cousin.
While everyone else was searching for pumpkins, Rascal was busy creating a Pumpkinman!
Unfortunately, just as we were about to decide on some pumpkins, the clouds rolled in unexpectedly, the rain started, and we all headed straight to the car without leaving all the pumpkins in the field.Instead we picked up a few at Trader Joe's on the way home, following a relaxing afternoon eating pizza and assembling a puzzle with all everyone at Brian and Meagan's home.