Since I just finished sharing the Alphabet Blocks that I made using the Saint Letters from Catholic Artworks, I thought now would be a good time to go back and share the tutorial for our All Saints' Day Banner!
Last year, for our annual All Hallows' Eve/All Saints' Day Party, I created this banner using the images from the Catholic Artworks book An Alphabet of Catholic Saints. The clip art I used was on a CD of mine that they no longer sell, but I've been told that all the images are all included (with much more) on their current Teach Me to Discover the Saints CD. (Catholic Artworks is the publisher, but for those of you that are hesitant to purchase from them this CD is also available from Sacred Heart Books and Gifts.)
I did call George Nippert, the owner at Catholic Artworks, and was granted his permission to share my document with you all, which includes some of their (copyrighted) Saint Letters resized to the correct size needed for this banner! (Thank you Catholic Artworks)
Note: Since these images are copyrighted, the document I share can not be modified in any way and is to be used exclusively to create this particular banner. It is also not to be used for profit. Also, if you share this post, be sure to link directly to this blog post, and not to the document on Scribd. Thank you!

Supplies:
Letter/Saint Images Printed on White Paper
11 pieces of Colored Cardstock (I used black)
Paper Cutter and/or Scissors
Glue Stick
Ribbon

1. Print the All Saints Letter Banner Pages on white paper.
2. Cut out each banner letter, using the line as a guide.
3. Glue the letters to the card stock. (As you can see in the picture, I was able to fit two on each piece of 8.5×11″ cardstock.
4. Leaving a border of card stock, trim around each banner letter using a paper cutter.
5. Using a small hole punch, punch a hole in the top two corners of each banner letter.
6. Tread ribbon (I used white) through the holes in the banner to hang.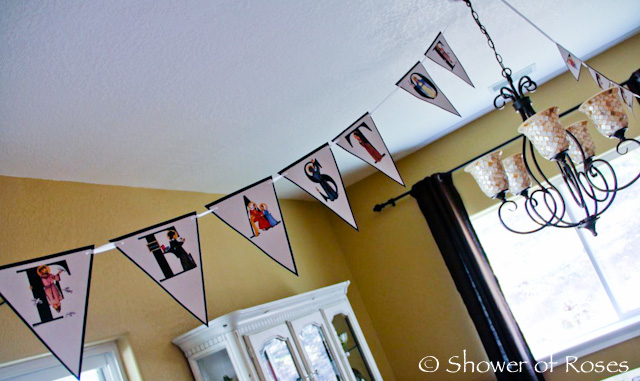 Scroll through all
All Saints' Day
posts in the archives for more ideas and printables!