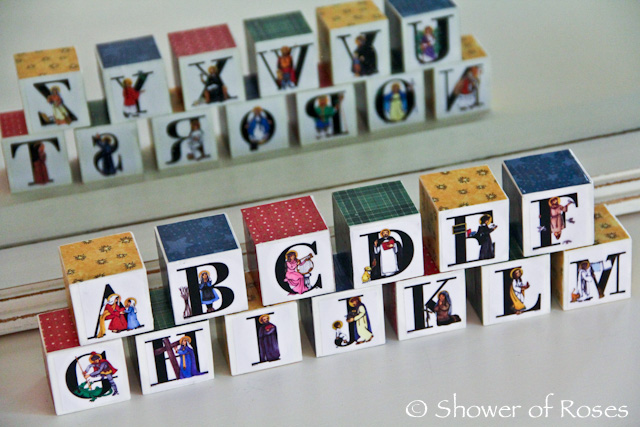 Snuggles' Alphabet of Saints Blocks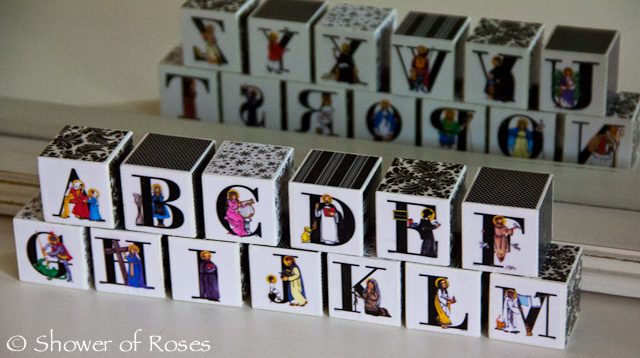 Cupcake's Alphabet of Saints Blocks
Originally I had hoped to make eight sets in various colors/designs to give as Christmas gifts, but ended up with just three, Snuggles' set plus sets for two of our dear godchildren, since my "extra" time was so limited in November and December. I do still have a fourth set in progress for Rose since she loved these blocks so much! In fact, one day she snuck into my bedroom, snatched a few blocks while I was on the phone and then hid under Captain's desk with them until I found her… Yes, I'm hoping that she will find her very own set (made with rosy pink-uh paper of course!) inside her Easter Basket this year.
Supplies:
1 1/2-inch square wood blocks (I used 13-16 blocks for each set)
Sandpaper
Scissors
Acrylic paint
Mod Podge
Paintbrush
Decorative paper
Alphabet Letters
Sponge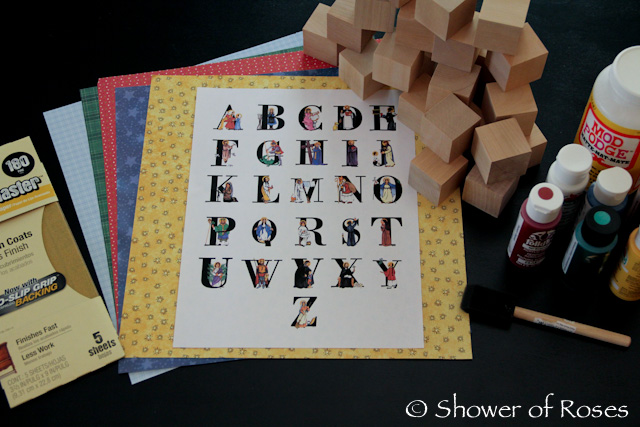 Directions:
1. Sand the wooden block with sandpaper to prepare them for painting.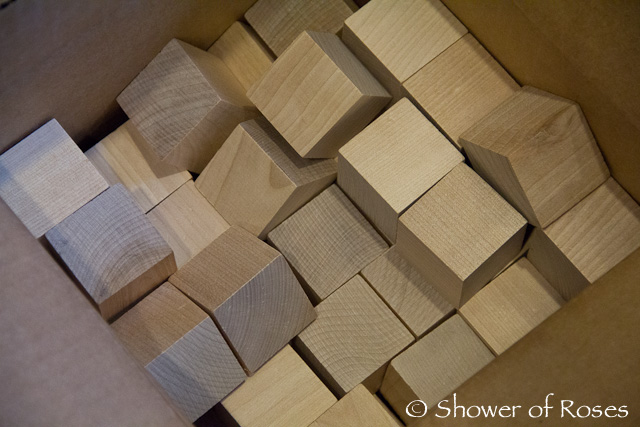 2. Paint the blocks with the color(s) you've selected. Allow to dry.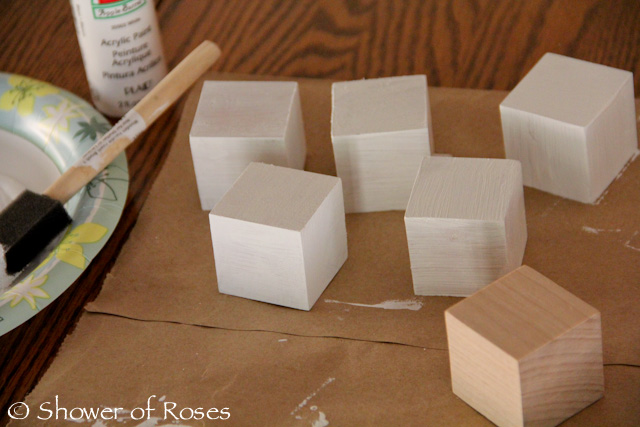 Snuggles' and Cupcake's sets were painted white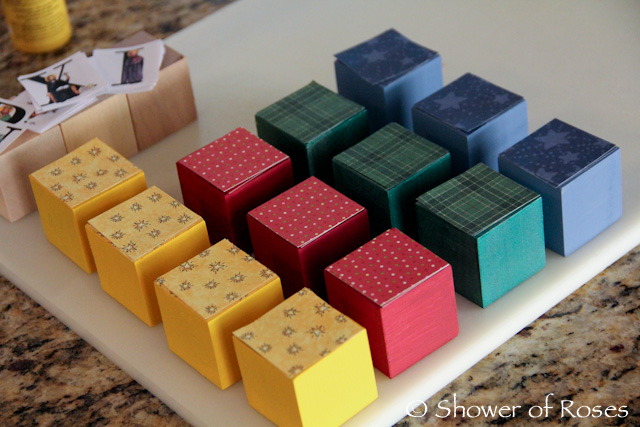 Bear's set was painted in multiple colors
3. Cut the Alphabet Letters and Decorative Paper to squares measuring just under 1 1/2″ each.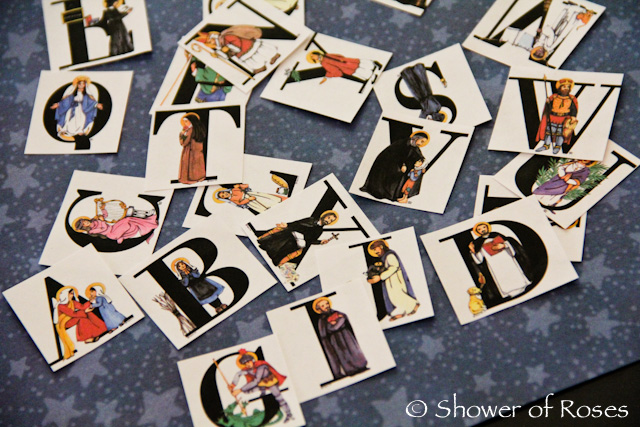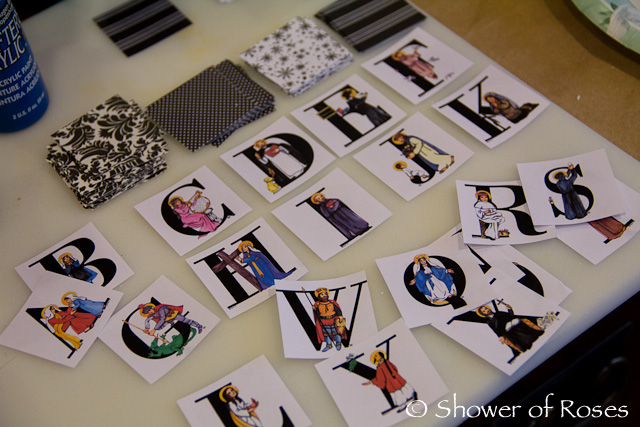 Note: I used the alphabet saint letters from Catholic Artworks, using a CD that they no longer carry. I've been told that all these letters and much more are included on their updated CD titled Teach Me to Discover the Saints which is also available from Sacred Heart Books and Gifts. Unfortunately they are not a free printable. Also, the images are very large on the CD. I resized them to the correct size that I needed for these blocks in Word, creating the document that you see in my supplies picture. I am sorry that due to copyrights I am not able to share it with you all. However you can customize this idea with any letters, stickers, or embellishments of your choice!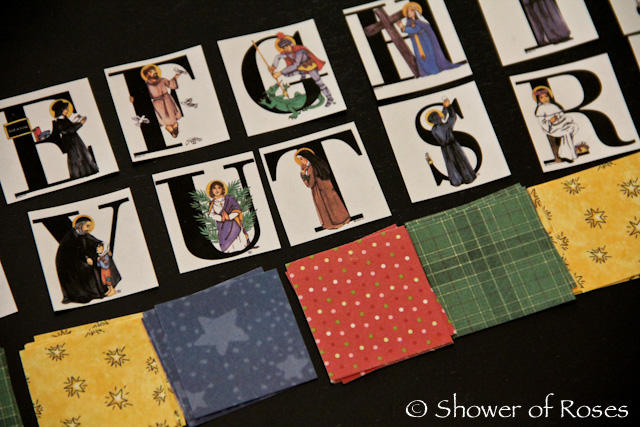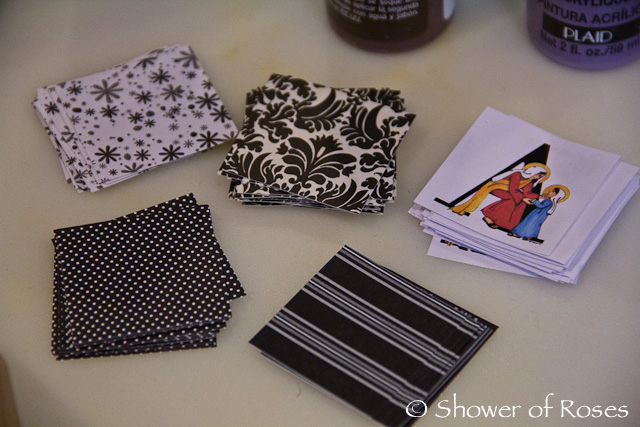 4. Glue the paper to each side of the block using all-purpose Mod Podge. Allow the glue to dry.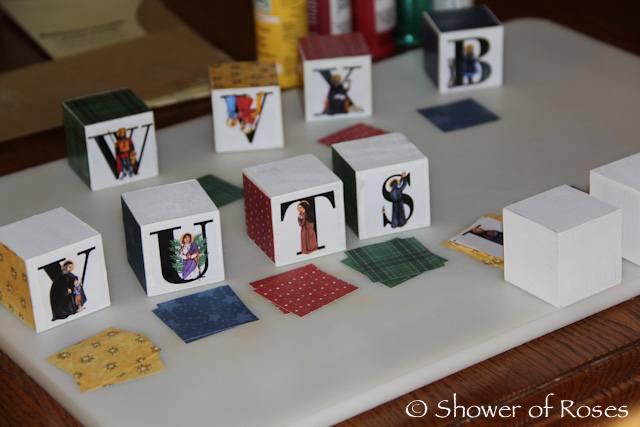 Note: Using 13 blocks I started with letters A-M on the fronts and then continued with letters N-Z on the backs (in order with N on the back of M and Z on the back of A). Since I had room for three extra blocks in the box for Cupcake's set I added a few extra vowels and consonants for her to use in creating her names.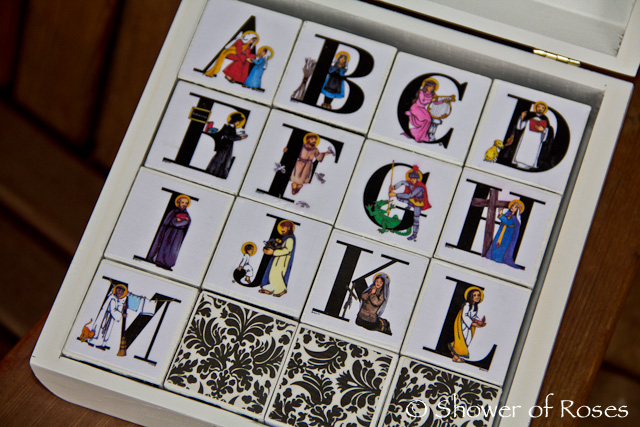 5. Very carefully, to prevent the printed alphabet paper from smearing, paint another coat of Mod Podge all over the block to seal. Allow to dry.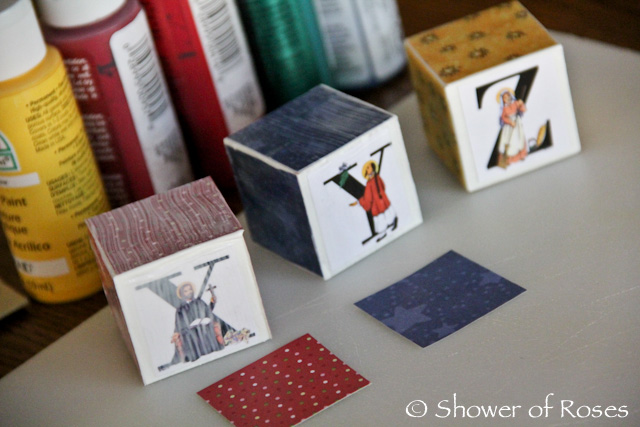 Note: After having plenty of blocks stick to my work surface I finally started placing them on top of my paint bottles to dry, which worked nicely.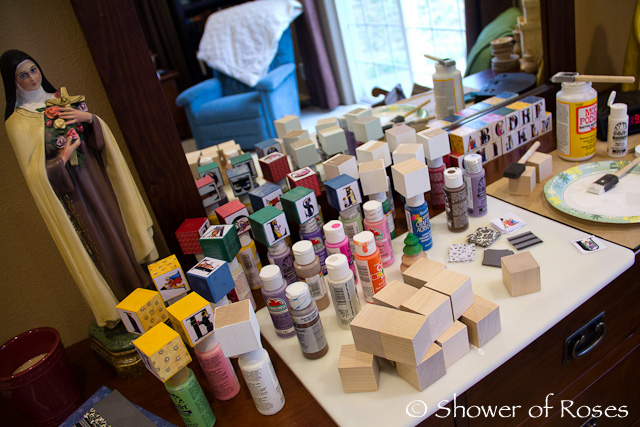 This is what my husband patiently put up with on our bedroom dresser most of Advent!
6. All Done! I also found a nice little wooden box at Michaels which held the completed blocks beautifully… I was only able to find one so I'm hoping that I can find more the next time I make it back to the craft store.