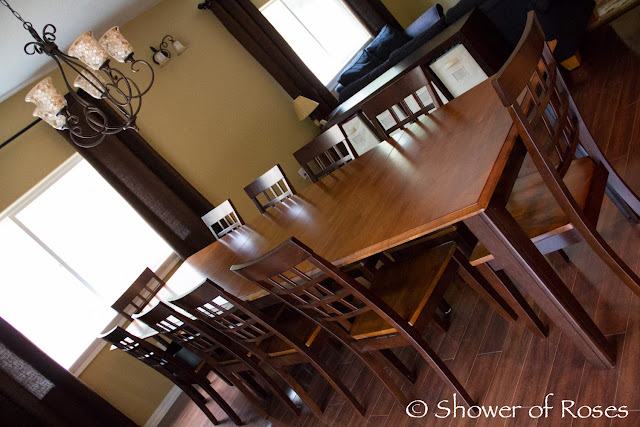 This year, for our 14th anniversary which is coming up on October 2nd, we decided to purchase a new dining table, with matching chairs for our family! Out first table was given to us by one of my husband's brothers when he entered the seminary, and then in 2008 we purchased the oak table with 6 chairs from my parents old neighbors when they moved. Since then we have been using the oak table with a combination of the oak chairs and the white school room chairs which were also from my parents neighbors. This is the first table we have ever purchased new and it was delivered yesterday afternoon!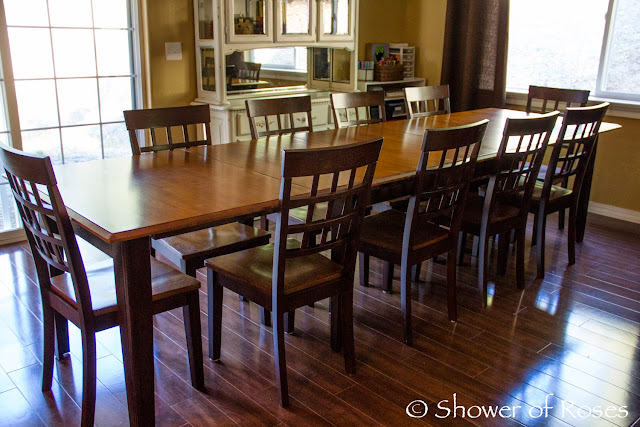 It is a little longer and narrower than our old table and it came with 10 chairs, although we did order two extras. I wasn't sure at first about the gridback chairs, but they are rather unique and, along with the two-tone Oak Espresso finish, match our home so nicely.
In the picture above you can see the shelves from the old school room in the corner… They are there temporarily until I can find new homes for everything. Still working on that… Someday I'd like to replace the white hutch with a dining buffet and also find a painting (my husband would like a large tuscan style painting of a monastery – maybe something along these lines – any suggestions?) for between the windows on the back wall.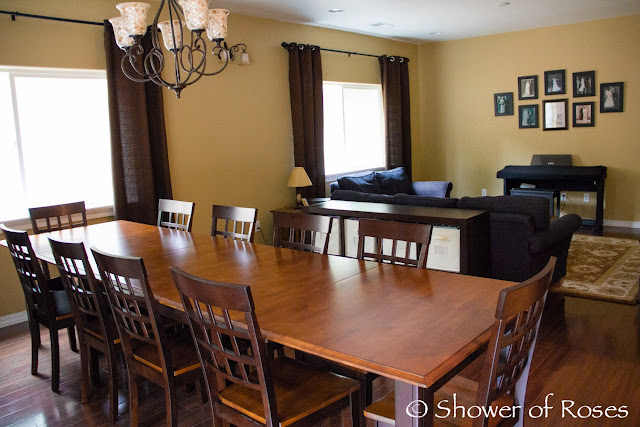 Last night I added felt pads to all the chairs and tonight we will all use our new dining table for the first time! It is such a blessing
(thank you overtime)
and we all love it!
If more of us valued food and cheer and song above hoarded gold,
it would be a merrier world.
― Thorin, The Hobbit