I've been so excited to share a couple pictures of my beautiful new locket with you all, and finally have a chance to do so this morning! This was an incredibly generous Mother's Day gift from Tricia at Origami Owl, one of my dear visitors here at Shower of Roses!
The Large Locket includes a "blessed" tag, 7 birthstones – one for each of our living children, a rose, a camera, and the letter J. There is also a Rose Dangle, representing the rose from St. Therese, which my husband happened to leave on my apartment doorstep on the 9th day of a novena (March 17, 1999) I prayed to her asking for a sign if he was who I was to marry (it was the first flower he ever gave me and did not know I was praying the novena!) along with a Small Locket containing a cross and two little hearts – one with tiny blue footprints – in memory of my babies in heaven. It is just perfect and I love how it so beautifully "tells my story with jewelry."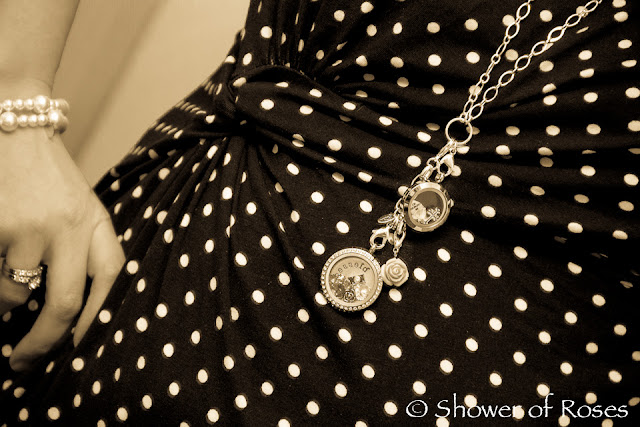 Tricia pointed out how easy it will be, especially for Catholic moms like myself with big and growing families, to continue to add charms as our family grows, and they are only $5 a charm! There is no need to buy a whole new necklace each time a new baby arrives! She also mentioned that, once you own the locket, you can change out the charms as often as you like, and move them to various other locket designs to change the look.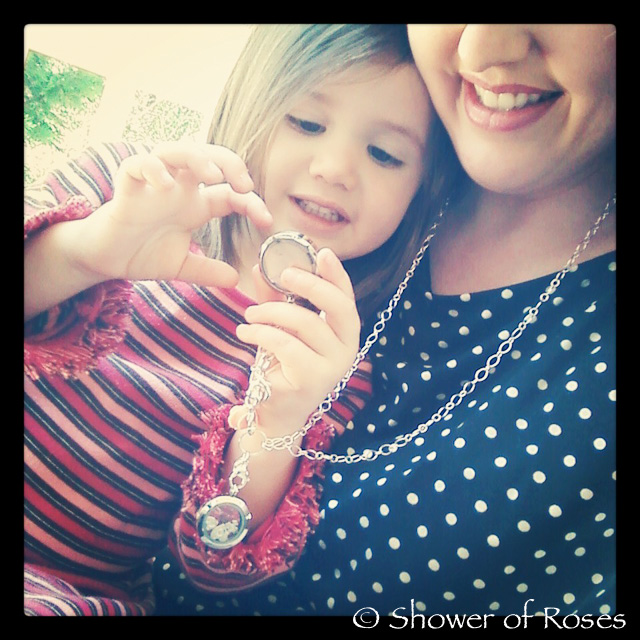 So far every time I've worn the locket I've had people ask me about it and comment on how it is so unique and pretty… Rose especially loves looking at my locket and pointing out all of the beautiful charms!
If you are interested in creating your own locket, be sure to
visit Tricia's website
. In addition to Mother's Day, these would be great gifts for graduations, weddings, birthdays, and Christmas! You can also contact her directly for personalized design help at tricia@teamjennings.net
Thank you
Tricia
! May God reward you for your kindness and generosity!