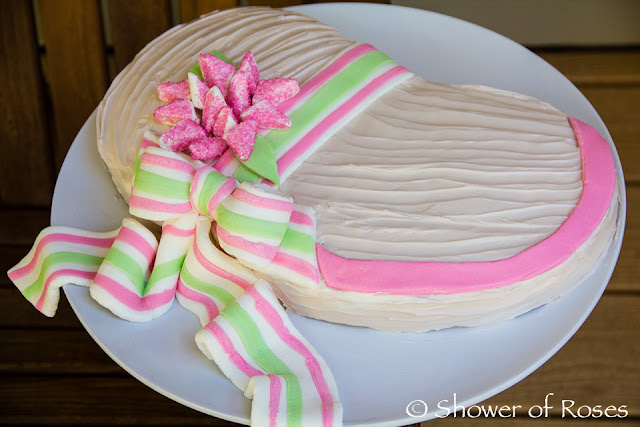 This year Twinkle Toes asked for a "Caroline" themed birthday party! While I was
looking through the books for ideas and inspiration
I decided that "
Caroline's Bonnet
" might make a fun cake for my new "ten-ager!" I really didn't know how I was going to pull if off when I got started… and at one point it looked more like a
"frosted Kidney Bean"
instead of a cake… but in the end I thought it turned out pretty and the birthday girl loved her cake when she saw it in the morning!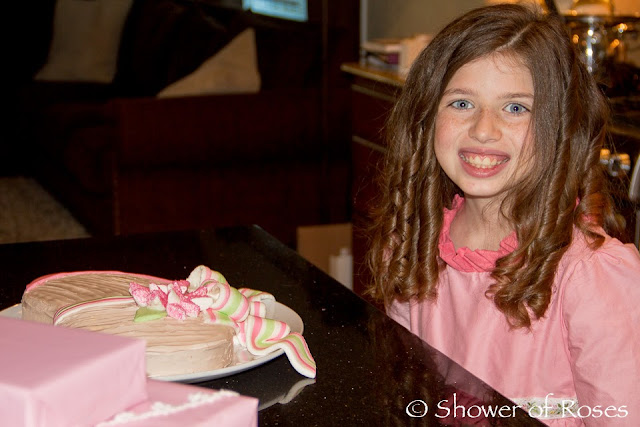 Supplies:
Cake Batter (I used one yellow cake mix)
White Frosting mixed with a little Chocolate Frosting to create a "straw" color
White, Pink and Green Marshmallow Fondant
Large Marshmallow
Pink Sprinkles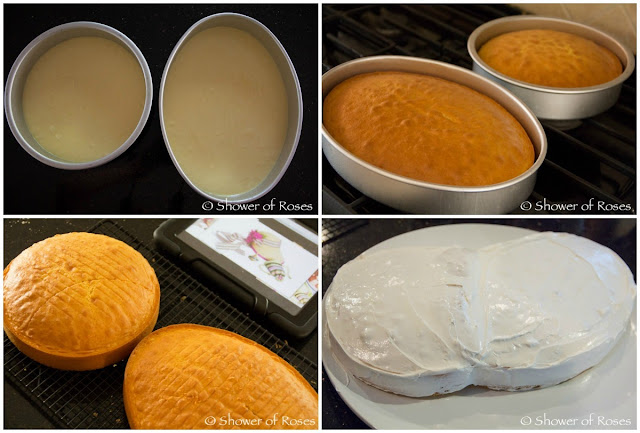 I just used a one box of Yellow Cake Mix for the cakes, dividing the batter between my two pans. I cut a rounded corner out of the cake to fit the two cakes together in a (somewhat) bean bonnet shape and put a layer of frosting over the whole cake.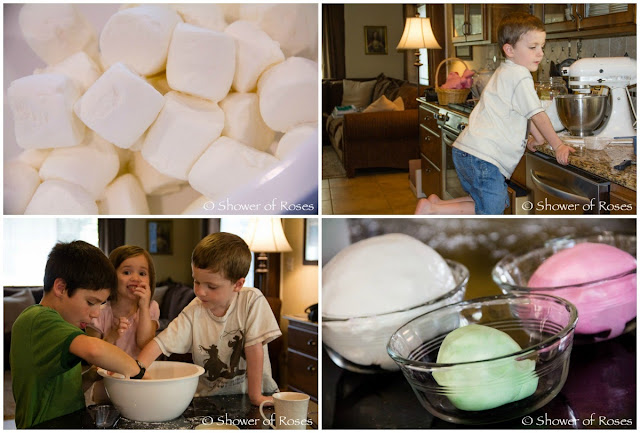 While the frosting was setting in the freezer I started looking for decorating supplies. I had picked up
a box of white fondant
(which is going back to JoAnns), but just couldn't bring myself to use it. We don't like the taste, and I hate spending the money on something that is going to just be peeled off and thrown away. At swimming lessons this summer a friend of mine suggested trying out homemade marshmallow fondant. She said I would be surprised at how easy it was and told me that everyone will love it! She was right!!!
(Just look at those kids scrapping the sides of the bowl for any scraps… Even my husband loved it!)
I used
this recipe as a guide
. I only had a 10 oz bag of marshmallows in the cupboard, so I modified the recipe accordingly. After melting the marshmallows in the microwave I mixed in some powdered sugar to form a sticky dough and transfered it to my kitchenaid. I lost track of how much powdered sugar I used, but I basically just kept adding one cup at a time, kneading it with a hook attachment, until it was no longer sticky. I seperated it into three balls before kneading in some gel food coloring in pink and green.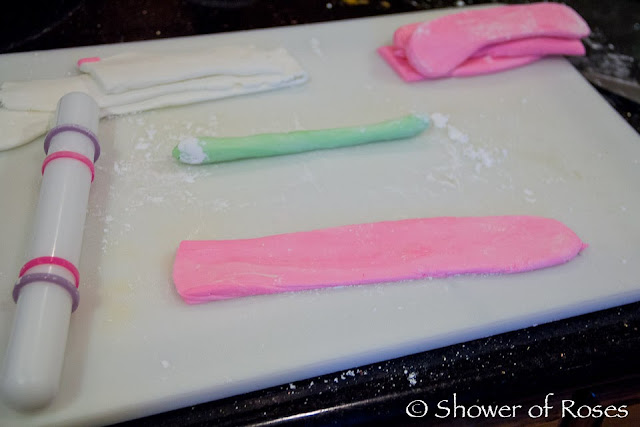 The recipe said to wrap the fondant tightly in plastic wrap and refrigerate over night, but I didn't have time for that. It probably would have been much easier to work with, but I was just going for "
pretty
" not "
perfect
" and it all worked out. 🙂 I created my "ribbon" by
rolling
a slice of green and two slices of pink fondant onto a wide strip of white fondant.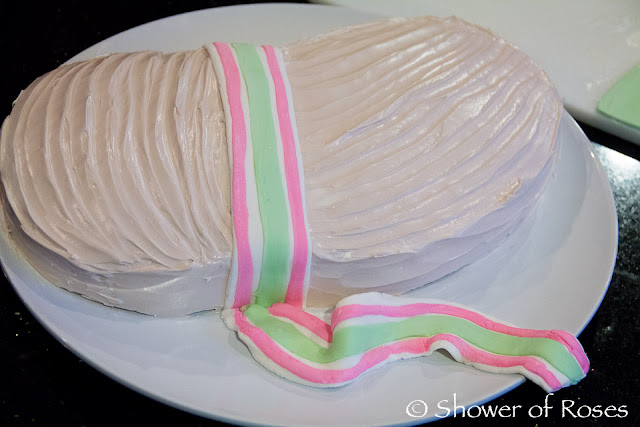 After pulling the cake out of the freezer for the final layer of frosting, I mixed a little chocolate frosting into my can of white frosting to create a "straw" color and added lines using the end of the butter knife to resemble a straw bonnet. I then began adding the "ribbon" of marshmallow fondant…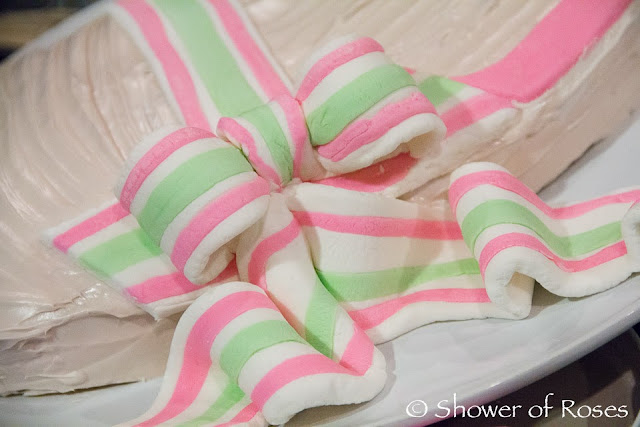 … and a fondant "bow" as well. I would have preferred using mini-marshmallows to create flowers on the side of the bonnet, but using what I had in the cupboard, opted for one
"stacker" marshmallow
cut into small triangles and dipped in pink sprinkles.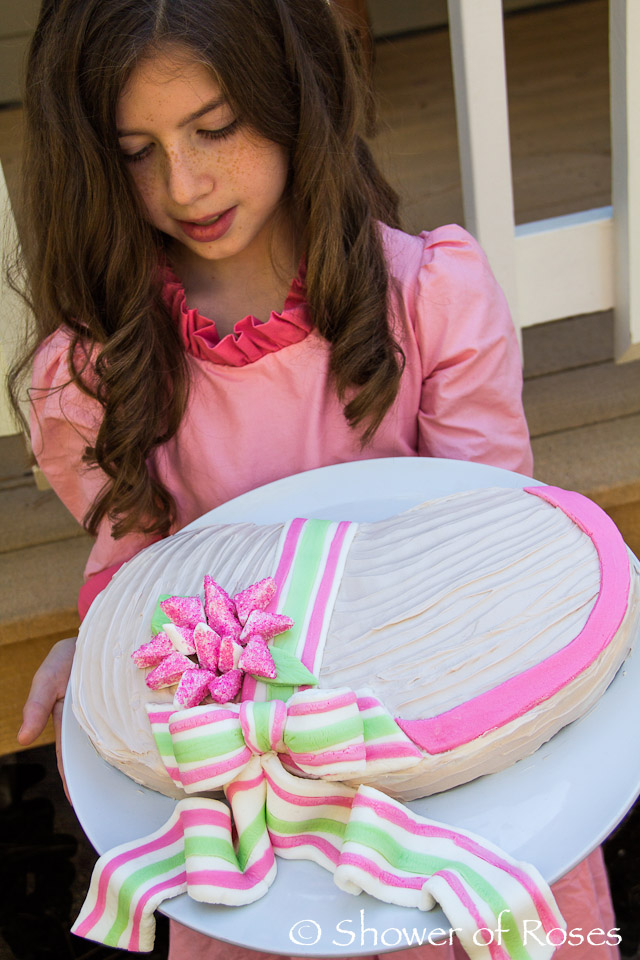 Lydia straightened and tugged on the brim of her bonnet. "It is a very bright today," she complained.
"I like it." Caroline tipped her head back so that she could feel the June sunshine on her face. The winters in northern New York were long and cold. Caroline didn't see what harm it did to enjoy the sunshine while they had it.
"Young ladies must protect their skin from the sun," Lydia said.