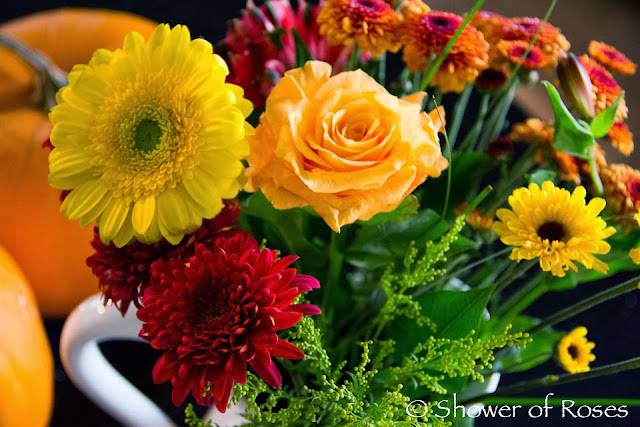 The feast of All Saints has come and gone. With Thanksgiving and Advent just around the corner, I need to hurry up and share the pictures from this year's party, which we hosted once again at our home on All Hallows' Eve! I am fighting a cold so I am going to just let the pictures tell most of the story, otherwise this post may end up permanently in my drafts folder with so many others! 🙂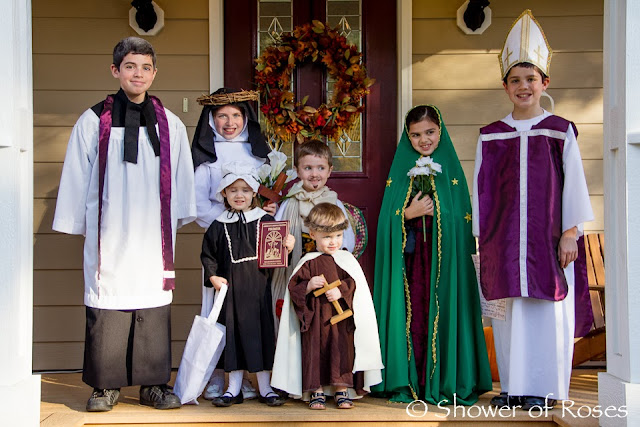 St. John Vianney, St. Catherine of Sienna, St. Juan Diego, Our Lady of Guadalupe, St. Gregory the Great, St. Elizabeth Ann Seton and St. John of the Cross, – All Saints in Heaven, Pray for us!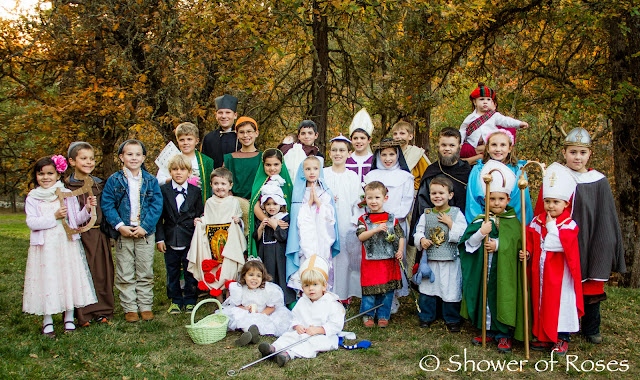 As always we began the evening with the holy rosary praying that we may all one day be Saints in Heaven, as well as for our Departed Clergy, Departed Family, Departed Friends, and for the Forgotten Dead. Afterwards we took a group photo of all the children who came to the party dressed as saints!
.: "I Love All Saints…" Game :.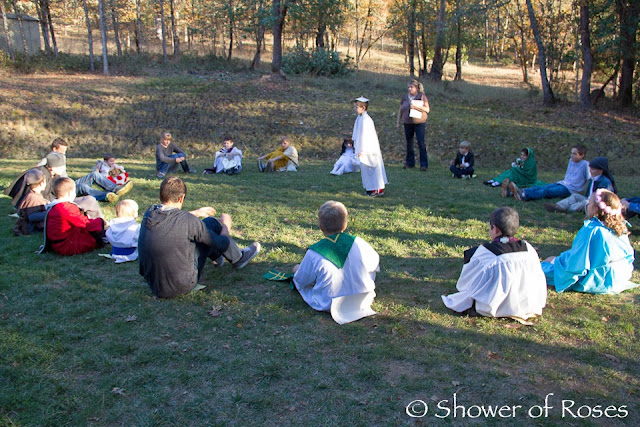 My friend Trina coordinated some of the games for this year's party and most of the games she choose were variations of youth group games. (Her husband was the Youth Minister here for many years.)
This gave was a variation of "Do you love your neighbor?"
All the children sat on "chairs" (pieces of paper) in a large circle. One of the children stood in the middle and said "I love all saints… especially saints who _________." (fill in the blank)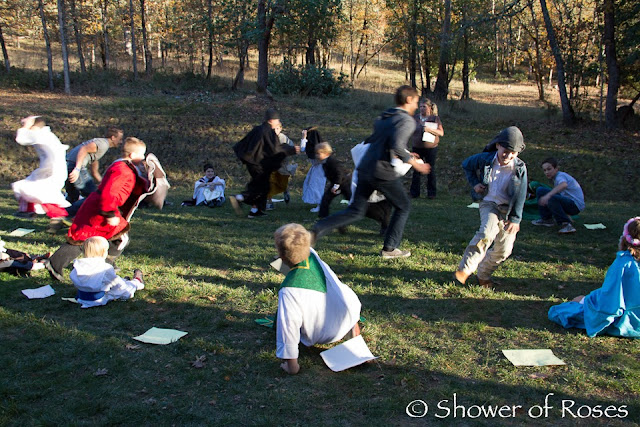 For example, if the child in the middle says "I love all saints, especially those who are male." All the boys must move from their spots and find different ones. They may not take a spot directly next to the one they are already at. This gives the person in the center time to take a spot and escape from the middle.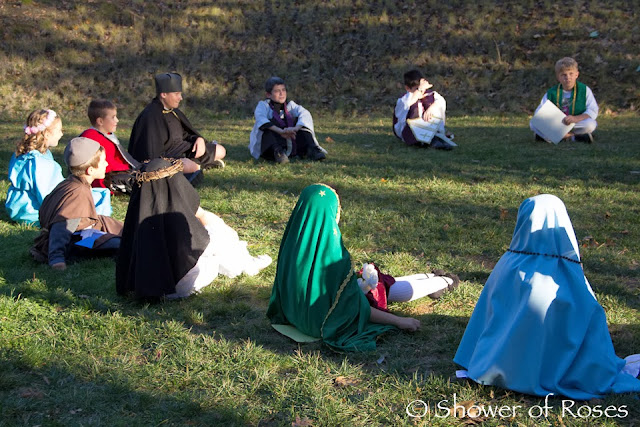 The person in the middle may say anything within reason to get people to move. For example: I especially love saints who are in heaven, saints who have been martyred, saints who were bishops, saints who are wearing white, etc.
All the "saints" all had such a blast playing this game!
.: Saintly Scattergories :.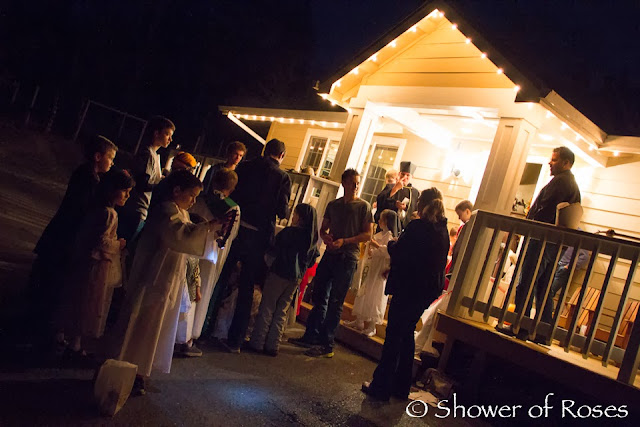 Another game Trina coordinated was a Saint version of Scattergories! All the children paired up in teams. After a letter of the alphabet was announced they tried to come up with as many saints as they could whose names started with that letter!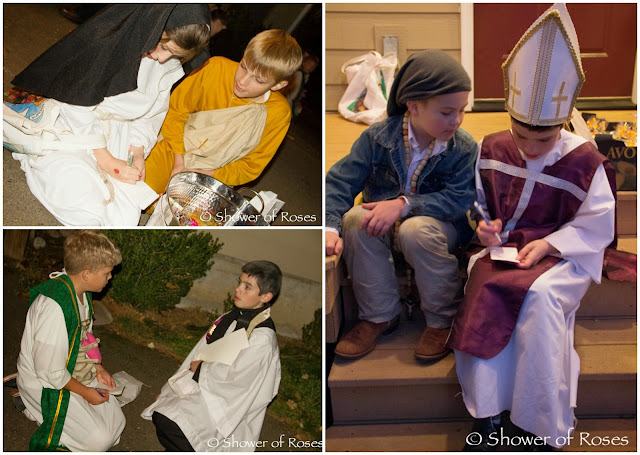 I was very impressed with how many saints the children were able to name on the spot for any given letter. Trina also made treat bags to hand out as prizes for this game.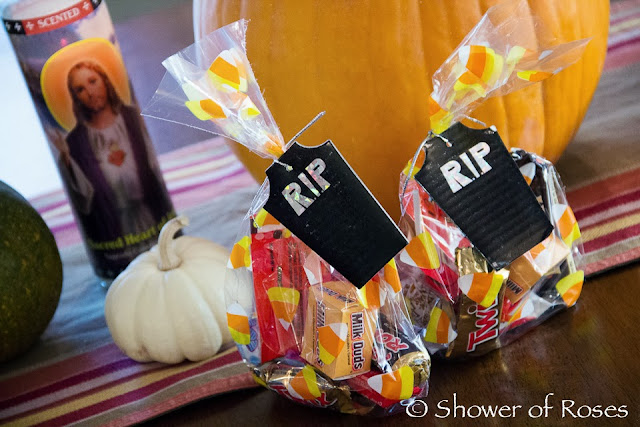 .: Saint Presentations :.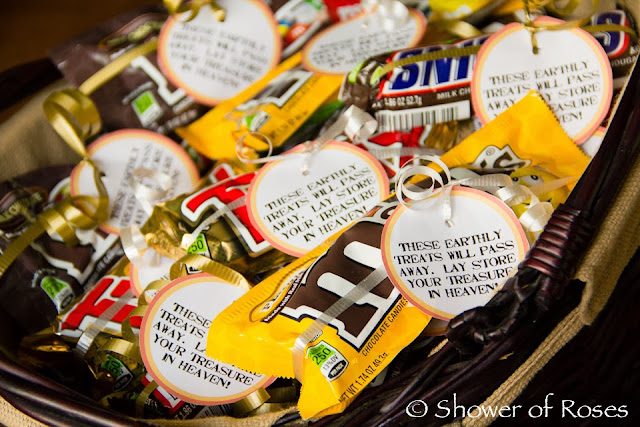 As always I had special treats for all the children who came dressed in costume and stood up to share a little about their saint with everyone.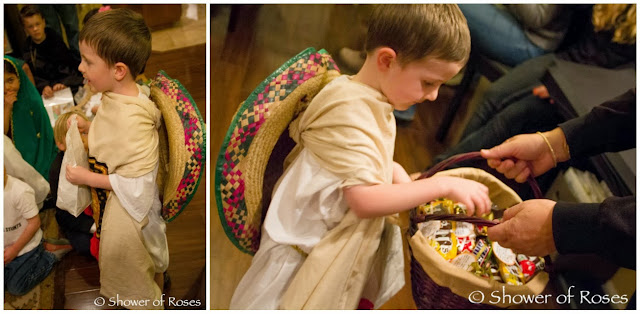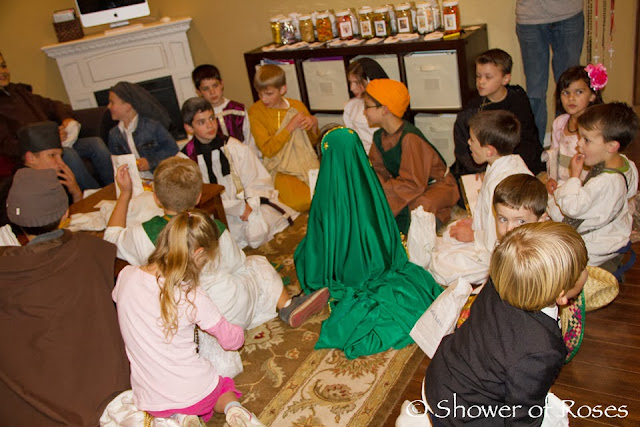 I also ended up giving all the older children who were not in costume candy bars as well telling them that it was "just like grace… We don't deserve it, but God gives it to us anyways!" 😉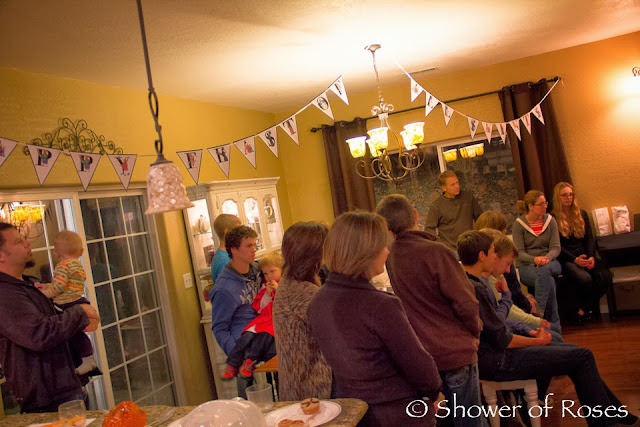 .: All Hallows' Eve Bonfire :.
Saint Themed Guessing Jars
Rascal did end up winning that jar of Pumpkins which he was carefully calculating! Our kids actually won 4 of the 11 jars: Snuggles won the jar of St. Nicholas Gold Coins, Chiquita won the Holy Souls Marshmallows and Twinkle Toes won the St. Therese Roses! I guess all that extra math tutoring is paying off! 😉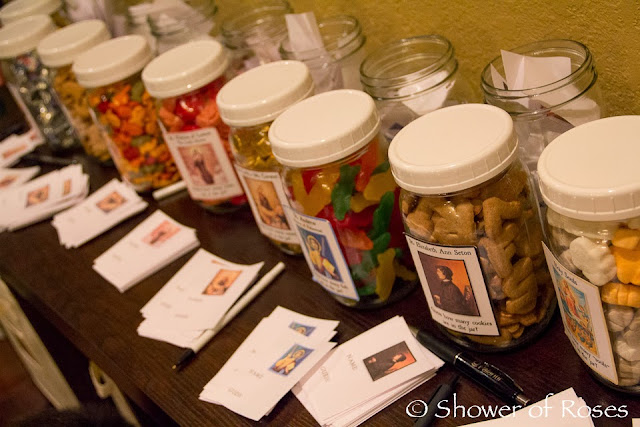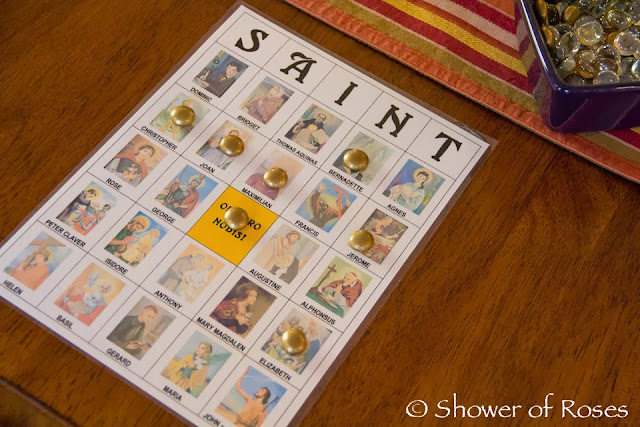 .
.. with plenty of prizes!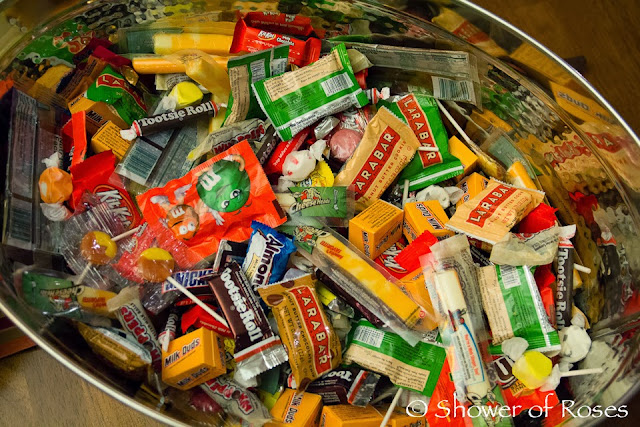 Almighty and eternal God, who hast granted us to venerate the merits of all Thy saints in one celebration: we beg Thee to bestow upon us the desired abundance of Thy mercy on account of this great number of intercessors.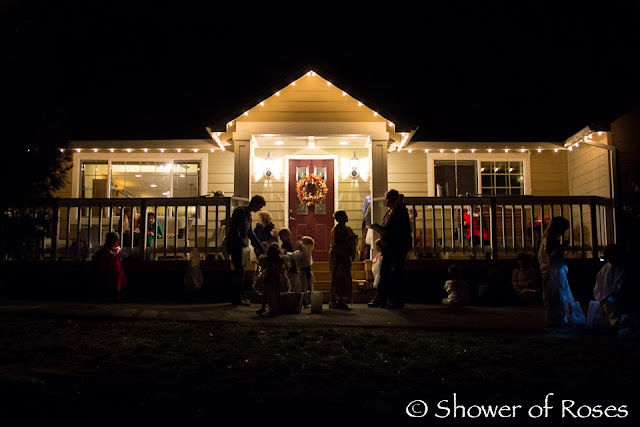 All Saints in Heaven, Pray for us!